Top 5 States With The Most Underwater Mortgages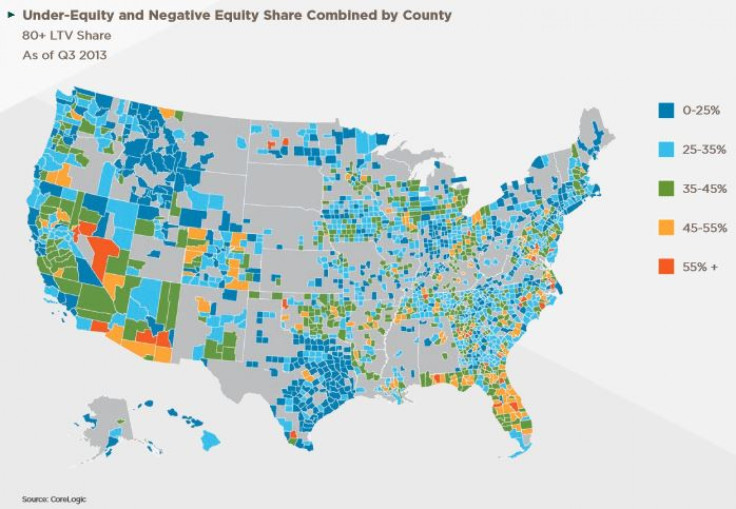 The main theme these days in the U.S. housing market is that things are really looking up: Home prices are on the rise, driven by strong investment buying and tight supply conditions. Despite the improvements, 6.4 million U.S. homeowners still owed more on their homes than what they're worth at the end of the third quarter, a report released Tuesday found. That's 13 percent of all residential properties that have mortgages.
Still, it's 7.2 million homes less than were underwater in the second quarter of this year. Property data firm CoreLogic said underwater mortgages will continue to decline in the coming quarters as the housing market continues to improve.
"Rising home prices continued to help homeowners regain their lost equity in the third quarter of 2013," said Mark Fleming, chief economist for CoreLogic, in a newly released quarterly report.
U.S. home prices are on track to end 2013 up an impressive 11 percent, economists predict. All signs point to strong data in the real estate industry. Building permits soared from 926,000 in August to 1.039 million in October, driven by multifamily construction owing to greater demand for apartment rentals. Sales of new single-family homes climbed 25 percent in October, reversing the weakness in the summer and early fall. In addition, the NAHB housing index of home-builder sentiment has remained in positive territory throughout this period, indicating that builders were not concerned about higher rates curbing housing demand, Bank of America Merrill Lynch's Michelle Meyer noted.
Nationally, the total value of negative-equity mortgages decreased $33.7 billion to $397 billion, CoreLogic said.
Regionally, some states fared worse than others. Just five states accounted for more than one-third of the underwater homes nationally.
The top five states where mortgaged residential properties have negative equity are:
1. Nevada: 32.2 percent
2. Florida: 28.8 percent
3. Arizona: 22.5 percent
4. Ohio: 18.0 percent
5. Georgia: 17.8 percent
© Copyright IBTimes 2023. All rights reserved.