Top Hedge Funds Look To Profit From Greece's Alpha Bank Rescue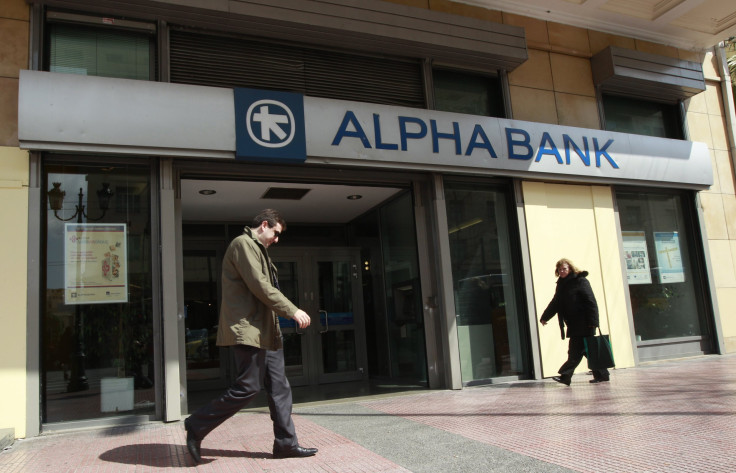 Some of the world's top hedge funds are investing in the Greek banking sector in hopes of big money returns, despite the country's lackluster economy and looming government spending cuts.
Farallon Capital, York Capital Management, QVT Financial and Dromeus are just some of the investment funds involved in a €550 million ($713.6 million) share issue from Alpha Bank, Greece's second-largest lender. The deal is set for completion in mid-June, according to the Financial Times, which cites people familiar with the plans.
Other names said to have their hand in the pot include Third Point, which last year made $500 million by acquiring cheap Greek government bonds, and CQS, Europe's largest credit hedge fund.
No hedge funds have commented publicly on the matter.
Reports indicate that the private investments will be matched by a €4 billion ($5.19 billion) cash injection by the EU-backed Hellenic Financial Stability Fund.
Hedge fund managers likely felt compelled to participate because of the potential returns they can make through special warrants attached to the new issue of bank shares. Warrants, a derivative security that gives the holder the right to purchase securities (usually equity) from the issuer at a specific price within a certain time frame, are often included in a share issue as a "sweetener" to entice investors.
The Alpha Bank warrants are exchangeable, on a semi-annual basis, for between 7.3 and nine shares, bought back from the HFSF, at the shares' issue price.
"It is free leverage with limited downside," Achilles Risvas, the managing partner of Dromeus, which launched a Greek-focused hedge fund last year, told the Financial Times. "A 50 percent move in the share price would result in a 400 percent increase in the warrant value," he said.
Top hedge funds are also reportedly looking to participate in the recapitalization of parallel Piraeus Bank.
© Copyright IBTimes 2023. All rights reserved.