Topless Protesters Jump On Dominique Strauss-Kahn's Car As He Reaches Court For Trial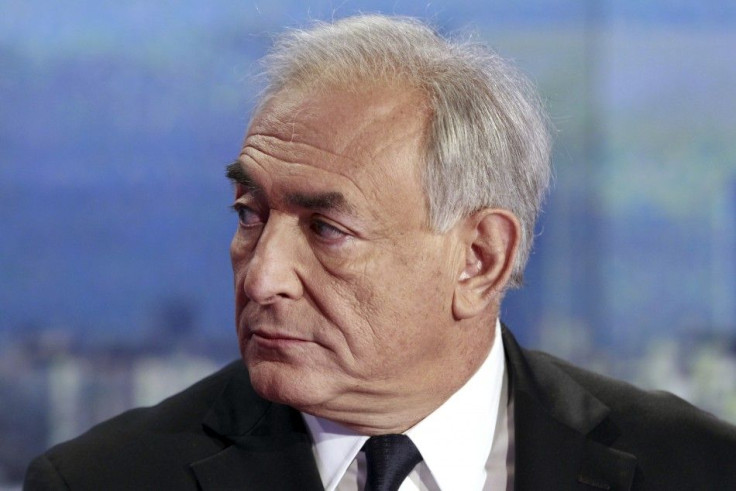 Three topless women threw themselves on a car transporting former IMF chief Dominique Strauss-Kahn to a French court where he is being tried on charges of "aggravated pimping." The women, who are part of feminist group Femen, had slogans painted on their bodies and were rounded up by police, reports said.
In 2012, Strauss-Kahn had unsuccessfully appealed the charges against him. Strauss-Kahn, who was once tipped to be the next French president, will try to convince the courts that he was not at the center of a prostitution ring, following allegations that he arranged sex workers to attend parties with him in Paris, Brussels and Washington, between 2008 and 2011, Reuters reported. The allegations against Strauss-Kahn, 65, came soon after he settled a case involving a New York hotel worker who had claimed in 2011 that he had sexually assaulted her. However, criminal charges against him in the New York case were later dropped.
On Tuesday, Strauss-Kahn testified in court that he took part in the parties without knowing that the women were sex workers, a claim that could help reject the charges of pimping or "procuring with aggravating circumstances," RTE News, an Irish news agency, reported. It is also alleged that he used his apartment for similar sex parties.
Strauss-Kahn has admitted that his political career is over and Reuters reported that he could face up to 10 years in prison and a fine of up to 1.5 million euros ($1.72 million) if convicted. On Tuesday, Kahn will respond to testimony from two retired sex-workers who claim that they were present at his parties.
The trial, which has come to be known as the "Carlton Affair," includes about 14 defendants, including Strauss-Kahn and "Dodo, the Pimp," who has been previously convicted in a separate case. The trial's name comes from the hotel in the French city of Lille, which triggered an investigation into the sex ring, Reuters reported.
© Copyright IBTimes 2023. All rights reserved.