Tornadoes And Flooding: Severe Weather Covers Stretch From Texas To Oklahoma, Colorado And Kansas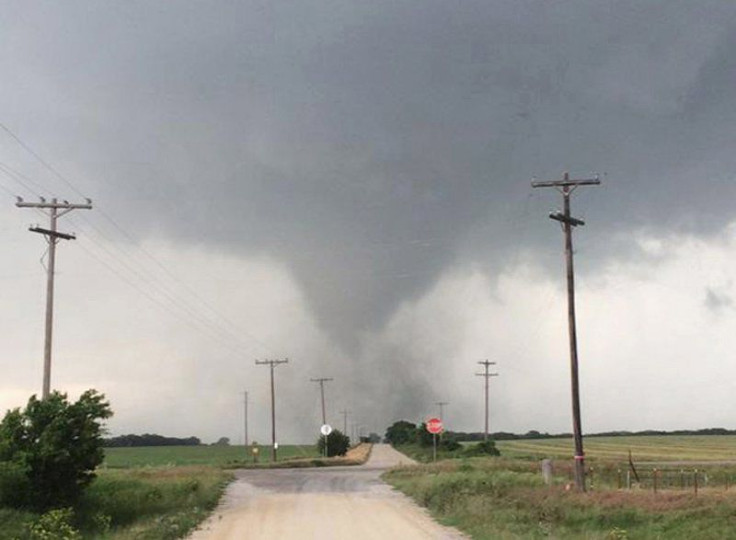 Update: At least one person was killed and several have been reported missing after a tornado hit North Texas on Saturday, according to local media reports.
"There is a considerable amount of damage," Walter Fairbanks, fire chief and emergency services coordinator in the town of Cisco -- about 140 miles east of Dallas, reportedly told the Associated Press. "Homes have been lost."
Original story:
Tornadoes were reported in parts of Texas, Colorado, Kansas and Oklahoma Saturday, leaving one person dead and causing widespread damage as thunderstorms rampaged across the Plains. The death occurred in Cisco, Texas, KCRB, Abilene, Texas, reported. CNN reported one person was critically injured.
The National Weather Service posted a tornado watch that stretched from San Angelo, Texas, to Oklahoma City, some 400 miles. That was in addition to watches posted in eastern Colorado and western Kansas.
"The primary threat area for severe weather and flash flooding through Sunday morning will be located across the Southern/Central Plains and extending back toward the adjacent High Plains of eastern Colorado and western Kansas," NWS said. "Based on the latest convective outlook from the Storm Prediction Center, tornadoes and large hail appear to be the dominant severe threats with damaging wind possible as the convection becomes more linear in nature."
By late Saturday, nearly 1,000 flights had been canceled and 4,522 delayed, with Dallas-Fort Worth the most severely affected airport, FlightAware.com reported.
The weather system was expected to move into the Ohio Valley Sunday, bringing snow to Wyoming and Colorado and possible blizzard conditions to South Dakota, NWS said. Snowfalls of 5-12 inches were forecast, with as much as 24 inches possible in some areas. Snow began falling in Colorado early Saturday, closing part of eastbound Interstate 70 between Silverthorne and the Eisenhower Tunnel, the Denver Post reported. Hazardous travel conditions were expected.
Flash flooding was a threat in Oklahoma, where electrical outages left more than 1,000 homes and businesses in Oklahoma City in the dark, the Daily Oklahoman reported.
The Cisco tornado was one of three that hit the Texas. Two tornadoes were reported in Colorado.
"There is a considerable amount of damage," Walter Fairbanks, fire chief in Cisco and also the county's emergency services coordinator, told the Associated Press. "Homes have been lost."
In Kansas, the rain delayed the SpongeBob SquarePants 400 after 98 laps, the Kansas City Star reported.
© Copyright IBTimes 2023. All rights reserved.