Texas Tornado Videos Captured By Storm Chasers: Watch Twisters Here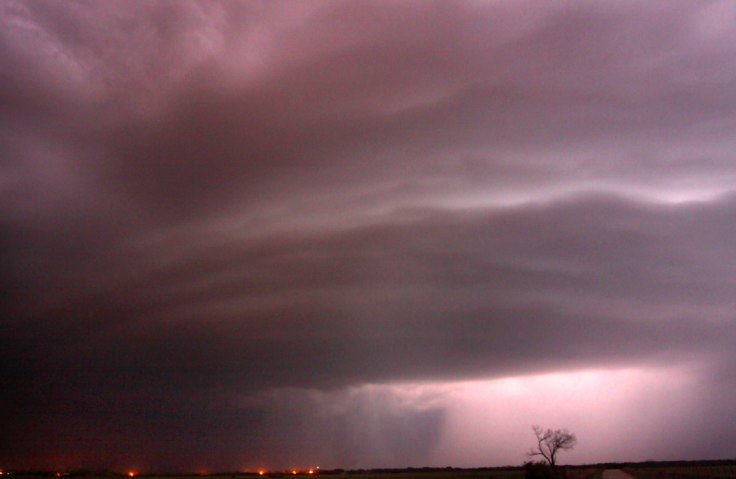 Three tornadoes ripped through Texas Thursday, WFAA Weather reported. A day earlier, at least 39 twisters swept the Plains, from Texas to Oklahoma. Two of the Texas tornadoes touched down in Wise County in the same hour, the news site wrote. A third tornado was confirmed northeast of Krum. Watch video of the twisters here.
Unafraid storm chasers braved the inclement weather to capture video footage of the tornadoes and shared them to Twitter.
https://t.co/sE7CwzAhht #VIDEO: Large #Tornado on the ground | #NewFairview, #Texas || May 7, 2015 Dogs scared.. #TXwx

— #Esra (@H_A_B_E_R_C_I) May 8, 2015
Tornado video taken in Decatur, Texas by @Morgan_Burk514 https://t.co/hzmTKpr96l

— Jen Connic (@jenconnic) May 8, 2015
Softball-sized hail was spotted in Texas as Twitter users posted photos to the social media site.
A state of emergency was declared in a dozen Oklahoma counties, where the brunt of the storm hit Wednesday. The severe weather also brought immense rainfall, which has caused problems for the state, CNN reported. Oklahoma Gov. Mary Fallin said the storms and flooding "have caused extensive damage to public and private properties." The weather "threatens the lives and property of the people of this state and the public's peace, health and safety."
Flash flood warnings remain in effect for Nebraska and Oklahoma, including Oklahoma City, after they were issued Thursday morning, CNN reported. The warning is not expected to remain until the weekend. Authorities are worried the waterways may continue to grow -- even if the rain subsides.
Though there weren't any fatalities, more than a dozen people were injured.
Follow me on Twitter @mariamzzarella
© Copyright IBTimes 2023. All rights reserved.