Toyota Develops New Pre-Collision System To Avoid Hitting Pedestrians; Current Crash-Avoidance System Subject Of Class Action Lawsuit After Prius Flubs IIHS Crash-Avoidance Tests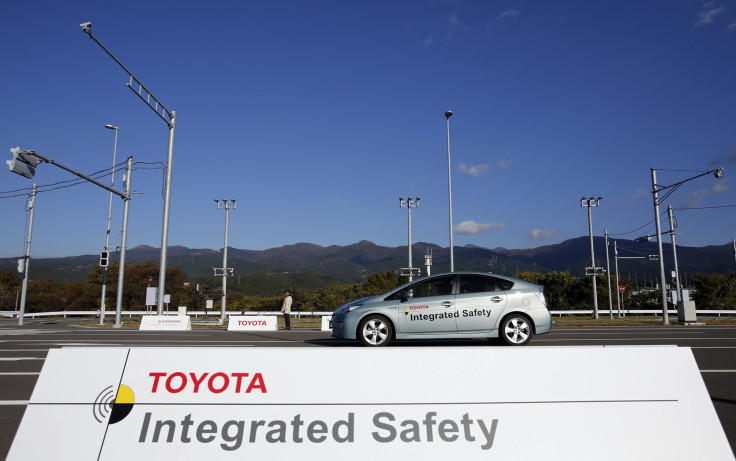 Two weeks after the Virginia-based Insurance Institute for Highway Safety gave top marks to the autonomous crash-avoidance technology options for the new Subaru Legacy sedan and Subaru Outback, Toyota Motor Sales USA Inc., the U.S. subsidiary of the world's top automaker, has been slapped with a class action lawsuit after the IIHS issued a failing grade to the Prius V's pre-collision auto-braking system.
Meanwhile, like other automakers, Toyota Motor Corp. (TYO:7203) is continuing to move forward with pre-collision systems considered to be the first logical step toward more autonomous driving options in the coming years.
The lawsuit comes after IIHS moved to start testing autonomous safety systems as the industry moves forward with adding this technology to the mix of pricey options for vehicles. As this technology becomes more popular, automakers will face closer scrutiny of their safety claims.
Plaintiffs Tae Hee Lee and Alan Quan filed their complaint at the California Central District Court in Los Angeles, claiming Toyota's front-to-rear collision-avoidance system – a $1,000 option that's part of a $5,650 "advanced technology package" for the Prius V and other Toyota models – fails to decelerate quickly enough to avoid collisions as advertised.
The lawsuit points to the IIHS test result that found the collision avoidance system – which initiates automatic braking when a vehicle equipped with the system detects that a car in front has stopped and a collision is imminent – gives only a "negligible reduction in speed," a 1- or 2mph reduction when the car is travelling at 12 mph and 25 mph, respectively.
"Despite the PCS [pre-collision safety] being marketed and sold by (Toyota) as an accident mitigation system that provides adequate braking in unavoidable frontal collisions, it provides no real safety benefit to consumers who paid for the option through either a sale or lease," the lawsuit filed Oct. 8 contends.
The IIHS, a 44-year-old insurance industry–backed nonprofit whose ratings program can be compared with the U.S. National Highway Traffic Safety Administration's (NHTSA) own government crash-test program, tested dozens of models in its first autonomous crash-avoidance runs. It gave a vigorous thumbs-up to the EyeSight Driver Assist System of the Subarus, made by Fuji Heavy Industries Ltd (TYO:7270); the Cadillac ATS made by General Motors Co. (NYSE:GM); the Mercedes-Benz C-Class sedan from Daimler AG (FRA:DAI) and the Volvo S60 sedan and Volvo XC60 SUV by AB Volvo (STO:VOLV-A).
"Fuji Heavy Industries is ahead of the competition in terms of its track record in sales and consumer awareness with its EyeSight collision avoidance system that uses stereoscopic cameras, but other automakers and major parts suppliers have also been stepping up R&D into advanced driver-assist systems such as collision avoidance," Masataka Kunugimoto, research analyst at Nomura said in a note.
But for Toyota's PCS, the IIHS said: "This system does not meet the National Highway Traffic Safety Administration's criteria for forward collision warning."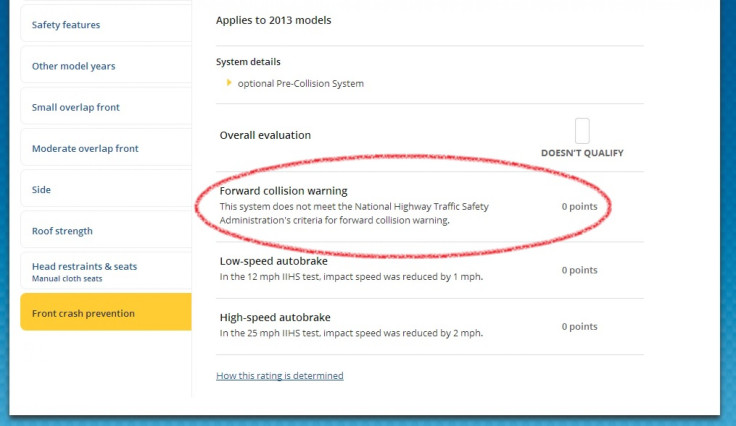 Meanwhile the company continues to move forward with autonomous driving. On Friday in Japan, Toyota announced it had developed a PCS with automatic steering and stronger braking force to help avoid collisions with pedestrians. The company says the new system – expected out around 2015 – "can help prevent collisions in cases where automatic braking alone is not sufficient, such as when the vehicle is travelling too fast or a pedestrian suddenly steps into the vehicle's path."
After detecting a pedestrian using the on-board sensors, the system first warns the driver with visual and audible signals. Then as the chance of collision increases, the system initiates braking and, if necessary, steers the vehicle away from the pedestrian. The company also said it is developing a so-called Automated Highway Driving Assist, a kind of advanced cruise control for high-speed driving that detects distances to the vehicle in front and also monitors lane markers to keep the vehicle safely between the lines.
© Copyright IBTimes 2022. All rights reserved.
FOLLOW MORE IBT NEWS ON THE BELOW CHANNELS