Trade War Could Chill China's Growing Investment In US Economy
The U.S. and China are currently engaged in an ever-escalating trade war with no end in sight. While the focus of the dispute has centered on tariffs, the consequences are expected to spill well beyond imports and exports to other aspects of the countries' complex relationship.
One such area is what economists call foreign direct investment, in which companies invest in businesses in another country. The United States' ability to draw investments from around the world has been a significant driver of its economic growth. Indeed, the U.S. was the top destination for foreign investment in 2016, as it usually is.
China's investments in the U.S., however, remain relatively paltry, despite the country's growing clout on the world stage. And while most have been small and low-profile, a few bigger deals have made headlines and even been blocked over "national security" concerns.
I research the international political economy of China's rise. Even though most Chinese investment in the U.S. has little to do with national security, I believe the current tense environment will put a chill on Chinese-American deals – with severe long-term consequences.
A snapshot of China FDI in the U.S.
The reality is that the vast majority of the 232 investments made by Chinese companies in the United States since 2005 have little to do with national security.
A typical example is Beijing-based Lenovo's acquisition of IBM's personal computer business in 2004 for US$1.75 billion, which raised little fanfare or objection. Or consumer electronics company Haier's purchase of General Electric's home appliance unit in 2016 for $5.6 billion, again without a fuss.
In more recent years, Chinese companies have taken stakes in some well-known Silicon Valley companies. For example, last year, Chinese tech and media investment firm Tencent acquired a 12 percent stake in the owner of the messaging app Snapchat and 5 percent of Elon Musk's Tesla. Also in 2017, China's sovereign wealth fund invested $100 million in room-sharing service Airbnb.
Overall, China remains a minor U.S. investor – and the data suggest the president's rhetoric on the campaign trail may have already had a disruptive impact. Last year, China invested $24 billion in the U.S., down from $54 billion in 2016, excluding deals under $100 million in size.
While that's a sharp rise from just $5 billion a decade ago, it's barely a drop in the bucket for the U.S. economy. China's cumulative investments in 2016 made up less than 2 percent of all $3.7 trillion invested in the U.S., ranking it 11th, a fraction of the U.K.'s $598 billion and Canada's $454 billion, the top sources of funding.
California and New York alone received the lion's share of China's $171 billion in investments from 2005 to 2017, or 51 percent. All but 14 states have received at least one investment in the period.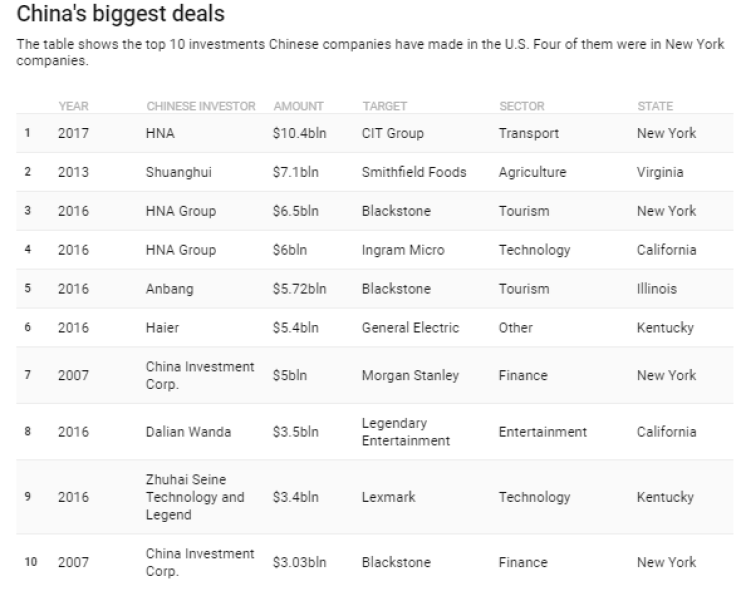 By sector, the biggest chunk has gone into property investments – such as prime real estate in New York along Park Avenue – which tallied $26 billion, or 15 percent, in the period. Financial firms such as BlackRock took in the next largest share of 14 percent, while 13 percent went to technology businesses like IBM and Motorola.
National security and politics
Two of the reasons Chinese investment in the U.S. isn't higher are national security and politics. A number of high-profile deals have rung alarm bells among U.S. officials and politicians and ended up getting killed as a result.
For example, in 2003, Hong Kong conglomerate Hutchison Whampoa withdrew from a joint bid for fiber-optic carrier Global Crossing after the Committee on Foreign Investment opened an investigation of the deal as some defense officials grew concerned the company's chairman was too close to Chinese government officials.
Two years later, China oil producer CNOOC dropped its effort to buy U.S. rival Unocal for $18.5 billion. In this case, it was lawmakers in Congress who managed to scuttle the deal. CNOOC blamed a "political environment."
The Committee on Foreign Investment, established by President Gerald Ford in 1975, has the power to veto investments if they might damage U.S. national security. Proposed Chinese investments get reviewed more often than those from any other country. Though the launch of an investigation is often enough to stop a deal – as was the case with Hutchison – the committee has only vetoed five deals, four of which involved China.
One came in 2012, when President Barack Obama cited the committee's recommendation as he ordered Ralls Corp., a U.S. company owned by Chinese nationals, to divest its interests in wind turbines being built close to a Navy military site in Oregon. It was the first time the power was used since 1990, when President George Bush blocked the sale of an American aircraft manufacturing company to a Chinese agency.
And last year, President Donald Trump prevented Chinese investment firm Canyon Bridge Capital Partners from acquiring U.S. chipmaker Lattice Semiconductor.
And the president supports a bipartisan bill in Congress that would grant the Committee on Foreign Investments even more power.
FDI as foreign policy
While China may not make up a significant portion of the U.S. total, its spending there makes up the largest share of Chinese outbound FDI by country.
From 2005 to these days, China invested $171 billion of its $1.87 trillion in total foreign investment in the U.S.
My own research into China's investments shows that state-owned companies are very sensitive to the government's foreign policy goals. An agency known as the State-owned Assets Supervision and Administration Commission of the State Council coordinates all foreign investments by major Chinese businesses.
Any drop in investments to the U.S. will probably be compensated by more spending in other destinations, especially those countries that are part of the One Belt, One Road initiative such as Australia, Singapore and Vietnam.
Going forward
And in fact, the current trade dispute between the U.S. and China will most likely lead to less Chinese investment as deals will encounter increased scrutiny and resistance.
The president has said he launched the trade war because Chinese companies have a track record of "stealing" Western technology and not respecting intellectual property. Hence, the administration will likely block investments that look along these lines or threaten national security.
But politics will also play a role as members of Congress and others regard China warily as a growing rival that must be confronted. One risk is that anti-China sentiment in the U.S. increases and makes it harder for the country to use "soft power" via cultural and economic means to achieve its ends – which is preferable to hard power at the end of a bayonet.
It's unfortunate because years on international political economy research suggest trade wars and discouraging investment are exactly the wrong ways for the U.S. to deal with China's rise. The U.S. can find other strategies to challenge any unfair trading or business practices without jeopardizing good economic relations, which have always been the best way to prevent clashes and even war among great powers.
Beyond that, deeper business ties lead to better relations and stronger economies. Economic interdependence raises the costs of direct confrontation, leading to a more peaceful international system.
What concerns me from the current trade war is that it could make geopolitical clashes between China and U.S. stronger and more frequent in the long run.
Francisco Urdinez is a Professor of International Political Economy at Universidad Católica de Chile.
This article originally appeared in The Conversation. Read the original article here.