Trans-Pacific Partnership: Obama Offers Helping Hand, Companies Give Cash To Support Democrats Backing Trade Pact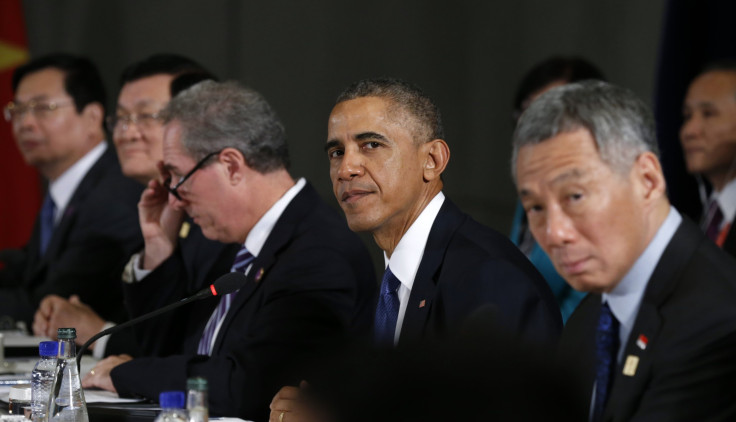 After voting to give President Barack Obama the authority to strike new trade deals in the summer, House Democrats have enjoyed the warm, friendly embrace of the chief executive and a steady flow of cold, hard cash from the companies that are backing a massive agreement with Asia-Pacific nations. Obama, in a display of political acumen that often has eluded him in dealing with Congress, never stopped wooing members who supported him as he eyeballed the prize -- ratification of the Trans-Pacific Partnership (TPP) -- by the time he leaves office.
Air Force One? At your service, congressman. Help on veterans' issues? Done. A visit from a cabinet secretary? Of course. Financial support from business allies? Easy.
Import and Exports of TPP Partners | InsideGov
Nothing expresses gratitude more clearly than the money that is the mother's milk of politics, and Obama has done his part. After flying to his district in San Diego in mid-October on the presidential jet, Rep. Scott Peters joined Obama at a series of star-studded fundraisers down the highway from Hollywood.
The take was $9 million for various candidates. The high point: a shout-out from Obama to the attendees that Peters is "one of the finest members of Congress."
Early this summer, Obama persuaded Congress to grant him fast-track trade negotiating authority, over the objections of labor and green groups that argue previous pacts like the North American Free Trade Agreement cost jobs and damage the environment. The authority allows Obama to submit agreements to Congress for a quick, up-or-down vote that bars amendments.
Now, he has to persuade the 28 Democrats who backed the bill, known as trade promotion authority, to stick with him and help pass the Pacific trade deal. Rep. Ron Kind of Wisconsin who leads the pro-trade faction of Democrats in the House said U.S. Trade Representative Michael Froman has continued selling the Pacific deal in meetings with members since it was concluded.
"Members of Congress have to judge this agreement against the status quo that we have right now," Kind said. "Voting 'no' gives us nothing more than a race to the bottom, or a future trading system dominated by China."
TPP is part of the Obama administration's broader effort to rebalance U.S. foreign policy toward Asia. Completed in early October, the agreement would cut tariffs on thousands of goods, raise copyright and patent protection standards, and create a first-of-its-kind set of rules governing the free flow of data. It would cover about 40 percent of global output.
U.S. Foreign Trade by Country | InsideGov
The White House published the full text of the agreement Nov. 5, a requirement under the new trade law. It hopes to sign the deal formally in New Zealand in early February, and hold a ratification vote soon after.
Trade agreements tend to chew up Democrats, politically speaking. Core constituencies like labor unions oppose them ferociously, and House members who face elections every two years won't support even their own president without a sustained campaign by the White House. Obama, whose detached style of congressional relations has often hampered his own agenda, rose to the challenge on trade policy. Now, promises made during the heat of the debate in the summer are panning out.
"There was a lot of skepticism when Obama said, 'I've got your back.,' " said a lobbyist who works with Democrats on both sides of the issue. "That is gone now."
Business groups and individual companies that were likely to support the agreement are starting to speak out publicly. They also began opening their wallets, even before the TPP text was completed in early October, by holding trade-themed fundraisers, according to people involved in organizing them.
MetLife, a New York-based insurer, has fought bitterly with financial regulators -- and even sued the government -- over its designation as a "systemically important" firm, a designation that brings enhanced oversight from the Federal Reserve. But Steven Kandarian, the company's CEO, is backing the Pacific trade deal publicly as the Obama administration girds for a fight over approval.
"The agreement is not perfect -- no trade deal is -- but on balance the TPP represents a significant step in the right direction and deserves to be ratified," Kandarian said.
MetLife has operations in eight of the 12 TPP countries. Kandarian said his support reflects improved market access for U.S. insurers, new rules on huge state-owned insurers with which MetLife competes and provisions protecting the free flow of data across borders.
With a political action committee that has contributed $470,000 to federal candidates in the last two years, MetLife has also been generous to supporters of Obama's trade policy. It donated $1,000 to Rep. Kathleen Rice, a New York Democrat who backed enhanced negotiating authority.
Other Democrats, particularly those facing tough re-election fights, have benefited from corporate largesse at the same time Obama has deployed his own team to support them on other issues.
When Obama brought Peters to San Diego on Air Force One, Sally Jewel, the interior secretary, also joined Peters in a helicopter to tour some of the district's remoter regions. There, she talked up Peters' proposal to enhance federal help fighting wildfires.
U.S. Foreign Trade Over Time | InsideGov
Rep. Ami Bera, a Democrat from Sacramento, California, backed Obama's trade legislation in the summer, and reaped rewards for it. Secretary of Commerce Penny Pritzker traveled to his district for a Veterans Day event at a pavement business owned by a former servicemember.
Bera held onto his seat in Congress in 2014 after an extremely expensive campaign by a 1,455-vote margin. His vote in favor of the trade legislation enraged labor unions who'd backed him, and they ran TV ads opposing negotiating authority, calling out Bera.
In the meantime, sensing the distance between Bera and a core Democratic constituency, Republicans are mulling possible candidates to challenge him. Strong presidential backing and prolific fundraising are two ways to scare off potentially strong opponents, and Bera has both.
Business backers, such as the insurer AFLAC and the National Pork Producers Council, have backed Bera with campaign contributions. So has the New Democrat Network, a group of pro-business Democrats.
In no hurry to make a decision on the TPP, Bera has said only he's been "surprised in a positive way" about the outcome of the negotiation, while refusing to be drawn into the specifics of the agreement.
Fabrizio Sasso, executive director of the Sacramento Central Labor Council, said Bera's position thus far on TPP "sends up red flags from our point of view."
"It's not what he's saying about TPP -- he's continuing to be coy -- it's what he's not saying," Sasso said. "He doesn't say anything about the shared concerns we have on TPP."
© Copyright IBTimes 2022. All rights reserved.
FOLLOW MORE IBT NEWS ON THE BELOW CHANNELS