Trans-Pacific Partnership: Trade Pact That Clinton Opposes Protects Infrastructure Bank She Supports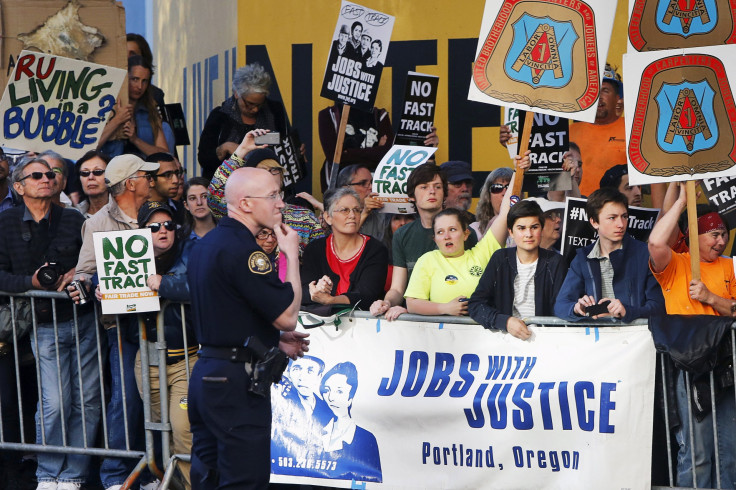 Buried in the Trans-Pacific Partnership (TPP) agreement that former U.S. Secretary of State Hillary Clinton now opposes lies a provision protecting something she supports: a national infrastructure bank. American negotiators, who recently wrapped up talks on the 12-nation free-trade deal, tucked in an exemption for a bank, which is still far from reality, to ensure that only U.S. companies would benefit from any money it lends.
The TPP provision carves out any future infrastructure bank from rules that prevent governments from denying business to foreign firms, and underscores how trade agreements can reach deep into domestic politics, even when the policy in question isn't reality yet. In essence, the Obama administration is preserving options for a future president -- Clinton or anybody else -- but also threatening another trade negotiation, the one with Europe.
Clinton, the front-runner in the race for the Democratic Party's 2016 presidential nomination, has given a full-throated endorsement of an infrastructure bank while turning a cold shoulder to the TPP, an agreement she called "the gold standard" in 2012 during her tenure as secretary of state.
Her flip-flop highlighted the tough politics of trade for Democrats, who are under pressure from organized labor, environmental groups and other advocates to reject the TPP. Organized labor has long opposed it on the grounds it would cost American jobs and is now gearing up to fight when Congress votes on the agreement sometime next year.
In contrast, the concept of an infrastructure bank enjoys the enthusiastic support of the AFL-CIO, the county's largest labor federation, which sees job-creating potential in the idea and endorsed a bill sponsored by Rep. Rosa DeLauro, D-Conn., in 2013 that called for the establishment of such a bank.
"[T]o remain a leader in the global economy, we need up-to-date and efficient infrastructure that allows us to compete effectively," the federation wrote DeLauro. "Ignoring the problems before us is simply not a solution."
As a result, labor, most Democrats and even some Republicans are on the same page as President Barack Obama: His administration advocated the creation of an infrastructure bank in its last budget proposal.
The basic idea behind an infrastructure bank encompasses federal funding to capitalize it -- proposals have ranged from $25 billion to $60 billion -- for lending to states and municipalities for road building and rail maintenance, but also for higher-tech projects, such as Internet access. Because it would be backed by the federal government, the bank, run as an independent agency, could borrow in private markets at very low rates and lend far more than its charter capital.
While Congress was debating a highway-transportation funding bill in October, Clinton pitched the idea of an infrastructure bank as a way to ensure continuity at a high-profile Democratic event, the Jefferson-Jackson dinner in Iowa, where the first presidential caucus in the nation will take place Feb. 1.
"We should establish an infrastructure bank to put Americans to work building our roads, our bridges, our airports, our rails, our broadband networks," Clinton said.
The Center for American Progress, a policy-research group with close ties to Clinton, has also fleshed out the details of an infrastructure bank.
However, the idea has a bipartisan pedigree. Then-Sens. Christopher Dodd, a Connecticut Democrat, and Chuck Hagel, a Nebraska Republican, put the idea into legislation almost a decade ago. Sen. Deb Fischer, a Republican now in the Senate for Nebraska, recently introduced a bill to create such a bank, and Sen. Mark Warner, a Virginia Democrat, also backs the idea.
The exception wired into the TPP agreement gives the U.S. the flexibility to ensure that the financing through a new infrastructure bank "may, in certain circumstances, and pursuant to a government mandate, provide this financing only to privately owned enterprises within the territory of the United States." Since a basic principle of the TPP is to treat domestic and foreign companies equally, this squib of text ensures the U.S. can avoid channeling money to non-U.S. companies without violating the agreement.
Gary Hufbauer, a senior fellow focusing on trade at the Peterson Institute for International Economics, a think tank in Washington, said the broad exemption would be hard to replicate in other agreements, notably one being negotiated with the 28-nation European Union. Europeans have long sought better access to the U.S. government's procurement market. He called the exemption "a grandchild to the 'Buy America' laws," which require federal and state agencies to channel spending to U.S. companies and which Europe has long sought to ease.
"All you have to do is call it an 'infrastructure bank' and the foreigners won't get any of the money," according to Hufbauer, who called it "the perfect loophole."
© Copyright IBTimes 2023. All rights reserved.
FOLLOW MORE IBT NEWS ON THE BELOW CHANNELS