Transfer Rumors: PSV Winger Wets Interest Of Liverpool; Deal To Require Big Money
KEY POINTS
Liverpool can help sharpen the skills of Noni Madueke
The Reds could make a pitch for Madueke if Kylian Mbappe leaves Anfield
Liverpool is the latest team to be linked to Madueke
Liverpool is unlikely to pull off any transfer deal with this window winding down.
Kylian Mbappe has been the focus of the rumor mill, but he is likely to stay for now.
Although the transfer window is still a week away, the Reds know they have to practice due diligence in the event the 22-year-old forward leaves Anfield.
His chances of moving to another team may be greater by next season, a reason why the name of Noni Madueke has now been raised.
The 19-year-old midfielder who is currently with PSV has been linked to several teams. That list includes Manchester United, Tottenham, Bayern Munich, Leicester and Juventus.
Liverpool is the latest team to be added to that bunch, reportedly scouting the English national.
Madueke was in action when PSV played Benfica in a Champions League qualifier. The 19-year-old failed to find the back of the net but remains a promising young prospect.
The attacking midfielder recently signed a four-year contract extension, meaning a move out of Philips Stadion is unlikely at this point. However, all that could change moving forward.
Considering Madueke is a speedy, left-footed, right-sided inside forward with exceptional balance and superb production, there is no question that he could be a big acquisition for other teams looking to infuse young talent.
He has so far scored 10 goals and issued six assists in the Eredivisie and Europa League. He is averaging a goal every 82 minutes, undeniably someone who can be a future star in the sport.
But for Liverpool and other teams who go to the next level and try to acquire him, the asking fee for Madueke will be high.
A price tag of £30 million ($41.23 million) needs to be satisfied, not to mention Liverpool having to contend with a platoon of teams who have vested interest in the 19-year-old winger.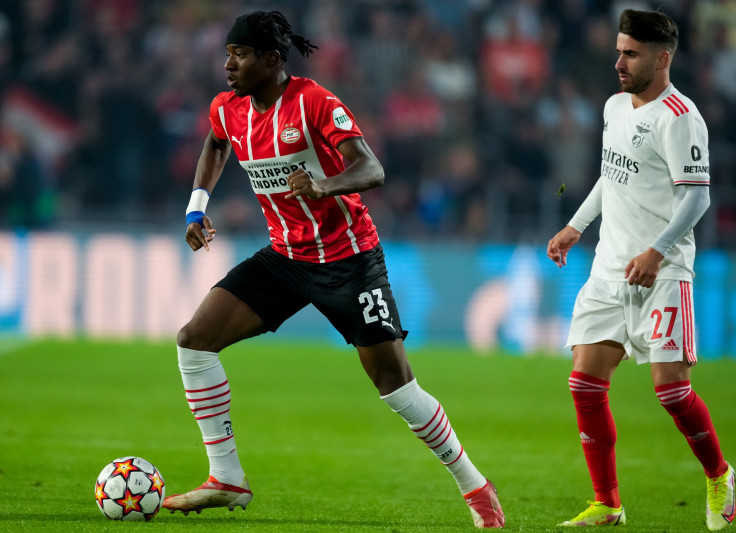 Liverpool may be monitoring Madueke for now and see how he progresses. But once the opportunity is there, expect the Reds and other teams to try and negotiate with PSV for his services.
Also, Liverpool could be a suitable destination for the youngster. The Reds have been known to develop young players because of their fine coaches.
Hence, that could be a point of contention and indication that Madueke may seriously consider a move to Anfield in the future.
© Copyright IBTimes 2023. All rights reserved.