Travis Tygart, USADA, To Strip Lance Armstrong Of All Seven Tour de France Titles After Cyclist Drops Charges Against Agency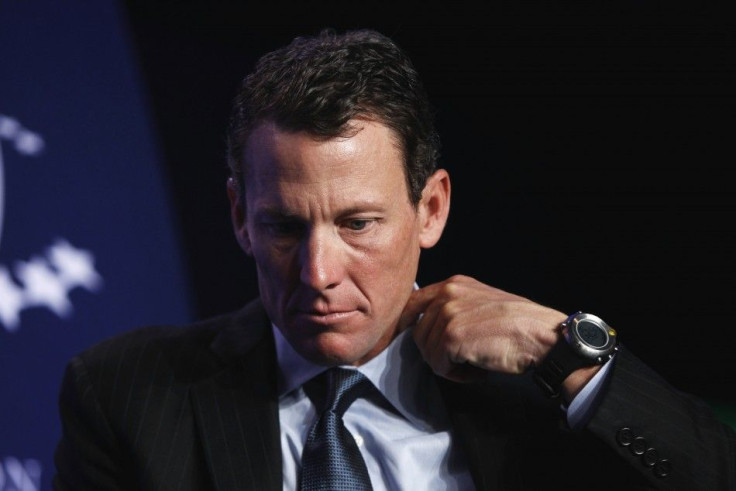 The U.S. Anti-Doping Agency is expected to strip Lance Armstrong of his seven Tour de France titles and ban him from the sport of cycling for life.
The move comes after Armstrong decided to drop charges against the doping agency, which alleged that he used performance-enhancing drugs.
The decision to not pursue arbitration in the drug case brought against him by the U.S. Anti-Doping Agency was his last option in the highly publicized fight with the USADA. Armstrong's decison to drop charges essentially sets the stage for the titles to be stripped, and his name to be all but wiped from the sport he helped transcend.
Travis Tygart, USADA's chief executive, confirmed Armstrong would lose the titles as soon as Friday and be hit with a lifetime ban, even though he is retired and turning 41 next month, according to the Associated Press.
Armstrong has maintained that he never doped, calling the agency's case against him "an unconstitutional witch hunt," adding, the process it followed was "one-sided and unfair."
"There comes a point in every man's life when he has to say, 'Enough is enough,' " Armstrong said in a statement. "For me, that time is now."
In addition to his seven Tour de France titles, Armstrong will be stripped of the bronze medal he won at the 2000 Olympics and all other titles, awards and money he won from August 1998 forward. It also means he will be barred for life from competing, coaching or having any official role with any Olympic sport or other sport that follows the World Anti-Doping Code, according to an article in the New York Times.
"It's a sad day for all of us who love sport and our athletic heroes," Tygart said. "It's yet another heartbreaking example of how the win-at-all-costs culture, if left unchecked, will overtake fair, safe and honest competition."
Although Armstrong has continuously denied doping and claims to have never tested positive for performance-enhancing drugs, he did test positive at the 1999 Tour for a corticosteroid, for which he produced a backdated doctor's prescription, the Times reported.
Armstrong contested the case against him and insisted that Tygart and the USADA lacked any real physical evidence against him.
"Regardless of what Travis Tygart says, there is zero physical evidence to support his outlandish and heinous claims," Armstrong said. "The only physical evidence here is the hundreds of controls I have passed with flying colors."
The USADA said 10 eyewitnesses were expected to testify that Armstrong used banned blood transfusions, the blood booster EPO, testosterone and other drugs to win the Tour. Those witnesses included some of Armstrong's closest teammates, including George Hincapie -- a key domestique of Armstrong throughout all of his seven Tour wins, according to an article in the New York Times.
The USADA also claimed that it had Armstrong's blood test results from 2009 and 2010 that were consistent with doping.
© Copyright IBTimes 2023. All rights reserved.