Tropical Storm Isaac Hits Florida, Could Land In New Orleans After Becoming A Hurricane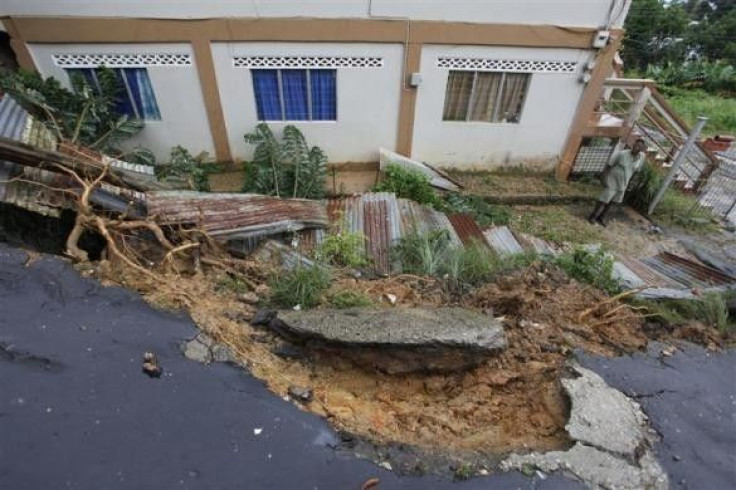 Tropical Storm Isaac began ravaging Florida on Sunday as the storm moved from Cuba to the Florida Keys. The tropical storm is expected to become a hurricane soon as it traverses the Gulf of Mexico, with landfall in the vicinity of New Orleans a distinct possibility within days.
The Florida Keys were hit with comparatively mild rain, as the tropical storm is still gathering strength. Indeed, some people there continued dog-walking and sightseeing as usual, with one constituent of the Conch Republic telling the Associated Press, "Just a summer day in Key West." But Isaac is expected to get much stronger over the coming days.
While the Florida Keys are feeling relatively minor effects from Isaac, other areas could be in much worse danger as the tropical storm picks up speed and becomes a hurricane. It's also increasingly likely the system could eventually hit New Orleans, based on the National Hurricane Center's current forecast cone.
Hurricane warnings are in effect from Louisiana to the Florida Panhandle as Isaac continues on its northwest heading. New Orleans, infamously devastated after being hit by Hurricane Katrina in 2005, is now covered under such a warning.
Isaac is currently projected to make landfall between Tuesday and Wednesday.
One of the areas hit hardest by Tropical Storm Isaac is Haiti. After the island nation was rocked by a massive earthquake in 2010, the country's infrastructure was slow to recover, and the flooding caused by Isaac has destroyed several tent encampments that were intended to be temporary shelters following the earthquake.
© Copyright IBTimes 2023. All rights reserved.