Tropical Storm Isaac Wreaks Havoc In Puerto Rico, Gathers Strength Towards Haiti (PHOTOS)
After unleashing heavy rains in Puerto Rico, tropical storm Isaac is inching closer to the Dominican Republic and Haiti Friday, even as the organizers of the Republican National Convention in Tampa, Florida, make alternate arrangements in lieu of the National Hurricane Center's weather forecast that Isaac is likely to pass near the state's Gulf Coast Monday.
Though the Republican convention organizers have not ruled out postponing or relocating the meeting if the storm arrives at Tampa, "convention does not appear to be the biggest concern," Craig Fugate, director, Federal Emergency Management Agency, told Reuters.
Apparently, the storm caused heavy rains in eastern and southern Puerto Rico, whipping up waves as high as 10 feet (3 meters) in the Caribbean Thursday, USA Today reported.
Earlier, the National Hurricane Center issued warnings for the Dominican Republic and Haiti. After striking the islands, Isaac might weaken before returning to water and then striking Florida on east or the west, the National Hurricane Center said.
Here's a quick look at the havoc caused by heavy rains in Trinidad and Tobago due to the tropical storm that is threatening to strengthen into a full-fledged hurricane before striking at Florida.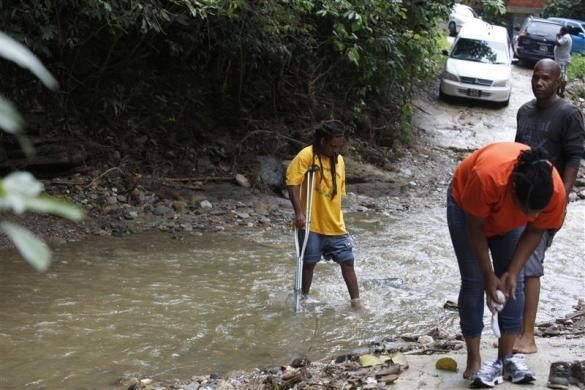 © Copyright IBTimes 2023. All rights reserved.
FOLLOW MORE IBT NEWS ON THE BELOW CHANNELS