Trucking Along Alaska's 'Ice Road' To Northern Oilfields Freezes To A Halt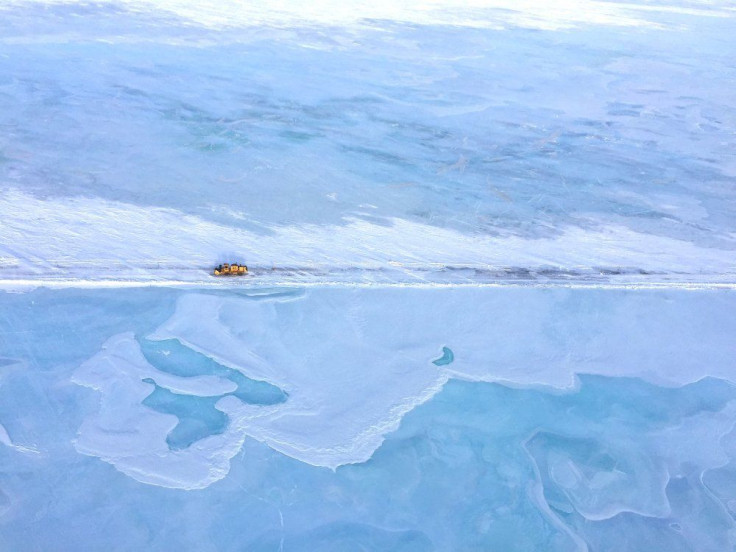 Kristi Krueger drives three hours north from Fairbanks, Alaska, each morning to stand near mile 58 on the Dalton Highway next to where a crew is scooping out contaminated soil from an oil spill. Her job is to hold up a sign that signals to truckers when they can safely pass. But for the last week, traffic along the highway, which serves as the only artery from the state's cities to the northern oilfields, has all but stopped. Krueger hasn't had all that much to do.
"It's eerily quiet right now," she says. "We have walkie-talkies and so we chitchat on those."
Alaskans refer to the Dalton as the road to the bank because the vast majority of the state's revenue comes from taxes on oil produced at the end of the highway. A runaway river has caused massive flooding to form a giant ice sheet over the only route to the state's lucrative northern oilfields, threatening the supply chain that companies rely on to support workers and daily operations. Critical shipments of food, supplies and equipment have already been delayed by a week. An ongoing shortage may cause companies to pull back operations or turn to far more expensive ways to transport these goods.
On a typical day, at least 100 truckers would make the 15-hour drive from Fairbanks to Prudhoe Bay to carry fuel, food, equipment and other supplies to workers who are staffing oilfield operations for BP, ConocoPhillips, ExxonMobil and a host of other companies. On Sunday, Krueger said she had directed only about 15 trucks over the past few days.
The shallow, braided Sagavanirktok River flows alongside the highway that Krueger flags for the road's final miles. But over the past few weeks, ice has uncharacteristically formed along its bottom and pushed the river's flow up from the channel and onto the road. The overflow runs several feet thick in some places, and in other spots, it immediately froze into a thick mass of ice.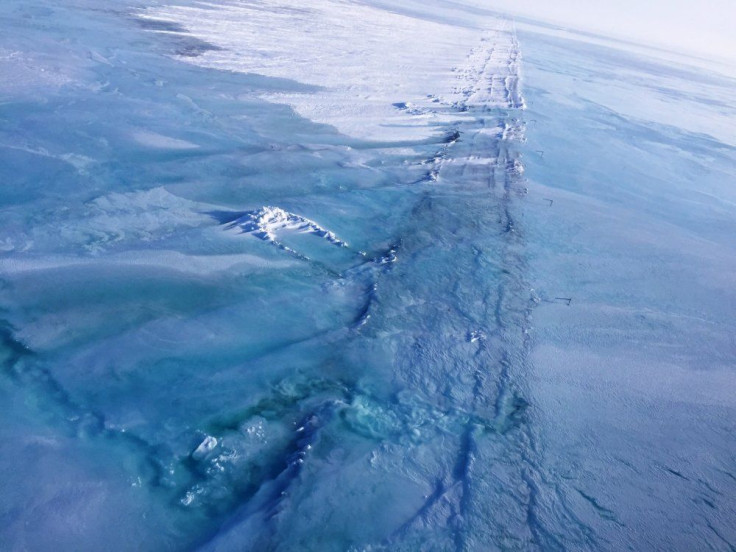 The sudden flooding has made one of the state's most critical highways virtually impassable. The road has been closed for most of the past week, forcing Gov. Bill Walker to declare a state of disaster to loosen up funds and permit requirements so the state's Department of Transportation could double down on its efforts to carve a roadway out of the mess. The agency has already exhausted its emergency funds and plans to request federal money to cover the remaining costs. Alaska's Senate Finance Committee has committed $5 million to the cause.
"You're standing on a road that is 3 feet of ice," Meadow Bailey, public relations officer for the Alaska Department of Transportation and Public Facilities, says. "It almost looks like you're on a glacier -- everything is very blue, it's white and blues for as far as you can see." Trucks that continued to drive the route as conditions worsened sloshed through several feet of water and at times drove alongside a rushing river that ran higher than the road itself.
A crew of 28 state employees and private contractors has been working around the clock, using 26 pieces of equipment to stop the overflow. The crew is building berms along the road from snow and digging culverts through the ice to divert the water. Next week, crop planes will begin dropping large batches of black sand on the river to absorb heat and melt the ice so its flow may return to normal.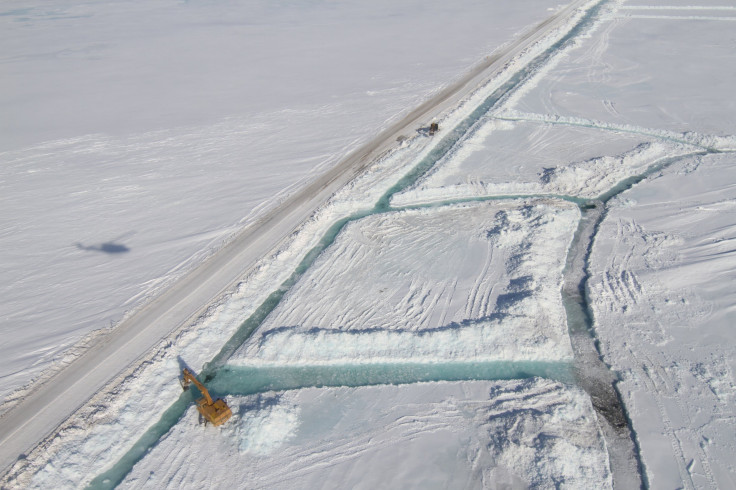 In the meantime, truckers with hundreds of loads destined for the oilfields have been waiting in Fairbanks and along the road. "There are probably 100 to 150 trucks sort of stacked up along the roadway," Aves Thompson, executive director at the Alaska Trucking Association, says.
Two communities and the dozen oil and gas companies they serve wait at the other end, in Deadhorse, a town of roughly 2,000 people, and Prudhoe Bay, a community of around 5,000 whose name is synonymous with oil.
Oil Keeps Flowing
Amid low oil prices that have already gutted the state budget, a road closure that threatens to compromise oilfield operations is unwelcome news. About a dozen energy companies are exploring for oil in the region, which is home to America's third-largest oilfield. Though not all of them are currently drilling for crude, even surveyors must be fully supported on the North Slope, where all supplies for daily life are flown or trucked in.
"We need to be sure that the oil keeps flowing," Thompson says. "We just want to do everything we can to be sure there is no interruption."
Crude oil is transported from Prudhoe Bay through the Trans-Alaska Pipeline System, which extends 800 miles to a port in Valdez, Alaska. Though the pipeline runs parallel to the Dalton, its flow is not directly jeopardized by the flood or the road's closure.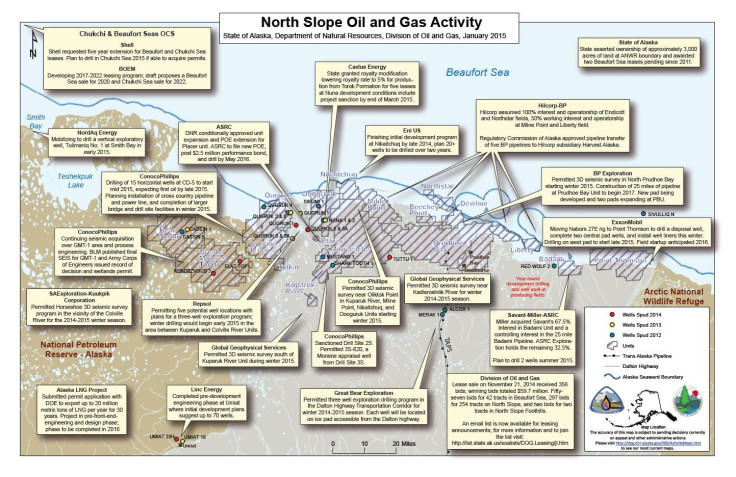 The Dalton Highway's natural disaster comes at a bad time. There is a narrow window between January and May, when trucks can access remote sections of the oilfields by driving over temporary ice roads to places that typically are only accessible by barge or airplane. One of those areas is Point Thompson, where ExxonMobil has invested $2 billion to build a natural gas plant.
BP and ConocoPhillips have both said they are using fuel and supply reserves to continue operations as normal while conserving the resources they have on hand. "It's been a problem for the better part of a month, and those reserves are only going to last so long," said Josh Kindred, environmental counsel at the Alaska Oil and Gas Association. "They've looked into alternative methods of getting fuel up there, which are of course more costly."
Some companies have started to fly fuel in or hire machines called rolligons, whose extra-wide wheels gently roll over the frozen tundra, to reach trucks with supplies that are stuck along the road.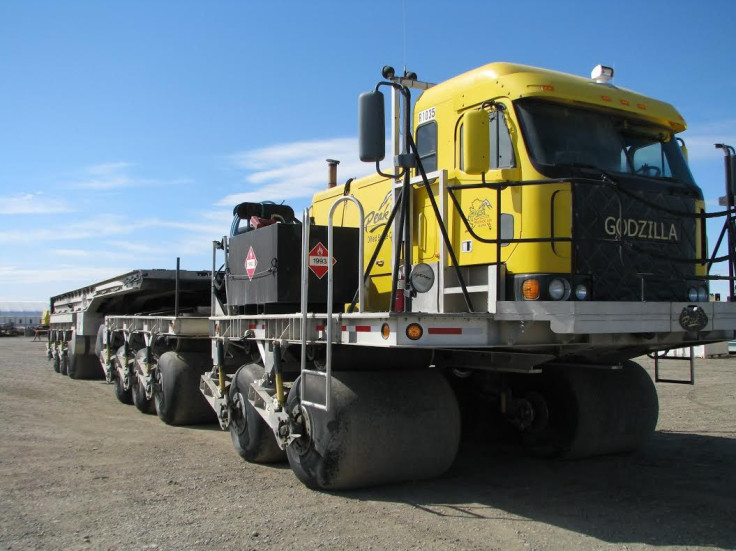 Caitlin Jelle, project engineer at Prudhoe Bay's Peak Oilfield Service Company, which operates a fleet of 14 rolligons, says it takes the machines 15 hours to make the 40-mile round-trip from Deadhorse to pick up the stranded loads. She says the approach is working so far, though slightly warmer springtime temperatures make the trek a challenge.
"We're being very careful. It's not an ideal time to put in a tundra route," she says. "We are definitely typically parking our rolligons this time of year, not bringing out every one we have."
So far, oil production has remained stable despite the closure of the Dalton Highway, and Kindred says he doesn't expect that to change.
Transportation Woes
Meanwhile, Thompson estimated that 700 to 800 loads were waiting to be transported from Fairbanks to the North Slope by truck on Tuesday. For drivers who make a living on the road, a closure can wreak havoc on schedules and bottom lines.
"The drivers on a company payroll are being paid. Some of the owner-operators are having to absorb that cost," he says. "It's costly for everybody. It's been very, very disruptive."
Some truckers dropped off loads at staging areas alongside the highway so they could return to Fairbanks and pick up more cargo in an attempt to stay productive during the wait. The worst conditions remain between miles 390 and 405 of the 414-mile highway, allowing truckers to get most of the way to Prudhoe Bay before hitting the closure. A typical trip up the "haul road" from Fairbanks takes 10 to 15 hours, so they save significant time by retracing only a fraction of that distance.
Truckers who regularly drive the haul road are no strangers to inclement weather -- their struggles against frigid temperatures and freak blizzards have been chronicled in the History Channel series "Ice Road Truckers" -- but Thompson says a closure of this length is extremely rare.
"There will be times when there's a snowstorm, so you have to wait out the snowstorm for maybe a few hours, but in this case, it's a once-in-a lifetime event," he says.
While truckers are feeling the pinch, Everts Air, a Fairbanks airline that specializes in hauling cargo to remote locations throughout Alaska, has added four to 12 flights a day on its largest aircraft to Deadhorse and other airstrips that directly serve the oilfields. The company typically runs three to six flights a day, but business has picked up substantially since the overflow began, Robert Ragar, vice president of contractual business, says.
Slow Progress
Earlier this week, the Department of Transportation temporarily opened the Dalton to small convoys of about 30 trucks carrying critical loads to drive a single open lane in either direction at a time. Though the road remains closed, the department announced on Tuesday that it had allowed 204 vehicles to pass through by the end of the day. Krueger, stationed along the highway with her flag, had started to notice a slight uptick in traffic.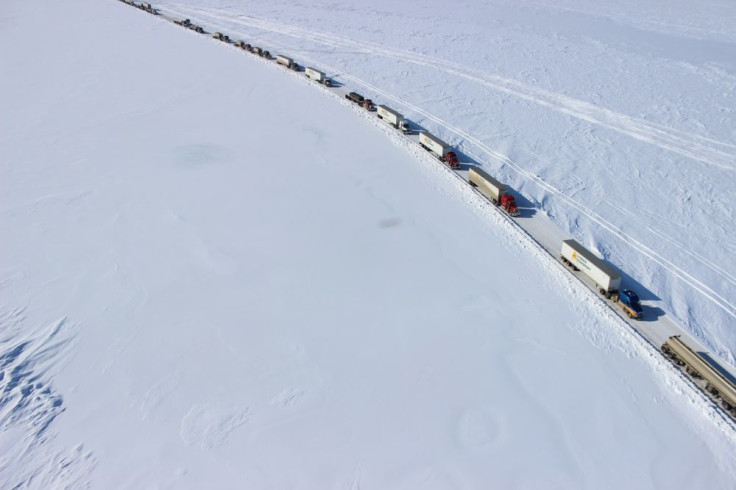 Though the problem has not been fully resolved, opinions about whether the overflow will continue to impede normal operations are mixed. At Everts Air, Ragar is bracing for the long haul. "This particular road closing on the Dalton has not been experienced in anybody's memory -- never," he says. "There seems to be a belief that this is going to go on for a while."
© Copyright IBTimes 2023. All rights reserved.
FOLLOW MORE IBT NEWS ON THE BELOW CHANNELS