Trump Says China Should Deal With North Korea, Amid Claims Of Hydrogen Bomb Testing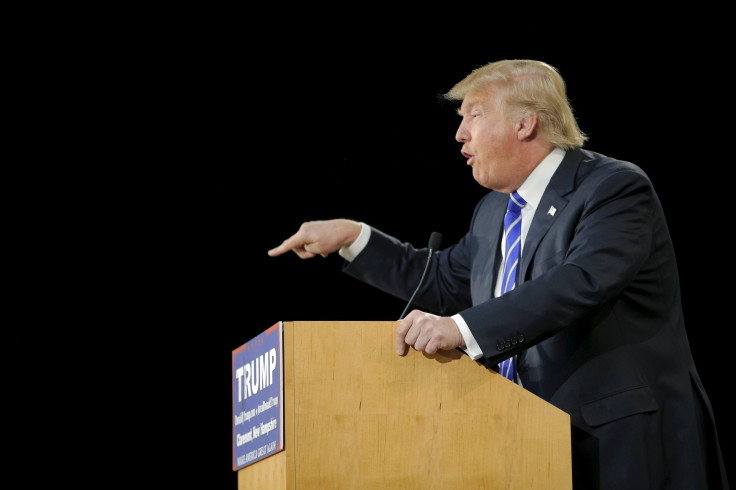 Who is responsible for dealing with North Korea, after it announced Tuesday night that it had successfully tested a hydrogen bomb? According to U.S. Republican presidential candidate Donald Trump, that duty goes to China.
Trump, whose campaign was born of outlandish comments and whose tagline is "Make America great again," said on Fox News Wednesday that "China has total control," Reuters reported. "China should solve that problem," Trump said, referring to North Korea. "And if they don't solve the problem, we should make trade very difficult for China," he added. China is seen as North Korea's only major ally in the world.
The businessman and real estate mogul has previously said that the United States should not try to be "the policemen [sic] of the world" and has appeared content to allow, or even encourage, other countries to get involved in ongoing wars or geopolitical quagmires. In an interview with CNN's Don Lemon in September, he said he was fine with Russia launching airstrikes inside Syria, and "if they want to hit ISIS, that's OK with me."
North Korea -- aka the Hermit Kingdom, for its notorious isolation from the rest of the world -- announced Tuesday that it had detonated its first hydrogen bomb in what was a "complete success." That claim drew skepticism from nuclear experts, even as world leaders were critical.
"Regardless of whether this is a hydrogen test or a normal, vanilla device, this is a very serious provocation," James Acton, the co-director of the nuclear policy program at the Carnegie Endowment for International Peace, told the Washington Post.
As for Trump's claim that China controls North Korea and should do something about the purported bomb test, analysts have predicted that the news will worsen already tense relations between the two countries, especially because North Korea reportedly did not inform its neighbor before the test took place.
"China firmly opposes this nuclear bomb test by North Korea," Chinese Foreign Ministry spokeswoman Hua Chunying said in response to the claim, the Associated Press reported. The ministry said it would lodge a formal protest with North Korea's ambassador to China. It could also join international sanctions and impose trade restrictions against North Korea.
© Copyright IBTimes 2023. All rights reserved.