Trump Taxes March Date: Who Is Organizing Protest To Demand President Release IRS Returns?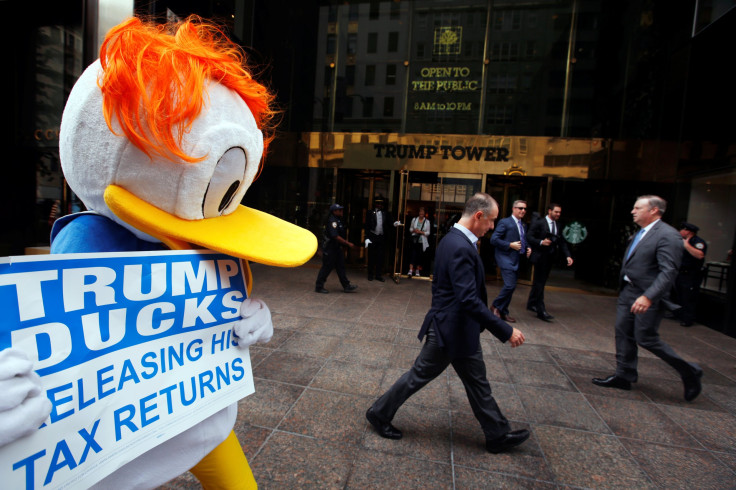 Protesters opposing Donald Trump's presidency have already begun planning a sequel to last weekend's Women's March. Conceived on social media the day after what has been called the largest political demonstration in U.S. history, the Trump Tax Marches will seek to bring together like minded protestors on the Saturday before taxes are due to demand the president release his IRS returns.
During his first post-election press conference earlier this month, Trump reiterated that he would break from 40 years of presidential tradition and not release his tax returns because he didn't think the American people cared to see them. "You know, the only one [sic] that cares about my tax returns are the reporters, okay?" Trump said. "I won; I mean, I became president."
Trump's assessment of the concerns of the American people was demonstrably untrue: a petition calling for the president to release his tax returns on the White House website has more than 300,000 signatures and a poll released last week showed that 74 percent of respondents wanted to see his tax returns, including nearly half of his supporters. On Sunday, many of those concerned Americans independently reached the same conclusion: the next action against the president should call for the release of Trump's taxes, which could give a glimpse into Trump's vast network of business interests around the globe.
A variety of websites and social media accounts popped up Sunday and Monday to support marches across the country. Trumptaxesmarches.org, which was demanding "Donald Trump show us his papers," already lists links to Facebook pages representing marches in 15 U.S. cities, including Washington, D.C., Philadelphia and Los Angeles, as well as smaller cities like Harrisburg, Pennsylvania, and Norfolk, Virginia.
The idea for a march before tax day gained viral momentum when former "Colbert Report" writer Frank Lesser tweeted about tax day protests Sunday. The tweet has since been retweeted more than 43,000 times. Lesser followed up his tweet by publishing a call for action on Slate Monday.
The Facebook page for the New York march, which indicated nearly 1,000 people have committed to attending, with another 2,000 interested, was set up by Wes Shockley. The idea for that march grew out of a conversation among "a random group of good friends and drinking buddies," the 33-year-old told International Business Times.
"It happened fast, crazy fast," said Shockley, who works in media production and said his only previous experience with activism was attending some Occupy Wall Street events. "We are organizing and coordinating with Philadelphia, Denver, Erie, Pennsylvania; Myrtle Beach, Los Angeles, one in Seattle... the big thing right now is we want to reach the Women's March people and other community activist organizations."
He continued. "It's still in a formation process right now. We are still trying to bring the chaos into focus."
Trump's senior advisor Kellyanne Conway continued to deny the public's interest in seeing the president's taxes Sunday. "He's not going to release his tax returns," Conway said. "We litigated this all through the election. People didn't care." Conway walked back her comments on Monday, citing the IRS's audit of Trump as the reason the taxes couldn't be released.
Those comments proved to inspire the movement.
"Kellyanne Conway helped," Shockley said.
The New York group hadn't yet applied for a permit to march in the city, as it was waiting to work with other groups, stakeholders and representatives from the Women's March to determine how to best approach the permitting process, Shockley said. However, a New York Police Department spokesman confirmed to IBT it had received a permit application for an April 15 march, although the person declined to say who made the filing. (Washington D.C.'s Metro Police said no permit had been filed with them for that day).
Shockley said he would like to work with whoever applied for the permit in New York. Given that 400,000 people marched against Trump in Manhattan on Saturday, finding people to work with shouldn't be difficult.
© Copyright IBTimes 2023. All rights reserved.