Trump 'Walks Away' From US-North Korea Summit, Kim Stays Positive
Defying expectations, the Hanoi summit between U.S. President Donald Trump and North Korean leader Kim Jong Un ended abruptly without any deal as Trump "walked away."
The summit was cut short with Trump citing Kim's demand for waiver of the U.S sanctions on North Korea for the summit's inconclusive end.
The abrupt ending of the summit also led to the cancellation of the pre-planned working lunch of the two leaders.
However, in the post-summit news conference, Trump claimed the talks were productive and he still has a good relationship with Kim.
Sanctions to stay
"It wasn't a good thing to be signing anything," Trump said at the news conference. Trump said the U.S team had many options and finally decided to walk away.
"Basically, they wanted the sanctions lifted in their entirety and we couldn't do that. We had to walk away from that particular suggestion," Trump said.
Trump said all the existing sanctions on North Korea would continue.
White House spokeswoman Sarah Sanders explained that the two leaders "discussed various ways to advance denuclearization and economic driven concepts."
Before the talks started, Trump told reporters he is in no rush to sign a deal.
"We just want to do the right deal. Chairman Kim and myself we want to do the right deal. Speed is not important, what's important is that we do the right deal," Trump reasoned.
Areas of discord
The conflicting demands evaded a consensus point. Trump wants North Korea to give up its nuclear arsenal in exchange for an economic boost to the country.
But Kim wanted the U.S sanctions to go first and was not ready to sacrifice his strategic advantage of weapons of mass destruction.
Washington stood on the stand that the dismantling of weapons of mass destruction, delivery systems, fissile materials and production facilities at North Korea must be verified.
But North Korea was not agreeing. Giving up nuclear deterrence is something unthinkable for Kim as he sees a threat from the U.S controlled troops in South Korea and the war infrastructure including bombers, aircraft carriers and other military assets present at the Korean Peninsula.
Kim says he is all for denuclearization
However, when reporters asked Kim if he was ready to denuclearise, he retorted, otherwise "I wouldn't be here."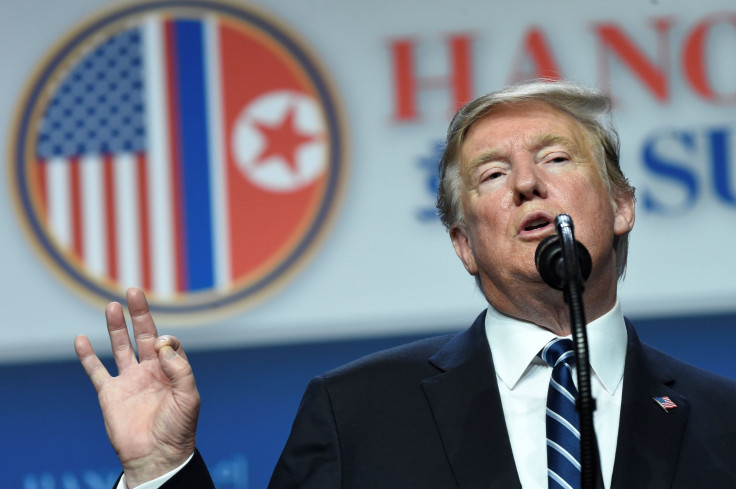 Analysts are unclear what Kim means by denuclearization.
North Korean media lavished praise on Kim for taking the 2,500-mile trip to Hanoi. In fact, the state newspaper Rodong Sinmun dedicated four pages to cover the leader and the event.
© Copyright IBTimes 2023. All rights reserved.