Tuesday Primary Election 2016: 5 Predictions For Florida, Ohio, Illinois, Missouri And North Carolina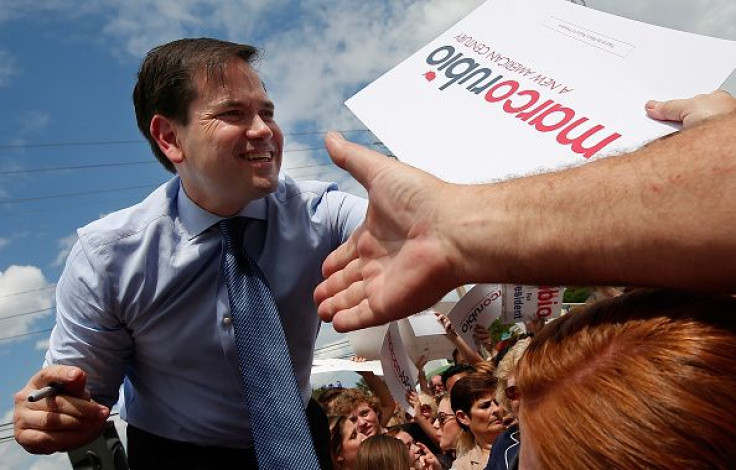 Voters are heading to the polls Tuesday for contests in five states that could close gaps in the primary races. Some major states are at stake, including Florida, which has one of the highest delegate counts and is winner-take-all. Here's what political pundits are looking for as the results roll in Tuesday evening in Florida, Ohio, Illinois, Missouri and North Carolina.
1. What happens if Florida Sen. Marco Rubio and Ohio Gov. John Kasich lose their home states?
The two Republican candidates have battles in their home states Tuesday, where they're banking on big wins to revitalize their campaigns.
Kasich and Donald Trump are in a tight race in the state, with Nate Silver's FiveThirtyEight blog anticipating Kasich has an 87 percent chance of winning the primary. But even if the Ohio governor comes out on top, taking home all of the state's 66 delegates, he is still a long shot for the nomination. Kasich could win every remaining delegate in the primary contests and still not reach the 1,237 delegates needed to secure the nomination, according to the Washington Post. Even in the face of these discouraging calculations, the Republican governor is not deterred.
"If things go the way they're expected to go on Tuesday, I think everybody's going to be short," he said. "Then we see what happens. And at that point, I think they start looking at who can do the job, who can win in the fall."
Rubio has a more of an uphill battle in his home state. The latest Quinnipiac survey found that Rubio lagged behind Trump by 24 points in Florida. "A loss of that magnitude could be devastating to Rubio and would leave him in a tough spot if he ever wanted to seek public office again," CNN's MJ Lee wrote.
Rubio has at least publicly considered the possibility he may not be elected president in November. "January of next year, I will either be president of the United States, or I will be a private citizen. If I never hold elected office again, I'm comfortable with that," Rubio said. "I can't tell you what's going to happen two to four years from now but I have no plans, no thoughts, no contemplation, no meetings, nothing, about any future political run of any sort."
Presidential Primaries to Date and Upcoming Contests | InsideGov
2. If Vermont Sen. Bernie Sanders wins Florida, what does that mean for his and Hillary Clinton's campaigns?
For Sanders to win the nomination, he will need more upsets — like his Michigan primary win — to secure the nomination, and Florida could be the key. Clinton has a significant lead in the Sunshine State, but polls also indicated as much ahead of Michigan's primary vote. A Florida win would mean Sanders could pull off one of the most crucial states in the general election.
"What all of the pundits said and what all of the media said is Bernie Sanders and the political revolution can't win in Michigan," Sanders said at a rally last week in Kissimmee, Florida. "Guess what? We won in Michigan … Now here in Florida, next Tuesday, I believe that if there is a large voter turnout, if you come out, and your friends and families and neighbors come out, we are going to win here in Florida."
There are 214 delegates up for grabs in Florida, and a win would show he can drive African-Americans and Latinos to the polls. Even if Sanders does not win Florida, a close race there could rock Clinton's campaign, according to Adam Seth Levine, a political scientist at Cornell University.
"There is such a thing as momentum. Altering perceptions of electability among voters can really be persuasive," said Levine told Vox.
Democratic Super Tuesday Primary and Caucus States | InsideGov
3. How likely is a brokered Republican National Committee convention?
Republicans are floating the possibility of a brokered party convention, which occurs when no candidate receives the 1,237 delegates required to win the nomination. Political experts said it is unlikely the results of the Tuesday contests will lead to a brokered convention. In the event of a contested convention, the Republican delegates would be able to choose the nominee.
Trump has already won 473 delegates in the primary contests and will likely inch closer Tuesday to the necessary 1,237. There are 360 delegates up for the taking Tuesday, and Trump is expected to win Florida, Illinois, North Carolina and (possibly) Ohio, according to the latest polls.
Delegates Awarded to Presidential Candidates Over Time | InsideGov
4. What does Texas Sen. Ted Cruz need to do Tuesday to stay viable?
Cruz has won seven states in the primary contests, putting him at 370 delegates, just behind Trump, who has 473 delegates. In attempt to close in on Trump, the Texas senator has made major last minute investments for advertisements in Illinois, Missouri and North Carolina to nab delegates.
"The investment in Ohio — expected to be Cruz's biggest additional outlay — could indicate that his campaign sees an opportunity to land a stronger-than-expected finish in that winner-take-all state, where Trump and Kasich currently hold strong leads," said POLITICO's Katie Glueck.
Cruz is not projected to win in most states voting Tuesday, but he can seize on delegates in states such as Illinois, Missouri and North Carolina, where they award them proportionally.
Delegates Awarded to Republican Candidates | InsideGov
5. What if Rubio drops out?
Rubio has won three primary contests — Minnesota, Washington, D.C., and Puerto Rico — and even though he has vowed to not drop out, there have been reports that his aides are urging him to suspend his campaign. The Florida senator trails with a modest 151 delegates, which will be allocated differently depending on the state. In Iowa, Rubio's delegates will remain his own even if he drops out, according to the University of Virginia's Center for Politics. States such as New Hampshire and Minnesota allow the delegates to be allocated to other candidates. These delegates can go to the convention uncommitted.
© Copyright IBTimes 2023. All rights reserved.
FOLLOW MORE IBT NEWS ON THE BELOW CHANNELS