Florida Primary 2016: How Marco Rubio Lost His Mojo To Donald Trump And Became The Establishment Loser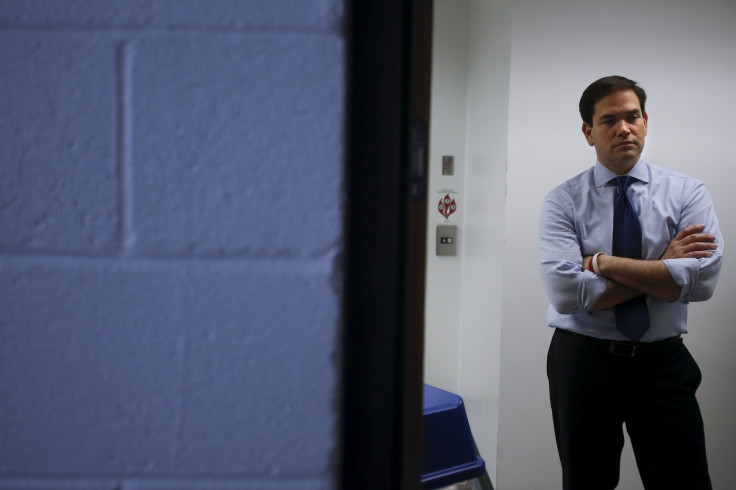 Marco Rubio stood in front of reporters Saturday morning looking pale and tired. After a night in which his biggest rival chose to cancel a rally over fears of violence and then appeared on multiple TV networks to blame protesters for silencing his freedom of speech, the Florida senator pulled himself together and delivered passionate reflections on Donald Trump, the state of the 2016 race, the media and racial tensions in America.
"This is a frightening, grotesque and disturbing development in American politics," Rubio said. "This boiling point that we have now reached has been fed largely by the fact that we have a front-runner in my party who has fed into language that basically justifies physically assaulting people who disagree with you."
It was a Rubio many had not seen since his race for the Senate in 2010, when he was lifted to the national stage by an emerging wave of populist enthusiasm, before Trumpism took over the U.S. — and Florida.
For more than eight months, Trump has dominated the Republican presidential primary race while Rubio, once dubbed the "first senator from the Tea Party," has been painted as an establishment politician who cannot even win in his home state. As the Florida primary presents Rubio with perhaps his last chance to stop Trump's path to the nomination, party leaders and analysts said a combination of Rubio losing his down-to-earth charm, spending too much time outside the state and failing to adapt as Trump stoked an angry electorate have likely cost him the Sunshine State — and the GOP nomination along with it.
"What's frustrating for those of us who support Marco Rubio is that he has always tried to work outside the box, he's never been an establishment guy," said Nick Iarossi, a Tallahassee lobbyist and Rubio fundraiser. "There's a frustration that Marco's message has not resonated as well this time."
When Rubio ran for the Senate in 2010, he was the outsider candidate, and many counted him out from the beginning. But he quickly rocketed ahead of the unpopular sitting Gov. Charlie Crist, effectively forcing Crist to make an independent run, and then benefited from a three-way race against Crist and Democrat Kendrick Meek.
Rubio adopted the Tea Party's aggressive sensibility and went hard after Crist. He traversed the state, meeting people and showing Floridians he would work for their vote, Republicans interviewed this week remembered.
"Where he was so effective was at the grassroots level. He was able to connect with the rank- and-file Republicans," said Daniel Smith, a political science professor at University of Florida. "They came out to the blue jeans-and-bow-tie Republican events. He went against the Tallahassee insiders in the Republican Party of Florida."
This year, Rubio has been lagging behind in the polls, just as he was in early 2010 before he went on to win his Senate seat. Out of the 25 Republican primaries that have taken place so far, Rubio has won just three. In Florida, Rubio sat about 20 percent behind Trump before Tuesday's primary. A Quinnipiac University poll conducted March 8-13 had him at 22 percent compared with Trump's 46 percent.
RCP Poll Average for Florida Republican Primary | InsideGov
Despite his home state advantage, Rubio has not significantly improved in Florida polls since entering the race, and national polling has him in third place behind Trump and Texas Sen. Ted Cruz. Overall, Trump leads the GOP field with 460 delegates, while Cruz has 369, Rubio has 163 and Ohio Gov. John Kasich has just 63. Trump is nearing a lead large enough that it could soon be impossible for any of the others to stop him.
Part of the reason for Rubio's lack of success this cycle can be dubbed the "Donald Trump phenomenon," pundits said. Trump has clearly tapped into an anger in the electorate that no other candidate has managed to capture, and he has appealed to a host of first-time voters and new Republicans who have registered just to vote for the New York businessman. Florida's primary is closed, meaning only registered Republicans can vote, and it also has early voting, so many people cast their ballots before election day.
"There are about 300,000 Republicans who are voting in the presidential primary who didn't vote in the 2010 general election," Smith, the University of Florida professor, said, looking at data from those who voted early. "This election is bringing out people who weren't bothered to vote for Marco Rubio or Charlie Crist or Kendrick Meek."
On top of that, Florida's Latino Republicans — a constituency Rubio expected to win because of his Cuban heritage — are not all going for their state's native son. Cubans are typically more conservative than Latinos from some other countries, but many are leaning toward Trump in 2016. And it's not just Cubans. A Florida Atlantic University poll released this weekend showed Trump with a narrow lead among Hispanic Republicans. He had 37 percent, Rubio had 34.5 percent and Cruz, whose father is Cuban, had 20.5 percent.
"I dont think it's necessarily him struggling so much in Florida but more of a Donald Trump phenomenon. It's impacting all the other candidates across the country," said Evan Power, chairman of the Leon County Republican Party, where the state's capital is located. "Ted Cruz was able to win Texas, his home state, because it's a very conservative area. But Florida is a cross-section of the country so what's working for Donald Trump everywhere is working here."
Florida is an important swing state in presidential elections, and it has a significant number of delegates in primaries. Each party typically has a strong base of about 47 or 48 percent, and the state's changing demographics have seen it lean more Democratic in recent presidential election years. The black and Hispanic share of the vote is going up, particularly in the southern part of the state, while northern Florida remains fairly white and conservative.
Rubio's positions on many issues are far to the right of Trump's and other opponents such as Kasich. The Florida senator is notoriously hawkish and believes that abortion should be illegal, even in cases of rape and incest. Trump, on the other hand, has made positive comments about Planned Parenthood this election cycle, and sounds closer to Democratic candidate Bernie Sanders than Rubio when discussing trade deals.
"If your mainstream candidate is Marco Rubio, then conservatism has already won. Him being the mainstream candidate means the Republican Party has moved to the right," Power said.
Rubio has maintained fairly high favorability ratings throughout his time in office and this year's election, but Trump still scores higher in many other categories. A recent Washington Post-Univision poll in Florida found Rubio with the highest net favorability of any GOP candidate at +31 points. However, Trump won out on who Florida voters thought would best bring change to Washington and tackle the economy, immigration and terrorism.
While that same anti-establishment fervor brought Rubio to the national scene, five years in the Senate has landed him with the label of the establishment pick and kept him away from his constituents. In the 2016 presidential race, Rubio staked out the position of a unifier who could bring the Republican Party together and into the future. But as he has racked up endorsements from establishment GOPers, he has looked increasingly distant voters in Florida who liked him for taking on the Tallahassee establishment.
Rubio has often missed Senate votes while campaigning over the last year, and both Floridians and his opponents have noticed. Furthermore, immigration has become one of the most heated issues of the 2016 election, and that happens to be a particularly problematic topic for Rubio. Shortly after getting to the Senate, he joined the "Gang of Eight" bill that would have granted amnesty to undocumented immigrants, before abandoning it when he realized it was wildly unpopular among Republicans who otherwise supported him.
"The Tea Party support he had has dissolved," Michael Barnett, chairman of the Palm Beach County Republicans, said, adding that the "Gang of Eight" bill left some voters feeling betrayed.
Barnett pointed to the fact that even at the height of Rubio's popularity with Tea Party voters, he earned less than 50 percent of the vote, with Crist and Meek each taking a sizable chunk in his race for the Senate. But most people are not angry with Rubio, Barnett said. Rather, he thinks Rubio's distance — physically and symbolically — has hurt him in Florida.
"It's a matter of connecting with the average Republican primary voter. Marco Rubio hasn't done as good a job as he should have in connecting with voters," Barnett said. "I think he's going to lose. It's unfortunate because he's a really good man."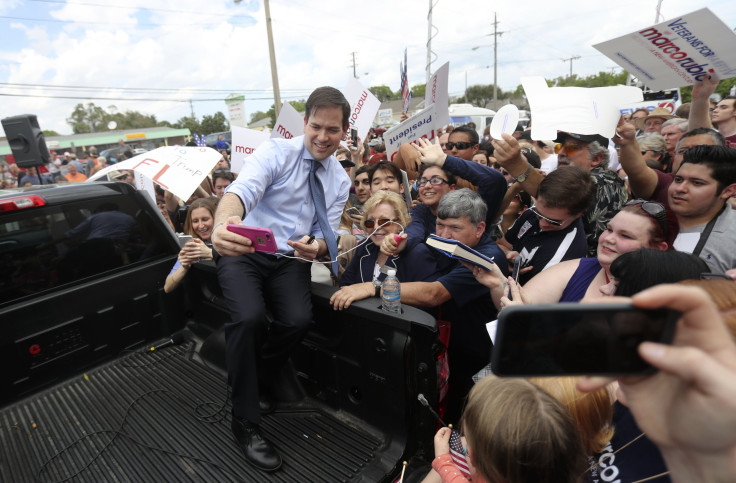 For others, Rubio's impending loss is more logistical than ideological. The Florida senator's campaign pursued a national strategy during early primary months, spreading out resources rather than focusing on specific states, like choosing Iowa or New Hampshire, for example. Rubio did not win any of the first four primaries or caucuses and only opened campaign offices in Florida in recent weeks.
"The Trump camp is absolutely organized, they run it more like a business," said Bob Sutton, chair of the Broward County GOP. "When I reached out and asked for all the candidates to appear or send a surrogate, the Trump team was the first to send a surrogate. They have their act together."
More than anything, Sutton said he feels Rubio lost the qualities that made him most likeable when he was running for the Senate.
"He lost his humanness. When he was first out there, he was a dad, he was a husband but now he's a politician," Sutton said. "They don't want to relate to a politician, they want a real person and that's Trump. He's the blue-collar billionaire."
FOR FREE to continue reading
✔️ Unlock the full content of International Business Times UK for free
offer available for a limited time only
✔️ Easily manage your Newsletters subscriptions and save your favourite articles
✔️ No payment method required
Already have an account? Log in
© Copyright IBTimes 2023. All rights reserved.