Tunisian FEMEN Activist On Trial For Assaulting Guards In Prison, While Awaiting Trial On Unrelated Charges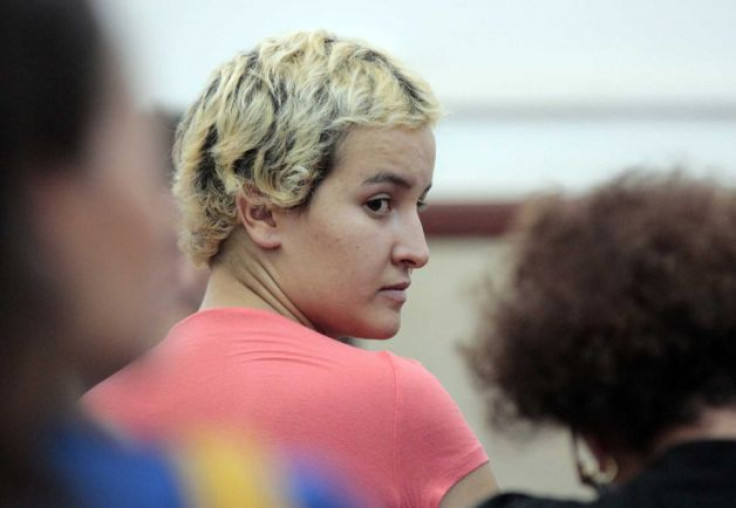 Her name is Amina Sboui and she is 19 years old. For the last two months, her home has been inside the four walls of a cell at the Messadines women's prison in Tunisia. On Monday she appeared in court, after being accused of assaulting guards and defaming public servants. She was wearing a thin pink T-shirt, revealing a tattoo on her arm, while her co-defendant, her cellmate, a girl named Rabia, wore a sifsari, the traditional Tunisian veil.
But Sboui is not just any Tunisian prisoner, she is a member of FEMEN, the Ukrainian-based feminist group that has staged outrageous and provocative protest demonstrations across Europe. Sboui gained international recognition in March when she posted pictures of herself on the Internet to protest the mistreatment of women in her country. In true FEMEN fashion, she was bare-breasted and had inscriptions on her body such as "my body belongs to me" and "f*** your morals."
Sboui was arrested in May after she was caught writing the name of the Ukrainian activist group on the wall of a cemetery in the city of Kairouan, in the center of Tunisia, while denouncing a gathering of hard-line Islamists. She was subsequently charged with undermining public morals and desecrating a cemetery. She has spent two months in prison in that case, although no trial date has yet been established.
Her appearance before a judge this week in the court in M'Saken stemmed from a separate incident in prison, however. Sboui claimed that her cellmate Rabia was beaten and mistreated by four guards, compelling her to intervene by pushing the guards off of Rabia's body. Sboui also alleged her cellmate was forced to stand in the hot sun for five hours as a punishment for not saluting the prison guards as required. Prison guards pressed charges against both prisoners for insulting and defaming them during the course of their duties.
"I am being tried, because I condemned the torture of detainees and the violence used against them," Sboui told Agence France-Presse. One of Sboui's defense attorneys, Radhia Nasraoui, has asked the charges to be dismissed, saying the prison guards acted in retaliation and fabricated charges against her client. The judge in the current case will deliver his final verdict on July 29 -- the two women face a possible year in prison for contempt and six months for defamation.
Human Rights Watch has asked for a pre-trial release. "It does not matter to me if I am held in prison for a long time," Sboui allegedly said, according to a support committee formed on her behalf. "To be behind bars is not as hard as to be outside, watching a religious dictatorship take over Tunisia." HRW's deputy Middle East and North Africa director, Eric Goldstein, recently said that the Tunisian court "should scrutinize carefully the serious charges against Amina Sboui, which seem motivated more by a desire to punish her provocative activism than by evidence of wrongdoing."
Despite Tunisia's reputation as one of the most progressive states in the Muslim world with respect to women's rights, since the revolution that toppled dictator Zine El Abidine Ben Ali two and a half years ago, Islamic fundamentalist groups have sprouted up. Indeed, the current government is controlled by moderate Islamists linked to the Ennahda movement. Sboui's provocative behavior has pushed the limits of such tolerance in the country.
FEMEN leader Inna Shevchenko, now living in exile in France, said Tunisia is the starting point for a new campaign she wants to call the "new Arab Spring" for women. "Countries [which participated in the] Arab Spring [revolution] were [ultimately] a big disappointment for society," Shevchenko told Deutsche Welle, the German broadcaster. "Also with the changing political situation -- and Islamist parties which are leading governments, in Tunisia as well -- they are trying to increase the levels of oppression."
© Copyright IBTimes 2023. All rights reserved.
FOLLOW MORE IBT NEWS ON THE BELOW CHANNELS