FEMEN Leader Inna Schevchenko, Topless Protester, Granted Asylum In France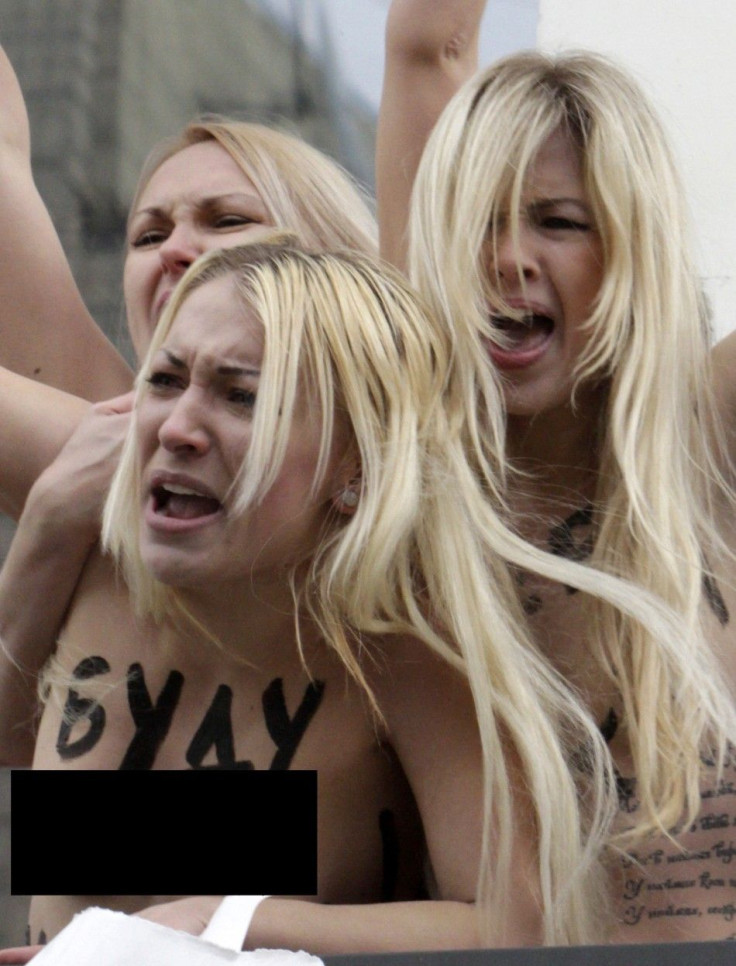 They are a group of women activists known for protesting in the streets of the world's largest cities, topless. They demonstrate against religious institutions, sexism, homophobia, prostitution and other national and international issues. And sometimes, they run into trouble with the authorities -- that's what happened to the leader of Ukraine's FEMEN movement, Inna Schevchenko, who later asked for asylum in France.
The French OFPRA refugee agency granted the 23-year-old Ukrainian citizen political asylum on April 9. Schevchenko announced it by posting on Monday a photo of the pink paper on the FEMEN website.
Schevchenko had left her native country after she had chopped down a wooden Orthodox cross in the capital Kyiv last August. She was protesting against the imprisonment, and risking the same fate, of the Russian band Pussy Riot, three of whose members have been sentenced to prison after performing a "Punk Prayer" in a Moscow church to denounce Russia's President Vladimir Putin's ties with the Russian Orthodox Church.
Last August, Schevchenko arrived in Paris on a tourist visa, before applying for asylum, because she feared being arrested. The French refugee agency refused to comment on the process, because of its confidentiality, but the Femen leader said that she chose France for good reason.
"To develop the movement, we need a place, we need a country," said Schevchenko.
The FEMEN movement was created in 2008 by Anna Hutsol. Throughout the years, it has grown throughout the world, developing branches and organizing protests in Paris, in Rome and even during the 2012 UEFA European soccer championship.
Since her arrival in Paris, Schevchenko has developed the branch there by setting up a training center for FEMEN activists. The group has also carried out several protests in the French capital.
However, some of those protests sparked controversy in the country, especially when FEMEN decided to demonstrate topless in front of the cathedral of Notre-Dame in Paris, after Pope Benedict XVI announced his resignation earlier this year. It was, the group said at the time, a gesture of provocation.
More recently, European FEMEN activists were jailed in Tunisia after they showed their breasts during a rally. They were eventually freed, before flying back to France.
Schevchenko's political asylum will grant her the full protection of the law in France and allow her freedom to continue what she calls her fight for a "new kind of feminism."
© Copyright IBTimes 2023. All rights reserved.
FOLLOW MORE IBT NEWS ON THE BELOW CHANNELS