Turkey Building New Ottoman Empire? Erdogan Vows To Fight Terrorism At Home And Abroad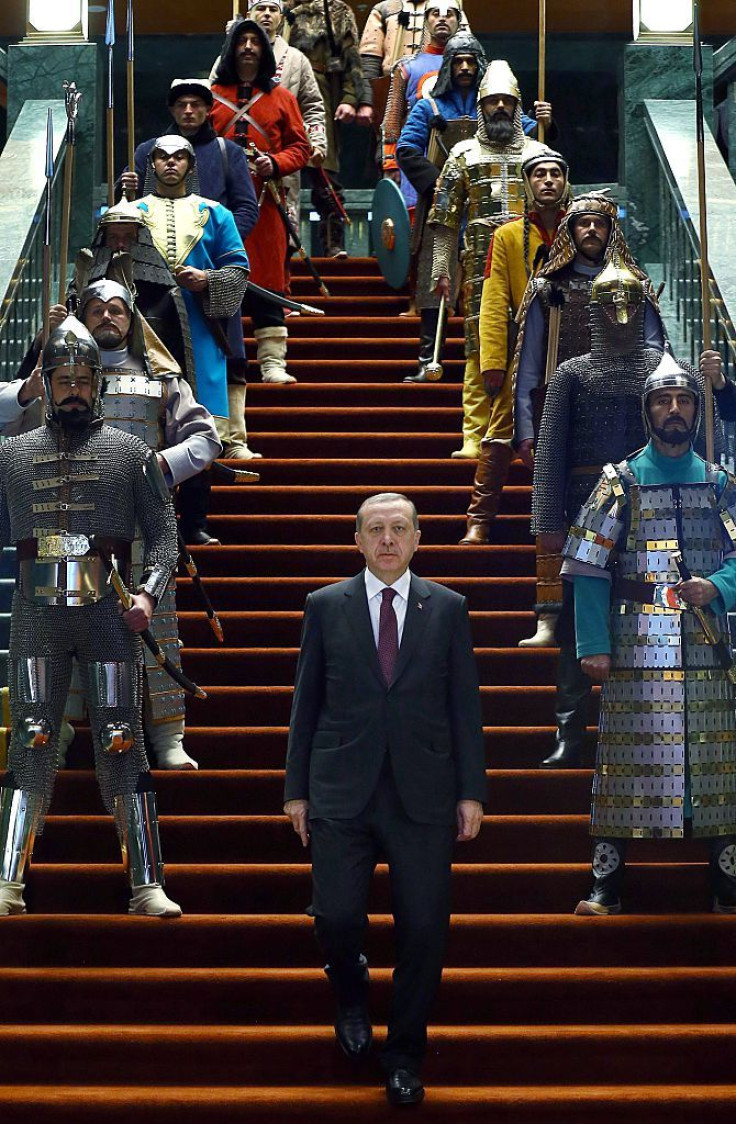 Turkish President Recep Tayyip Erdogan recalled his nation's Ottoman past in a speech Wednesday that warned his foreign enemies that Turkey would take a more proactive role in the region, despite being left out of the ongoing U.S.-backed assault against the Islamic State group in Mosul, Iraq.
At the presidential palace in Ankara, Erdogan accused his nation's adversaries of trying to make the Turkish people forget their "Ottoman and Selcuk history" and restricting the country's ability to participate in international affairs.
"From now on we will not wait for problems to come knocking on our door, we will not wait until the blade is against our bone and skin, we will not wait for terrorist organizations to come and attack us," he told hundreds of "muhtars," local and mostly pro-government administrators.
Erdogan has expressed his frustration toward being excluded from the U.S.-led coalition currently working with Iraqi forces to liberate the ISIS stronghold of Mosul. The U.S. has forbid Turkey from taking a role as a result of Erdogan's poor relation with the Iraqi government.
Turkish attacks on Kurdish militant positions in northern Iraq have enraged Iraqi Prime Minister Haider al-Abadi. Erdogan and Abadi have also traded insults in the past over unwelcome Turkish presence in the military camp of Bashiqa, less than 15 miles from Mosul.
While Turkey continues to campaign for its involvement in the Mosul offensive, Washington has decided to leave it up to Abadi. Feeling betrayed by his NATO partner, Erdogan has strengthened his tone of speech in recent weeks and has decided to review its geopolitical position. It has recently even sought closer ties with a traditional foe, Russia.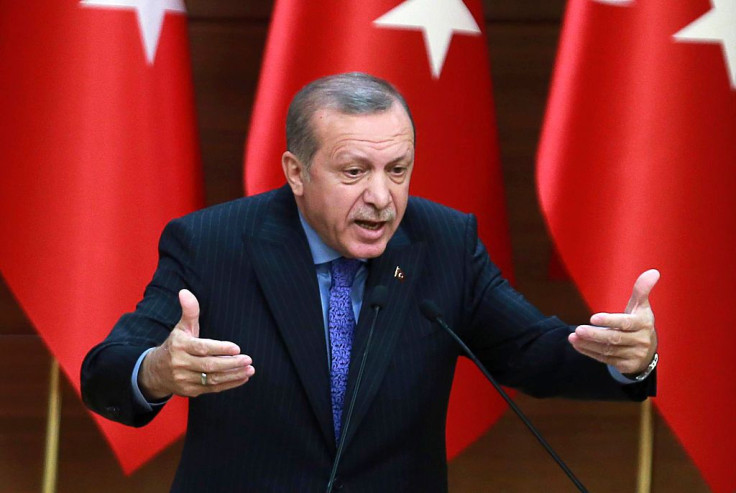 In Wednesday's speech, Erdogan specifically called out those supporting the Kurdistan Workers' Party (PKK), which Turkey deems a terrorist organization. The PKK has waged a three-year insurgency against the Turkish state in hopes of securing Kurdish autonomy. Turkey refuses to participate in operations with Kurdish forces and opposes their involvement in U.S.-led coalitions in Syria. Erdogan vowed to eliminate PKK militants and their supporters.
"They will not have a single place to find peace abroad," he said.
Erdogan's firm stance is backed by an increase in popularity experienced after a failed coup attempt in July. The Turkish population overwhelmingly supported Erdogan during the uprising and the leader has ridden the wave of support since. A number of terrorist attacks at home have also inspired patriotic fervor. On Wednesday, a would-be suicide bomber was shot dead by security forces in Ankara.
The Ottoman Empire existed for over 600 years. It was founded in 1299 and at its height in 1683, it spanned over 2 million miles throughout Europe, Asia and Africa. By the mid-19th century, however, a number of military defeats and an economic decline prompted Tsar Nicholas I of Russia to famously label the shrunken entity "the sick man of Europe."
With Turkish forces now expanding deeper into Syria and Iraq, two regions within the former Ottoman sphere of influence, Erdogan appears to be reiterating past territorial claims.
© Copyright IBTimes 2022. All rights reserved.
FOLLOW MORE IBT NEWS ON THE BELOW CHANNELS