Turkey Clash With ISIS: Soldiers, Fighter Jets Deployed To Syrian Border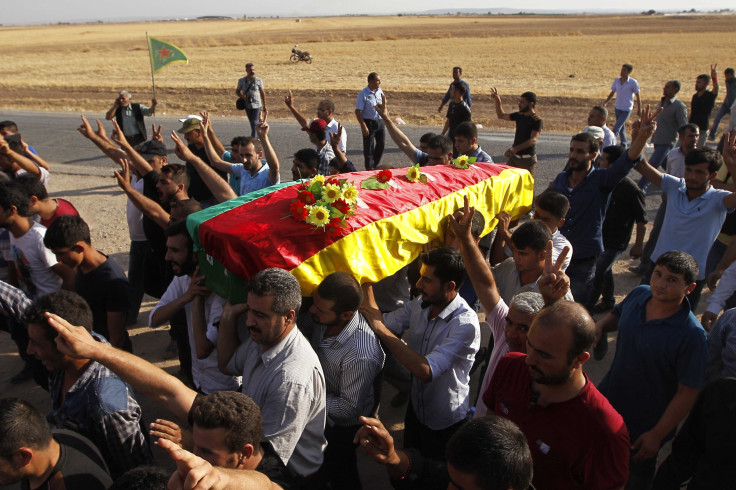 Turkish forces began fighting Islamic State group militants in cross-border clashes between Turkey and Syria on Thursday, just four days after a suicide bomber tore through the Turkish border town of Suruc, killing 32 people. This is the first time Turkey, a member of the American-led coalition to fight the Islamic State group, has engaged in ground clashes with the militants.
Dozens of troops from Turkey's Special Forces Command were deployed to the four Turkish border provinces, where they were stationed in areas close to Syrian towns under Islamic State group control. After the initial ground clashes, Turkey deployed F-16 fighter jets and began to strike areas in Syria controlled by the group also known as ISIS or ISIL.
At least one Turkish soldier has been killed from cross-border gunfire coming from Islamic State group-controlled areas of Syria, the Anadolu News Agency reported. It described the man as a "non-commissioned military officer." An ISIS militant was reportedly also killed in clashes.
"Turkish soldiers returned fire after shots came from the Syrian side of the border, from the region where Islamic State militants are. The clash is going on at the moment," a Turkish official told i24 News.
Clashes began when at least 10 ISIS militants fired on Turkish positions lining the border, Anadolu reported. Turkey then responded with proportional fire, in accordance with its military rules of engagement. Last month Turkey announced it would expand those rules of engagement to allow strikes on ISIS targets in Syria, in addition to Syrian President Bashar Assad's regime, the Daily Sabah reported.
The areas of northern Syria that line the Turkish border have been rocked by clashes between ISIS and Kurdish fighters since last year. Recently, Turkish President Recep Tayyip Erdogan expressed concern that the Kurds could form a "structure" along the border if ISIS militants were pushed out of the area.
"I say to the international community that whatever price must be paid, we will never allow the establishment of a new state on our southern frontier in the north of Syria," Erdogan said last month, according to Agence France-Presse.
The Turkish government blamed ISIS for Monday's bombing, which would mark the first time ISIS has attacked in Turkey. The militant group has yet to claim responsibility.
© Copyright IBTimes 2023. All rights reserved.