Turkey Coup: President Erdogan Denounces Failed Attempt, Says Those Responsible Will 'Pay a Heavy Price'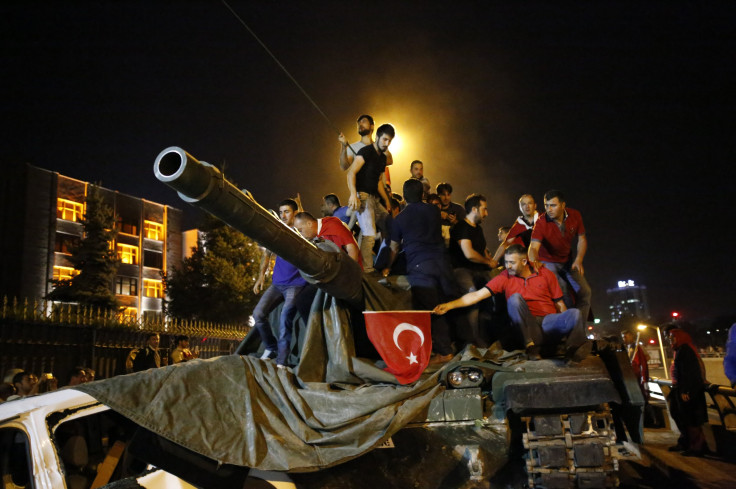 UPDATE: 11:05 a.m. EDT — Turkish citizens who followed President Tayyip Erdogan's call to take back their government were in the streets Saturday, crushing the last of an attempted coup. Erdogan is using the coup as a justification for purging the armed forces and, according to a Turkish broadcaster, the judiciary.
"This uprising is a gift from God to us because this will be a reason to cleanse our army," Erdogan said.
UPDATE: 7:05 a.m. EDT — Here is an updated tally of the total number of people killed, wounded and arrested as a result of the overnight coup attempt in Turkey:
161 civilians and government forces killed
104 "coup plotters" killed
1,440 people wounded
2,839 Turkish army personnel arrested
UPDATE: 6:20 a.m. EDT — A Turkish military plane carrying eight people — seven military personnel and one civilian — landed in the Greek city of Alexandroupolis at midday on Saturday, according to media reports. The passengers, who were allegedly involved in the failed coup attempt and were seeking political asylum in Greece, have been arrested for entering the country illegally.
UPDATE: 5:30 a.m. EDT — The overnight coup attempt is a "black stain" on Turkish democracy, Prime Minister Binali Yildirim said during a live televised address, blaming a "parallel structure" in the armed forces for the events.
The coup plotters will "face the justice they deserve," Yildirim said, adding that over 2,800 members of the armed forces had been detained in connection with the coup attempt.
Meanwhile, international reactions to the failed coup attempt has continued to pour in, with leaders from Russia and the United Kingdom lending their support to Erdogan's government.
"The aggravating political situation (in Turkey) against the backdrop of existing terrorist threats in this country and an armed conflict in the region pose increased danger to international and regional stability," the Russian foreign ministry reportedly said in a statement, reiterating Moscow's pledge to work with Turkey's legitimate government.
Boris Johnson, the U.K.'s newly-appointed foreign secretary, also pledged his support for Erdogan's government.
UPDATE: 4:25 a.m. EDT — Turkey's acting army chief Umit Dundar said that 104 "coup plotters" have been killed. This brings the total number of those killed as a result of the attempted military coup to nearly 200, including 90 police officers and civilians.
Several military commanders have also been taken hostage by rebel soldiers and are being held in an unknown location, Dundar said.
UPDATE: 3:20 a.m. EDT — Photos have emerged showing Turkish soldiers being mobbed and beaten up by an angry crowd after surrendering on the Bosphorus Bridge in Istanbul: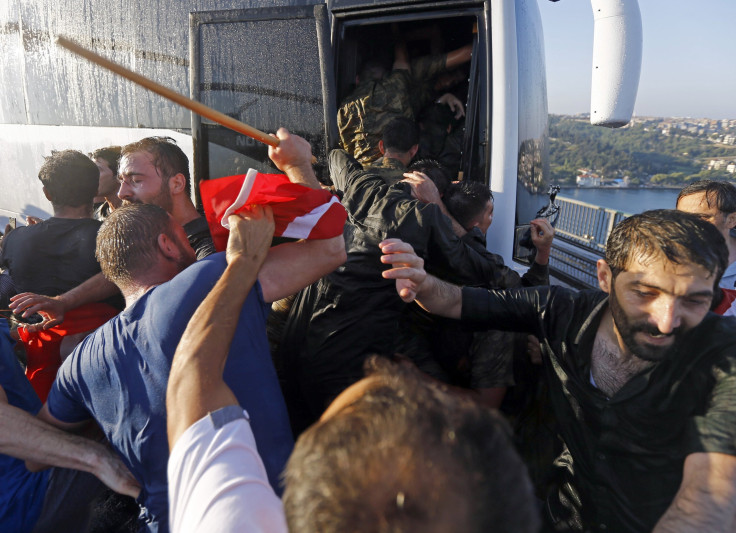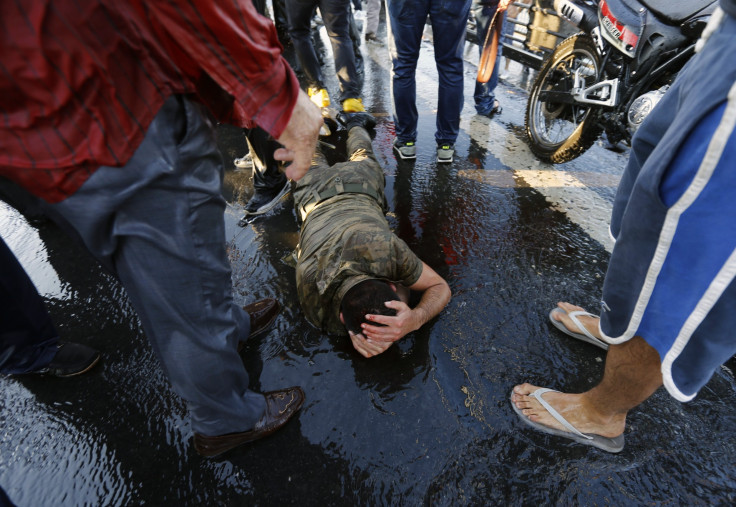 UPDATE: 2:50 a.m. EDT — Turkey's Anadolu Agency has raised the number of those killed in the coup attempt to 90. Over 1,100 people are also believed to have been injured in clashes across the country.
Meanwhile, a total of 1,563 military officers have been arrested across Turkey for involvement in the coup attempt, the Associated Press reported, citing a senior Turkish official. This figure is more than double the 754 reported earlier.
UPDATE: 1:45 a.m. EDT — Hulusi Akar, the chief of Turkey's miltary, has been rescued by security forces after being held hostage by rebel soldiers at an airbase in the outskirts of Ankara, CNN-Turk reported. The government had earlier appointed First Army Commander Umit Dundar to provisionally replace Akar.
Separately, Turkish police chief Celalettin Lekesiz said that 16 "coup plotters" had been killed in clashes at the country's military police command, the Associated Press reported.
UPDATE: 1:23 a.m. EDT — The death toll in Turkey has risen to at least 60, the state-run Anadolu News Agency and the Associated Press reported, citing Turkish officials speaking on the condition of anonymity. According to the BBC, which quoted a senior Turkish official, the rebel soldiers still control some military helicopters, but they have no fighter jets.
Turkish Prime Minister Binali Yıldırım, meanwhile, thanked leaders of the opposition parties in Turkey for strongly opposing the coup attempt.
"I thank the leader of the opposition parties. They have protected the democracy. They have stood with our government by showing a clear stance against the coup attempt," Yıldırım reportedly said.
Original Story:
Hours after an attempted coup by a faction of the Turkish military killed at least 42 people in the capital city of Ankara, forces loyal to President Recep Tayyip Erdogan said they have successfully put down the attempt. However, reports of sporadic explosions and gunfire are coming in from Istanbul, where Erdogan assured his supporters that the government was now under control of the situation.
"They have pointed the people's guns against the people. The president, whom 52 percent of the people brought to power, is in charge. This government, brought to power by the people, is in charge. They won't succeed as long as we stand against them by risking everything," Erdogan, who became the Turkey's president in 2014, said during an address to his flag-waving supporters in Istanbul's Ataturk airport, urging his supporters to stay on the streets.
According to Turkey's Hurriyet Daily News, First Army Commander Umit Dundar has now been appointed as the acting chief of staff to replace Hulusi Akar, who is believed to have been taken hostage by rebel soldiers.
At least 750 people have now been detained in connection with the coup attempt, Turkey's Anadolu Agency reported, citing the country's interior ministry.
Although the military faction behind the coup attempt — the fifth since 1960 — announced late Friday that a "peace council" was now ruling the country, it is still unclear who is backing the group. Erdogan, in his address to supporters in Istanbul, placed the blame for the "act of treason" on Fethullah Gulen — a cleric living in exile in the U.S.
"Now I'm addressing those in Pennsylvania. The betrayal you have shown to this nation and to this community, that's enough. If you have the courage, come back to your country. If you can. You will not have the means to turn this country into a mess from where you are," Erdogan said.
However, Alliance for Shared Values — a group led by Gulen — rejected the allegations in a statement, calling the comments made by Erdogan's supporters "highly irresponsible."
"For more than 40 years, Fethullah Gulen and Hizmet participants have advocated for, and demonstrated their commitment to, peace and democracy. We have consistently denounced military interventions in domestic politics," the group said. "We condemn any military intervention in domestic politics of Turkey."
The coup attempt has also been roundly condemned internationally. The U.S., which counts Turkey as a key Middle Eastern ally in its fight against the Islamic State group in Iraq and Syria, lent its "absolute support" to Turkey's democratically-elected government.
"The United States views with gravest concern events unfolding in Turkey. We are monitoring a very fluid situation," U.S. Secretary of State John Kerry said in a statement. "We urge all parties to ensure the safety and well-being of diplomatic missions and personnel and civilians throughout Turkey."
© Copyright IBTimes 2022. All rights reserved.
FOLLOW MORE IBT NEWS ON THE BELOW CHANNELS