Turkey Detains 28 People Over Alleged Financial Links To Cleric Gulen: Dogan Agency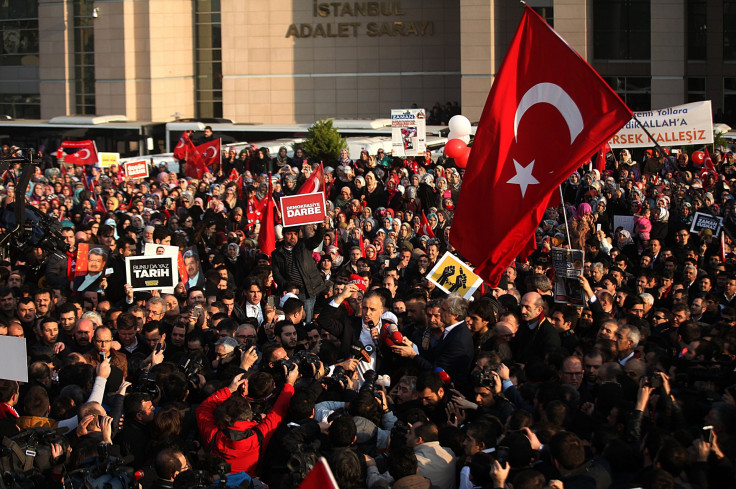 Turkish police detained 28 people Saturday over allegations of funding the movement of U.S.-based Muslim cleric Fethullah Gulen, a foe of President Tayyip Erdoğan, the privately owned Dogan News Agency reported.
The investigation included the head of prominent business confederation Tuskon, and financial police were searching for 23 other people in Istanbul and southern provinces of Konya, Kayseri and Mugla, the agency said.
Turkish police were not immediately available for comment.
The raids were the latest police operations targeting thousands of supporters of the U.S.-based cleric, accused of leading what authorities describe as a "Gulenist Terror Group" trying to overthrow Erdoğan. Gulen denies the accusations.
Gulen and Erdoğan were allies until police and prosecutors seen as sympathetic to Gulen opened a graft investigation into Erdoğan's inner circle in 2013. Thousands of police officers, prosecutors and judges were sacked or reassigned for alleged links to the cleric, while several media outlets with ties to Gulen have been seized or shut down.
In late May Erdoğan designated the religious movement of Gulen a terrorist group and said he would pursue its members, whom he accuses of trying to topple the government.
More than 2000 people, including police officers, civil servants and teachers have been rounded up in operations across Turkey targeting the financial activities of Gulen's followers, local media reported, citing police data.
© Copyright Thomson Reuters 2023. All rights reserved.