Turkey Earthquake Update: Newborn Pulled From Rubble, Umbilical Cord Still Attached To Dead Mom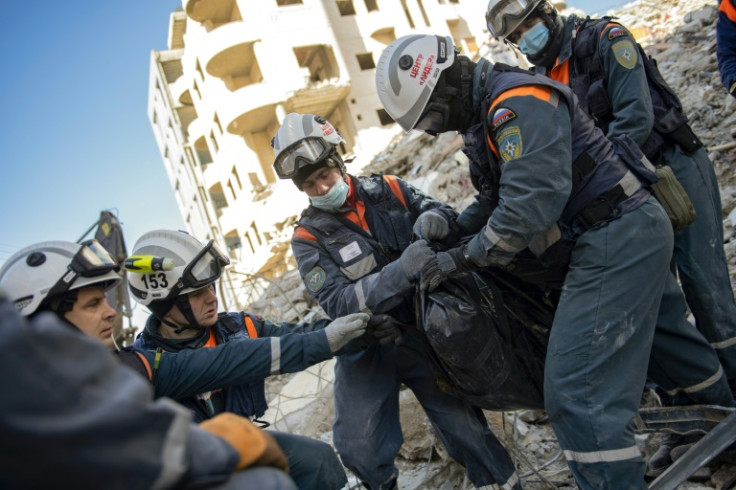 KEY POINTS
A newborn baby was pulled from the rubble after Syrian rescuers heard a faint voice under the debris
The baby was placed inside an incubator in a nearby hospital, where she would receive treatment
Rescue efforts in quake-hit Syria face difficulties due to Western sanctions and the ongoing civil war
A newborn baby girl whose umbilical cord was still attached to her dead mother had been rescued alive from the rubble in the northern Syrian town of Jindayris after the devastating 7.8-magnitude earthquake on Monday.
Khalil al-Suwadi, a relative of the newborn baby, said they heard a faint sound while digging in the debris, according to The Guardian.
Suwadi said they had found the baby with the umbilical cord still intact. They cut it off so they could send the baby to a hospital.
"We heard a voice while we were digging," Suwadi said.
"We cleared the dust and found the baby with the umbilical cord so we cut it and my cousin took her to hospital," he added.
A video obtained by CNN showed the baby being pulled out from the rubble by a rescuer.
The baby was taken for medical treatment in the nearby Syrian town of Afrin, where she was placed inside an incubator, and her left fist was wrapped with a bandage.
Hani Maarouf, a pediatrician, said the baby is now in stable condition, though her body was scarred with lacerations after the earthquake destroyed her home.
Maarouf noted that the baby also suffered from hypothermia, and they had to warm her up and administer calcium.
The baby's parents, four siblings, and her aunt were pulled out from the rubble several hours after she was rescued.
Across Syria, at least 3,042 people have reportedly died in the earthquake.
But the rescue efforts for the possible earthquake survivors face difficulties due to Western sanctions and the ongoing civil war.
The New York Times reported that the European Union and the U.N. Office for the Coordination of Humanitarian Affairs have vowed to assist both rebel and government-controlled areas in Syria.
But the E.U. rejected claims that the sanctions imposed on the authoritarian government of Syrian President Bashar al-Assad and some sectors of the economy are obstructing humanitarian assistance to the country.
The Syria Civil Defense volunteer rescue group, widely known as the White Helmets, posted an appeal on their Twitter account, asking international humanitarian organizations and other concerned groups to provide material support and assistance, noting that "hundreds still trapped under the rubble."
A few days after the catastrophic earthquake, the casualties from the disaster are still rising. The latest death toll showed that more than 15,000 people had been killed in Turkey and Syria.
In Turkey, President Recep Tayyip Erdogan faced criticism over his government's lackluster response.
Despite declaring a three-month state of emergency in ten Turkish provinces hardly-hit by the earthquake, Erdogan said his government's response had "shortcomings" but insisted that it was now "under control."
Erdogan also hit back at some individuals, accusing them of "falsely slandering" his earthquake response.
© Copyright IBTimes 2023. All rights reserved.