Turkey Shortage 2013: Butterball Warns Of National Shortage Of Large Fresh Turkeys Before Thanksgiving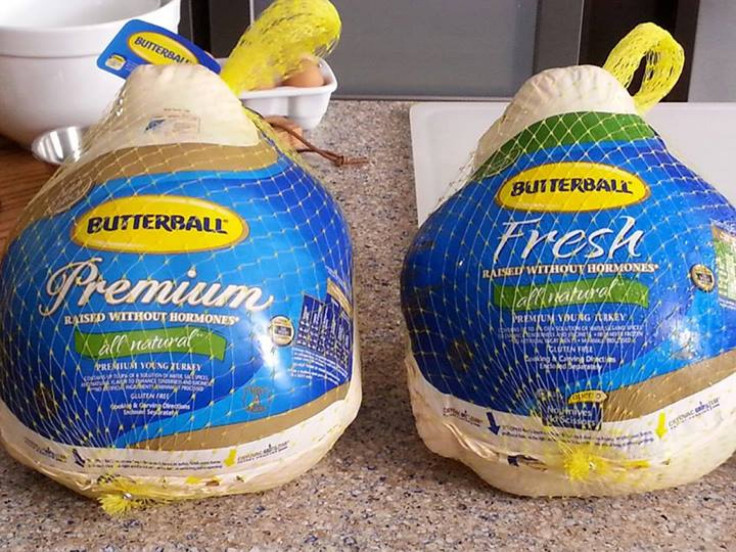 You might want to whip up some extra sweet potatoes, cranberry sauce and stuffing if you're a Butterball lover because there's a turkey shortage just before Thanksgiving, America's number one producer of turkey said.
According to a press release last week from grocery chain Big Y, there is a "national shortage of large fresh Butterball turkeys for this Thanksgiving" in supermarkets around the country. Big Y said the shortage affects only "Butterball brand large fresh turkeys of 16 pounds or more and not frozen or smaller weight fresh Butterballs" and "does not affect any other brands of fresh turkeys."
It also said other major retailers around the country are affected by the Butterball turkey shortage, with supply of fresh turkey being cut by 50 percent on all supermarket shelves.
Butterball addressed the report from Big Y on Friday, saying it could not fatten up its turkeys, leading to a shortage in its large, fresh supply for this Thanksgiving on Nov. 28.
"We experienced a decline in weight gains on some of our farms causing a limited availability of large, fresh turkeys," Butterball spokeswoman Stephanie Llorente said in a statement, The Los Angeles Times reported. "While we are continuing to evaluate all potential causes, we are working to remedy the issue. We sincerely regret the inconvenience that some of our customers have experienced as a result of this issue."
Butterball, a Garner, N.C.-based company, supplies 20 percent of turkey production in the U.S., or more than one billion pounds of turkey every year.
The shortage, though, only affects fresh turkey, not frozen, and in the "large" size.
"Butterball and its retail partners have ample supply of frozen whole turkeys of all sizes – small, medium or large," Butterball's statement continued. "While there may be limited availability on some larger sizes of fresh turkeys, Butterball has shipped 100 percent of customer orders of frozen whole turkeys and products are in distribution across the country."
However, according to EatTurkey.com, the 16-pound turkey is the average weight of turkeys purchased by the 88 percent American households who celebrate Thanksgiving. Sixteen pounds feeds six adults and six children, according to Butterball's turkey portions calculator.
But according to the National Turkey Federation, only 15% of American households actually purchase fresh turkeys for Thanksgiving, with majority opting for frozen.
"If you look at the industry, 85% of the whole bird turkeys — what we eat at Thanksgiving — is frozen, flash frozen. And it is available in all sizes and in all the brands. Those have been ready, plentiful and stocked in the grocery stores," National Turkey Federation spokesperson Keith Williams. "That leaves 15% of the market for fresh turkeys and if you think about it there's going to be a portion of that 15% that's going by any one particular company."
Williams said frozen turkey is the same quality as fresh turkey, but guessed Butterball let its customers know to allow for additional planning for frozen turkeys to thaw. Butterball said it "typically takes between three to five days to thaw" a frozen turkey and suggested Thanksgiving chefs thaw the frozen birds "in a refrigerator for four hours per every pound of turkey."
Fox News reported that Butterball expects production of large fresh turkeys to "be back to normal by the Christmas holiday."
The Butterball turkey was first introduced in 1954 and "named for its broad breast and plump, round shape," according to the company website.
© Copyright IBTimes 2023. All rights reserved.
FOLLOW MORE IBT NEWS ON THE BELOW CHANNELS