Turkmenistan Declares National Public Holiday To Celebrate Alabai 'Wolf-Crusher' Dog Breed
Turkmenistan celebrated a new national holiday on Sunday that was dedicated to the Alabai dog breed, which is also referred to as the "wolf-crusher," due to its strength.
The dog breed, which is known as the Central Asian Shepherd Dog by the American Kennel Club, is considered one of the sources of national pride for Turkmenistan along with the Akhal Teke horse breed.
The celebration of the Alabai breed consisted of several festivities including, a competition in which the son of the Turkmenistan President Kurbanguly Berdymukhamedov, awarded a best in show prize to the breed.
The contest took place during a ceremony in the country's capital, Ashgabat. During the competition, the dogs were judged on their agility and appearance.
A race featuring Akhal-Teke purebreds was also organized in celebration of the horse breed, which is known for its shiny coat and elegant stature.
It is no secret that Berdymukhamedov is fond of the bread. Over the years, he has written a poem and a book about the Central Asian shepherd dog and gifted a puppy of the breed to Russian President Vladimir Putin in 2017 for his birthday.
The dog breed can live upwards of 17 years and is considered territorial guardians for people and their possessions, according to the AKC.
The Central Asian Shepherd Dog has a history of attention-seeking behavior when it comes to its human and will guard whatever it considers being a part of its territory.
The national holiday comes after the government revealed a gold statue of an Alabai in a busy traffic circle in the capital. However, it isn't the only animal-themed sculpture in the country.
There is also a gold statue featuring Berdymukhamedov seated on a horse, which is mounted on a white marble cliff.
Turkmenistan is a country of 6 million people. It shares a border with Kazakhstan, Uzbekistan, Afghanistan, Iran and is along the Caspian Sea.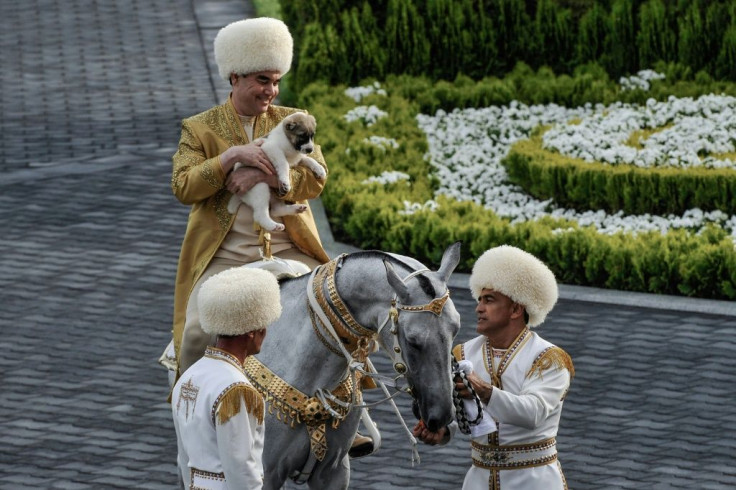 © Copyright IBTimes 2023. All rights reserved.