California Police K9 Dog Stabbed Multiple Times, Expected To Make Full Recovery
A dog with the Fresno Police Department, Argo, is expected to make a full recovery after being stabbed multiple times by a man who had fled on foot from officers. The Fresno Police K-9 Unit on Sunday shared an update on Instagram about Argo's condition.
"He underwent surgery for his wounds and per the doctor should make a full recovery! He is currently at home resting and recovering from his procedures," the post reads.
Argo was injured Saturday morning when he and his handler responded to a domestic violence call about a woman being held against her will, the Fresno Bee reported.
When officers attempted to make contact with alleged perpetrator Carlos Castanos, he ran out of the back of the home and jumped the fence where Argo and his handler were waiting.
The officer ordered Castanos to stop and released Argo when Castanos continued to flee. Argo bit into the left arm of Castanos, who then pulled out a knife and stabbed Argo six times. Argo was also attacked by a pit bull.
Castanos eventually dropped the knife after an officer arrived and tased him. He was treated for injuries and taken to Fresno County Jail. Castanos was booked on multiple charges, including assault on a police officer.
Argo sustained injuries to his left eye and back.
He is now on the road to recovery and has been hailed as a hero.
"The K-9 saved the officer's life," Lieutenant Tim Tietjen said in a statement. "If the K-9 wasn't present, that guy would've been able to move towards the officer and stabbed (him). They were in close proximity."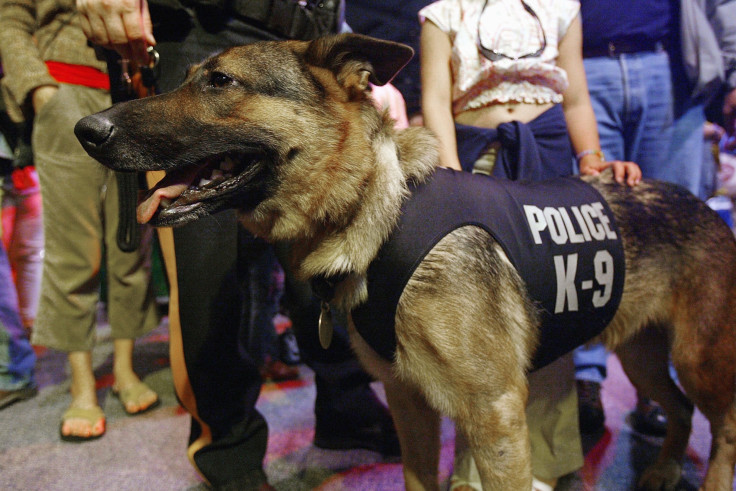 © Copyright IBTimes 2023. All rights reserved.