Two ex-Galleon men plead guilty; Rajaratnam named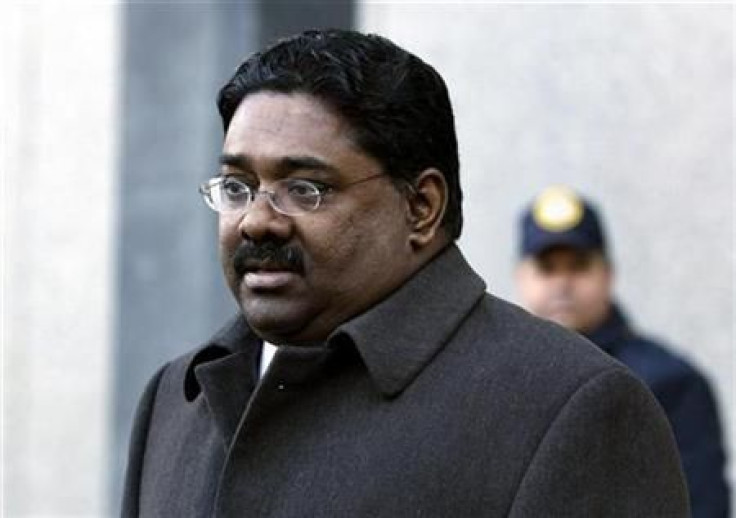 Two former Galleon Group portfolio managers admitted to charges of insider trading on confidential company information, strengthening the government's case against Galleon hedge fund founder Raj Rajaratnam a month before his trial.
In a case that federal prosecutors call the largest probe of insider trading at hedge funds on record, former Galleon employees Adam Smith and Michael Cardillo became the 18th and 19th people to plead guilty to charges of conspiracy or securities fraud in two overlapping networks.
Both men are cooperating with prosecutors, bringing to at least 14 the number of people the government could call to testify at Rajaratnam's criminal trial starting on Feb. 28.
Rajaratnam, a onetime billionaire, has pleaded not guilty to insider trading related charges of conspiracy and securities fraud and vowed to clear his name. Jim McCarthy, a spokesman for Rajaratnam, declined to comment on Wednesday.
Smith, 38, said he leaked details about several possible mergers and earnings reports to Rajaratnam and others at Galleon.
This included a May 2008 phone call with Rajaratnam that the government had secretly recorded, in which Smith said he discussed Vishay Intertechnology Inc.Prosecutors said the chipmaker was at the time a possible takeover target.
I knew what I was doing was wrong, and am forever remorseful about this terrible mistake, Smith said at a court hearing.
Smith admitted to one count of securities fraud and one count of conspiracy before U.S. District Judge John Koeltl in Manhattan federal court. Cardillo admitted to the same charges before U.S. Magistrate Judge James Cott.
FOCUS ON RAJARATNAM
The Sri Lankan-born Rajaratnam, 53, was arrested in October 2009. So far, the government charged more than two dozen former hedge fund managers, traders and executives in a probe dating back at least three years.
The investigation has been expanded in recent months to include charges against researchers who provide hedge funds with company information.
Prosecutors accuse Rajaratnam of being involved in a series of illegal trades that let him reap $45 million of proceeds.
A former principal co-defendant, Danielle Chiesi, pleaded guilty to conspiracy last week.
Cardillo, 33, admitted to trading in late 2007 in shares of Canada's Axcan Pharma Inc, later taken over by private equity firm TPG Capital.
I am very sorry for having acted as I did, Cardillo said at his hearing.
According to The New York Times, Cardillo is the unnamed co-conspirator recorded on Nov. 20, 2007 as discussing Axcan with Craig Drimal, a defendant in a different alleged trading ring centered on another former Galleon trader, Zvi Goffer.
A lawyer for Drimal did not immediately return a call seeking comment.
In the cases against both trading rings, prosecutors have won permission to use wiretapped conversations at trial.
Smith and Cardillo could face 20 years in prison on the respective securities fraud counts.
Bail was set for Smith at $100,000, and sentencing for Oct. 21. Cardillo was released without bail, and his sentencing before a different judge is set for April 26.
The U.S. Securities and Exchange Commission also filed civil lawsuits against both men.
CHIPMAKERS
Prosecutors said an unidentified investment banker leaked advance details to Smith about three merger transactions.
These were chipmaker Integrated Device Technology Inc's 2005 purchase of Integrated Circuit Systems Inc, chipmaker Advanced Micro Devices Inc's 2006 purchase of ATI Technologies Inc, and the Vishay takeover.
They said Smith also learned details about upcoming quarterly results for two other chipmakers, Intersil Corp and Nvidia Corp from employees of those respective companies.
Last week, prosecutors had said an unnamed Morgan Stanley banker had leaked details about the ATI takeover to an intermediary, and that these details were eventually funneled to Rajaratnam.
Smith said he bought ATI securities before the AMD takeover was announced, and added: I thought it likely that Raj Rajaratnam would do the same.
Smith's lawyer, Michael Feldberg, a partner at Allen & Overy LLP, said after the hearing that his client made a mistake. He confronted it, acknowledged it, is dealing with it, and is going to work very hard to put it behind him.
Marjorie Peerce, a partner at Stillman, Friedman & Shechtman PC representing Cardillo, said her client's guilty plea lets him take the first step in moving on in his life.
The main criminal cases are USA v Raj Rajaratnam et al, U.S. District Court for the Southern District of New York, No. 09-01184 and USA v Goffer in the same court, No. 10-00056.
© Copyright Thomson Reuters 2023. All rights reserved.