Two US Navy Carriers To Patrol South China Sea Amid Chinese War Games
Two U.S. aircraft carriers and their entourage of other warships will be heading to the South China Sea soon for a military exercise described as "long-planned".
Lieutenant Joe Jeiley, a spokesperson for the Seventh Fleet headquartered at Yokosuka, Kanagawa Prefecture, Japan, said, "The USS Nimitz and USS Ronald Reagan Carrier Strike Groups are conducting dual-carrier operations in the Philippine Sea and the South China Sea."
He added that presence of the strike groups "provides advanced training opportunities for our forces and provides combatant commanders with significant operational flexibility should those forces be called upon in response to regional situations. The presence of two carriers is not in response to any political or world events. This advanced capability is one of many ways the U.S. Navy promotes security, stability, and prosperity throughout the Indo-Pacific."
The exercises may have been planned but their timing is sure to raise some concerns in other countries in the Pacific region. China is conducting military drills of its own in the Paracel Islands, where overlapping claims have made it a South China Sea hot spot.
The U.S. has no territorial claim in the area, but the 7th Fleet serves to maintain a balance of power between China and the 10-nation ASEAN group. The U.S. Navy occasionally conducts so-called "Freedom of Navigation Operations," the most recent one in May. If nothing else, they serve as a message to China.
The U.S. and Secretary of State Mike Pompeo have expressed displeasure with China in recent days:
Last week, Pompeo participated in the Brussels Forum virtual conference and spoke of the U.S. reduction in troops in Europe and a step-up of activities to counter China. He said, "We are going to make sure we are postured appropriately to counter the PLA (People's Liberation Army). We think that is the challenge of our time and we are going to make sure we have resources in place to do that."
In another press conference last week Pompeo blasted China on the new National Security Law imposed on Hong Kong that he called "draconian" and a "contravention of Hong Kongers' human rights and fundamental freedoms."
Pompeo tweeted Friday, "America agrees with our Southeast Asian friends: The PRC's (People's Republic of China) military exercise in disputed waters of the South China Sea is highly provocative. We oppose Beijing's unlawful claims. Period."
The Pentagon issued a statement Thursday that China's "military exercises are the latest in a long string of PRC actions to assert unlawful maritime claims and disadvantage its Southeast Asian neighbors in the South China Sea."
The American military drills will not be held near any of the contested island chains or Chinese built artificial islands according to officials, but the presence of two nuclear-powered aircraft carriers is a significant show of force that will send a stronger message than any Freedom of Navigation Operation could hope to do.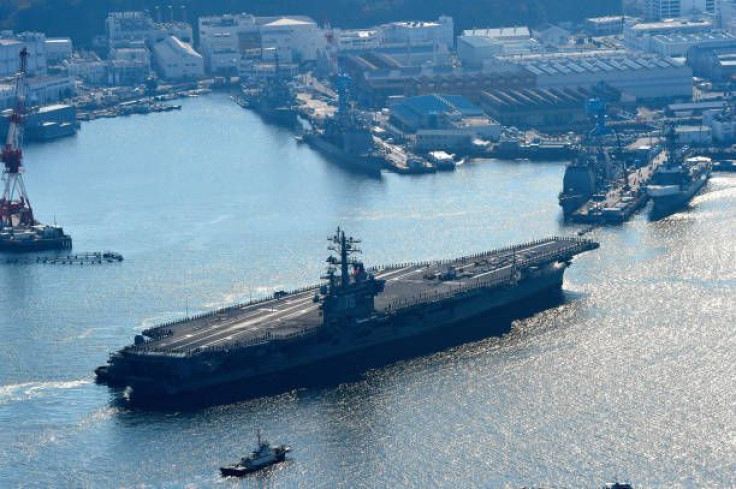 © Copyright IBTimes 2023. All rights reserved.