Typhoon Chan-Hom Batters China Coast, Forcing Evacuation Of 1.1 Million People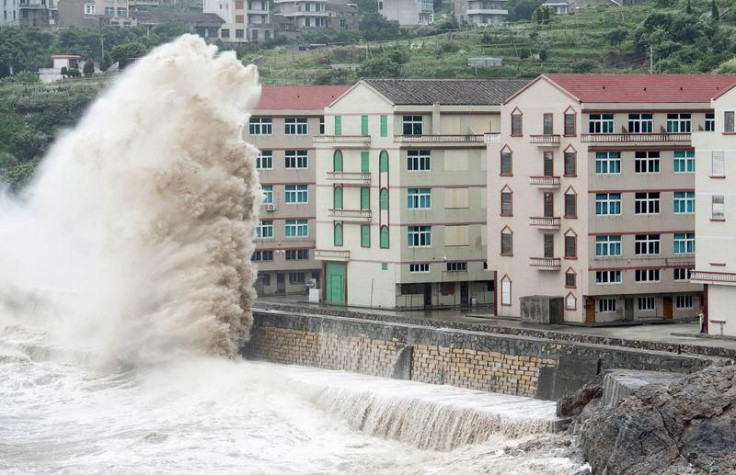 About 1.1 million people were evacuated from China's coast as a powerful typhoon made landfall in Zhoushan city, in the Zhejiang province, crippling local transportation and devastating large strips of farmland, Chinese news agencies reported. So far, no casualties have been reported.
Typhoon Chan-hom battered the region Friday with winds of up to 100 mph and about a month's average of rain in less than 24 hours, the Associated Press reported. The storm was expected to be felt as far away as Shanghai and is said to be the largest storm to come within 200 miles of that city in at least 35 years, Jeff Masters of Weather Underground said. Masters also reported Chan-hom is likely to test the resilience of a flood wall that protects downtown Shanghai, China's most populous city. The U.S. Joint Typhoon Warning Center said the storm's center is expected to stay in the East China Sea as it passes east of Shanghai.
As the storm made landfall, almost 30,000 ships were called back to port while airports in Hongqiao and Shanghi canceled more than 750 flights, the Australian Broadcasting Corp. reported. The storm forced the closure Thursday of the Hong Kong International Airport, one of the primary hubs in Asia.
Chan-hom now has the equivalent strength of a Category 2 hurricane. Before making landfall in China, the storm caused 20 injuries as it crossed over islands in Japan, the AP reported. The storm also battered Okinawa island.
As the Weather Channel reported Chan-hom is losing some strength, but its sizable wind field extends up to 40 miles and can still cause life-threatening surges, flash flooding, downed trees and power outages.
The storm is expected to be pulled northward into the Yellow Sea, weakening to a tropical depression as it heads toward Korea.
© Copyright IBTimes 2023. All rights reserved.