Typhoon Haiyan Financial And Economic Impact: Devastation To Cost Up To $14 Billion But Markets Remain Largely Unaffected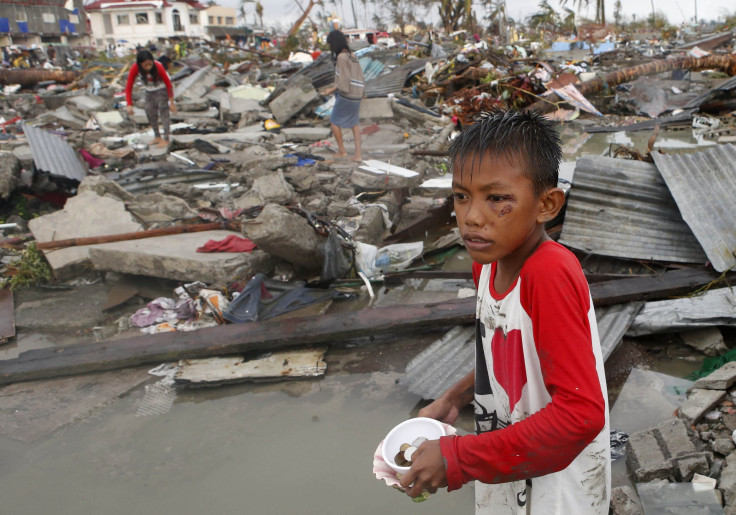 Typhoon Haiyan left as many as 10,000 people dead and destroyed towns across the Philippines over the weekend as the category 5 typhoon, with winds reaching 195 mph and gusts of 235 mph, made landfall on Friday night.
While the death toll will likely grow, the country's economists and international aid agencies have predicted that the economic impact could be up to $14 billion, with only $2 billion to come from insurance, according to a report by Kinetic Analysis Corp.
President Benigno Aquino III has said that the government will use 23 billion pesos ($533 million) to help immediate salvage and rebuilding operations in ravaged towns across the country.
Meanwhile, the peso dropped 0.3 percent against the dollar and the Philippine stock market fell 2.2 percent in the first hour of trading on Monday morning. However, it's expected that the fallout from the typhoon will primarily be felt on the ground rather than in the markets, said JP Garcia, head of institutional business at BPA Asset Management.
"This is a very unfortunate event. It's unprecedented in terms of the damage done [to the region]...The market will likely, of course, see some correction from here in the short term, [but] in terms of the impacts on earnings for listed companies, I think the impact is not as adverse as the devastation on the ground," said Garcia.
He expected that the market damage, if any, would not be felt until the first quarter of 2014, but that the agricultural sector will immediately feel the hit, adding that the Leyte region, which produces high volumes of rice and sugar, was hit badly by the typhoon.
In recent years the Philippines has seen unprecedented growth, with the government hoping to beat the 6.6 percent growth it saw in 2012. Reaching that goal seems unlikely now, given the severity of the damage.
But the damaged areas will need to be rebuild and unemployment is likely to fall overall, offsetting the damage to growth and helping the country continue its ongoing efforts to improve infrastructure.
After the 2004 tsunami in Indonesia, the rupiah fell about 10 percent, and it's expected that similar pressures will impact the peso, said Ray Attrill, co-head of FX strategy at the National Australian bank.
Attril also believes that increased remittances from the large number of Philippino workers abroad and foreign aid would help soften the short-term blow. The country's finance minister, Cesar Purisma, told CNBC on Monday that the typhoon would cut about 8 percent to 10 percent off the region's GDP next year and around 1 percent from overall growth.
© Copyright IBTimes 2023. All rights reserved.