Typhoon Neoguri Expected To Hit Osaka, Kyoto And Tokyo, After Killing Three People In The South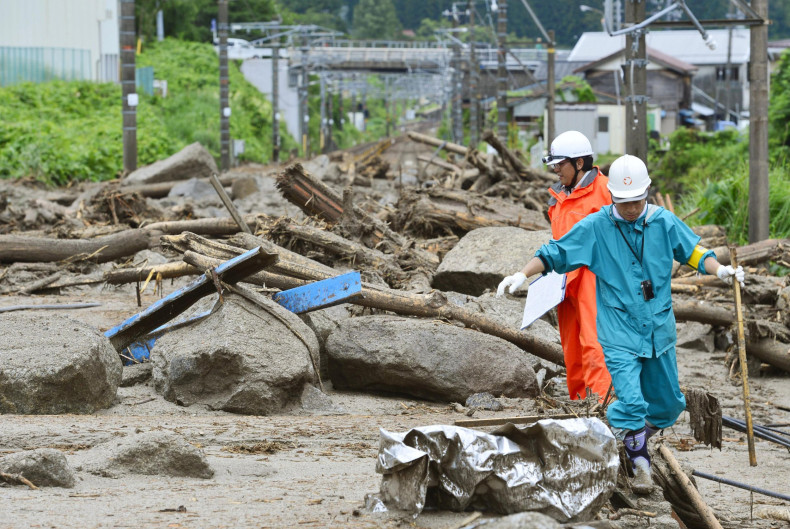 Heavy winds and rain that helped weaken Typhoon Neoguri triggered landslides, killing three people Wednesday in the country's south, reports said, adding that the storm is now expected to head northeast and hit major cities such as Osaka, Kyoto and Tokyo.
The typhoon, which brought winds of up to 78 miles an hour, made landfall on the Japanese mainland after passing through the southern islands of Okinawa, where it filled up rivers and caused landslides, injuring more than 30 people, Associated Press reported. Neoguri reached Kyushu on Thursday and is expected to affect major cities in the region. Central Japan saw high amounts of rainfall, along with floods and landslides, which led to the deaths of three people, including a 12-year-old boy, triggering evacuation orders and forcing several flights to be cancelled, according to Reuters.
"At first I thought it was an earthquake, then the house started filling with mud," a resident of Nagiso town in the Nagano Prefecture of Honshu Island, about 650 miles north of Kyushu, told Reuters, adding: "I clung to a pillar with all my strength."
Japan's meteorological agency warned of further landslides in the country even as major companies such as Nissan and Toshiba, which have their factories on the island, monitored the storm's movement. News reports said that Japan also shut down all of its 48 nuclear reactors, as winds moved east at a sustained speed of 55 miles an hour.
"The chance of violent winds has pretty much vanished, but rain is still a concern in many places," an official from the Japan Meteorological Agency said, according to Reuters, adding: "There are some places that may get as much as a month's worth of rain over the next 24 hours."
Yu Takase, a spokeswoman for Toshiba said, according to the Sydney Morning Herald: "We instructed factories and offices in Japan to take measures for safety against the approaching typhoon," adding: "Right now, our factories are operating as usual."