Uber Guerrilla Marketing Prompts Backlash: Will Lyft Get A Lift?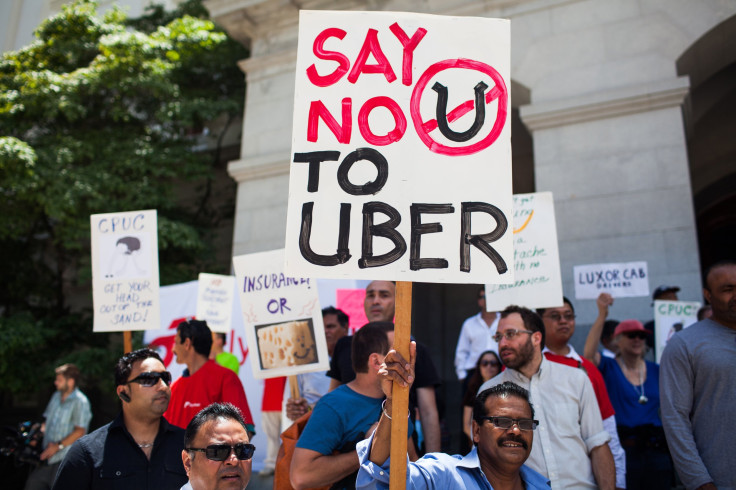 After ridesharing company Uber was exposed for its aggressive marketing tactics on Tuesday, consumers shared their outrage on Twitter, telling the world they would delete the app from their phones and switch to its competitor, Lyft.
The Uber backlash comes after The Verge obtained documents from independent contractors who were hired by Uber to use burner cell phones and credit cards to request cars from Lyft and recruit their drivers. The effort, known as Operation SLOG, was Uber's attempt to undercut its competitor as it expanded to new markets like New York City.
"It doesn't leave a good aftertaste for consumers who are just beginning to embrace this new company," Gartner analyst Thilo Koslowski told International Business Times.
The ridesharing industry is in its nascent stage, and both Uber and Lyft are fighting for legislation to keep their services on the roads. Lyft signed two Washington lobbying firms to work on its behalf earlier this year, and last week Uber hired David Plouffe, who ran President Barack Obama's 2008 campaign, to handle its "global policy and political activities."
Until regulations are put in place, take-no-prisoners tactics by both companies are "fair game," Koslowski said. Ironically, "the same aspects that make these services easy to use are actually being used to outplay the other competitors," Koslowski pointed out. All it takes is for a recruiter working for either company to request a ride using the app, get in a competitor's car and urge its driver to defect.
Not only can Uber's strategy be regarded as unethical, but this "grassroots approach" is beneath the company's brand, Scott Davis, chief growth officer at brand strategy firm Prophet, told IBTimes. "They should take an almost Apple-like approach and build a fortress around themselves, as opposed to wasting time and effort in the tactical trenches," he said.
Lyft has been accused of pulling similar "dirty tricks" for poaching members of the competition. "Obviously this is becoming a trend on both sides," Koslowski said. Indeed, it seems that ridesharing companies aren't much into sharing at all: Both companies appear to be aiming for a monopoly.
Founded in 2009 and formally launched in San Francisco a year later, Uber now exists in 45 countries and has raised $1.5 billion in venture capital. Marketed as "everyone's private driver," the app lets anyone request a car using a GPS location and a credit card. While passengers can request black cars, similar to limousines, in 2012 the company launched UberX – which provides a wider selection of vehicles at a lower cost. Unlike limousines that are owned by a company, UberX vehicles are owned by the drivers. These unlicensed chauffeurs simply have to pass a background check before hitting the road and picking up clients.
Lyft, a similar ridesharing San Francisco startup and Uber's competitor, functions much like UberX. Marketed as a "your friend with a car," Lyft enables passengers to request cars from its "community drivers," who could be anyone from a florist to firefighter -- and also have to pass a background check. They pick people up with a distinctive pink, fuzzy mustache on the front of their vehicles.
To keep their foothold in the industry, both companies may have to shift their brand images, Koslowski said. Uber may have to shed its reputation of being seen as premium and high-end. Lyft may have to distance itself from being seen as a "social network on wheels," Koslowski said. Some younger consumers may be attracted to the idea of making friends on the trip to the airport, but "that might not be what the mainstream customer is looking for."
Given that the sharing economy is thriving – houses, dogs, gardens, books and bikes now can be borrowed among strangers using online platforms – time will tell whether one of the contenders will win, reach an accommodation, or kill each other off.
At the moment, Uber and Lyft are vying for control of the market, but Koslowski predicts that a third company might come in and steal the spotlight -- or the entire category will be destroyed and cabs will make a comeback. "I don't think they will ever give each other the respect to coexist, at least not anytime soon."
© Copyright IBTimes 2022. All rights reserved.
FOLLOW MORE IBT NEWS ON THE BELOW CHANNELS