UFC 226: Francis Ngannou Grateful For Experience In Stipe Miocic Defeat
Ahead of his return to the octagon against Derrick Lewis at UFC 226, heavyweight contender Francis Ngannou revealed he learned a lot from his defeat against current champion Stipe Miocic.
Ngannou (11-2) challenged for the heavyweight title in the main event of UFC 220 in January and was the betting favorite to defeat Miocic (18-2).
He had been on a tear at the time with finishes in each of his wins, including a thunderous uppercut that turned the lights off on Alistair Overeem the previous month, as it felt like the UFC were strapping a rocket on him as their next big star.
However, Miocic would prove why he was "the baddest man on the planet" as he weathered an early storm from the heavy-hitting Cameroonian before going on to dominate the rest of the fight through his wrestling and conditioning before winning a comfortable unanimous decision.
Ngannou faced adversity for the first time in his career and while he did not give up, he was virtually clueless when the contest was taken to the ground and also gassed out by the time the first round ended.
Regardless, "The Predator" took a lot away from his first UFC defeat and is happy such a loss came relatively early on in his career, having just started training mixed martial arts in 2013.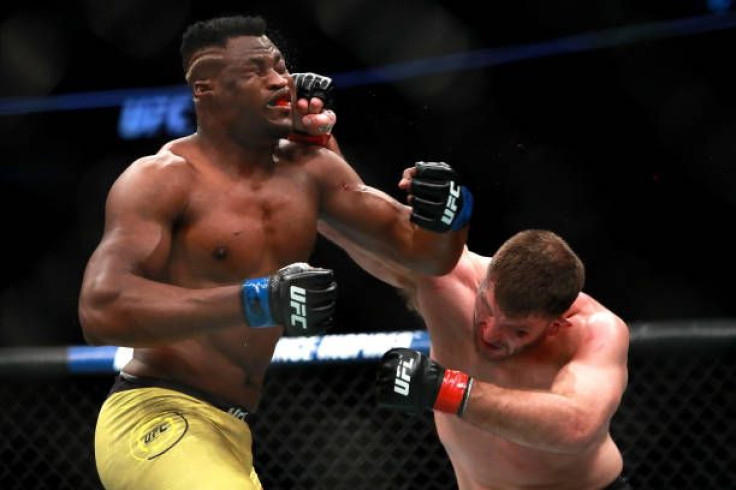 "I collected a lot of experience and I learned a lot from that fight," Ngannou said, as quoted on MMA Fighting. "This is something that would have happened anyway someday because my rise was very fast, so I jumped a lot of things."
"I didn't discover some things that would catch me later. At some point I can even say it's the best thing that happened because if it didn't happen in that fight, it might happen in the future. Now it happened this time. We take it, we learn it, we stand up, we move forward. That's how life is."
Since the defeat, Ngannou has changed things up. He is no longer solely training at the UFC Performance Institute or with his coaches in France as footage from May showed him training at Syndicate MMA in Las Vegas.
And he believes he has all the tools and advantages to defeat his fellow heavy-hitting opponent in Lewis (19-5-1) at UFC 226, with the two of them trash-talking each other over social media for more than a year now.
"What advantages do you think I have over Derrick Lewis? All of them," Ngannou explained. "Of what you can imagine, I think I have all that over him. He said I knocked [Andrei] Arlovski out because he's old — he was 37. Mark Hunt was 43 when he beat [Derrick Lewis]. Hunt made him quit. I think [Lewis] just doesn't know what he's saying."
UFC 226 takes place in Las Vegas on July 7 with Miocic defending his heavyweight title against Daniel Cormier in the main event.
Ngannou will be keeping a close eye on the contest but more than anything, requires a win over Lewis if he wants to remain near the top of the rankings and get a rematch with the Cleveland native.
If he were to get his rematch with Miocic though, he believes he does not need any drastic changes.
"I would just get my conditioning on point," Ngannou added. "What I've got already will be okay."
© Copyright IBTimes 2023. All rights reserved.