UFC 230's Daniel Cormier Suspicious Of Jon Jones News Timing
UFC heavyweight champion Daniel Cormier finds it "very interesting" how certain Jon Jones news stories have been timed to perfection in recent weeks.
Cormier will be defending his heavyweight title against Derrick Lewis with less than a month's notice in the main event of UFC 230 which takes place Nov. 3 at Madison Square Garden, New York.
And although he was stripped of his light heavyweight title, with longtime rival Jones now facing Alexander Gustafsson for the vacant strap at UFC 232 in December, Cormier still expects Brock Lesnar, not Jones, to be his last opponent before he retires in March when he turns 40.
"This [UFC 230] actually does nothing to it [retirement timeline]," Cormier told Ariel Helwani on Monday. "I think Brock and I will fight on the March pay-per-view... Fight Derrick and fight Lesnar, we're winding down. I could fight Jon Jones, I could definitely fight Jon Jones but am I supposed to allow Jon Jones to dictate to me when I can retire now?"
Cormier, of course, lost to Jones twice before the second meeting in July last year was overturned to a no contest after the latter was suspended for failed drug tests — the second time in his career.
"DC" has maintained in the past that being the competitor he is, he would still face his old foe again, but has changed his tune in recent times, claiming Jones does not deserve to fight him again.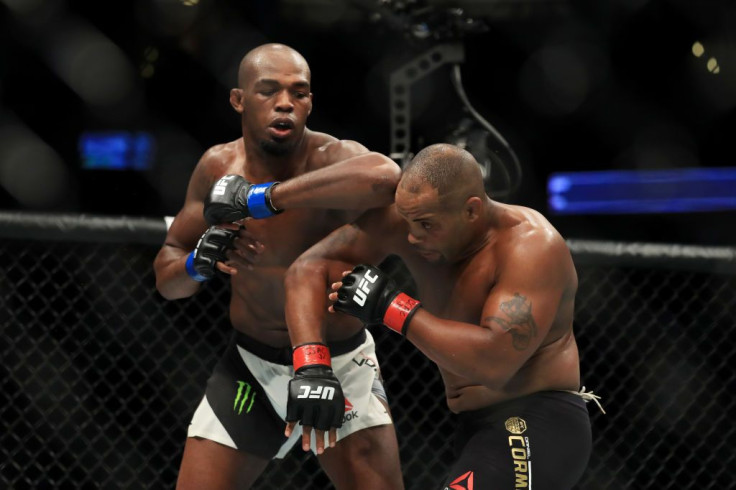 As for Jones, he was at risk of a potential four-year suspension from the United States Anti-Doping Agency (USADA) for being a multiple offender when it came to his failed drug tests.
However, last month it was announced as a 15-month ban, retrospective to the date of his failed drug test from last year, meaning he'll be cleared to fight at the end of October.
In addition, his sentence was reduced by 30 months for assisting USADA, with speculation he "snitched" on other fighters. Jones would later speak out publicly for the first time since being cleared to fight in an ESPN interview earlier this month, denying he snitched on anyone.
Both stories — the news of his suspension being lifted and his interview with ESPN — notably came a day before the big Conor McGregor vs. Khabib Nurmagomedov press conference and the day of the McGregor vs. Nurmagomedov weigh-ins respectively, which Cormier found to be suspicious, especially as he wasn't pleased Jones was let off the hook by USADA.
"Hey, very interesting the timing of that [ESPN] article," Cormier noted. "I really want to say that. Everything in the whole suspension thing was kind of interesting from the date of the suspension being announced like the night before the McGregor vs. Khabib [press conference]. That was crazy because it was like it was a big deal for 10 hours and all of a sudden it's over because everyone's talking about Khabib and Conor."
"And then that article you [Ariel] dropped came right before the Conor vs Khabib [weigh-in]. I was like 'what in the world is happening?' Either Jon has a great PR team or I don't understand how the circumstances have worked out so perfect to where anything that has happened has just been at ideal times to where it's out but nobody really knows it's out because it was always surrounded by the biggest thing happening in our sport."
"Maybe he's changed his [PR] team a little bit," Cormier added jokingly. "Before they were always making PR mishaps, now they're like doing the right thing on the PR side...good job, team Jones."
© Copyright IBTimes 2023. All rights reserved.