Ukraine Ceasefire with Pro-Russian Rebels Holds, For Now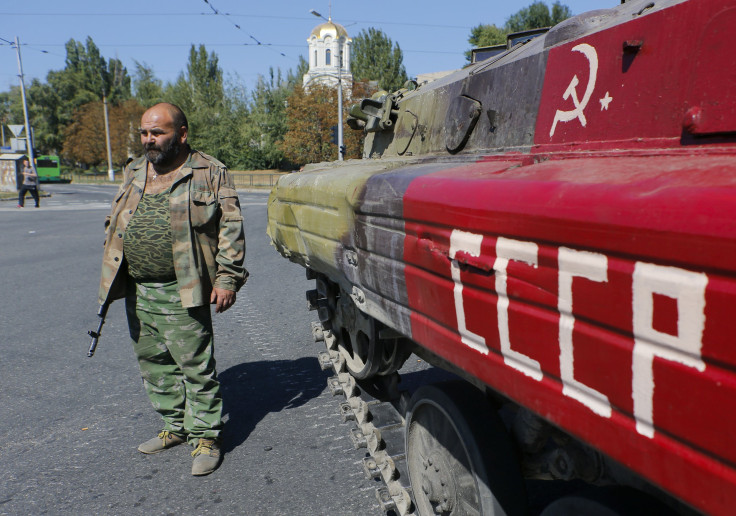 Update as of 5:54 a.m. EDT: Pro-Russian rebels said Saturday that Ukraine's government forces have broken the ceasefire that came into effect Friday, launching several missiles into the self-proclaimed eastern region of the Donetsk People's Republic, or DPR.
"The ceasefire's terms are not being observed," Vladimir Makovich, a leading member of the DPR said, according to Agence France-Presse, or AFP, adding that on Friday night "we saw several missiles launched on the outskirts of the city of Donetsk, and also a heavy armored column moving from the (neighboring southwestern region) of Zaporizhia."
While the Ukraine military and the Kiev government said that there has been no fighting in the region, DPR's Prime Minister Aleksander Zakharchenko, told Russian news agency Ria Novosti: ""It is too early to speak completely of a ceasefire."
Original story below
No violence has been reported overnight after Ukraine and pro-Russian separatists struck a tentative ceasefire deal.
Following the truce agreement which came into effect at 18:00 local time on Friday, 5 September, no fighting has been reported in the volatile eastern regions of Ukraine signalling that the truce has the potential to hold.
However, scepticism over whether the ceasefire would hold longer lingers as radical elements from both sides remain a cause for concern.
Fighting and explosions were reported until the run-up to the ceasefire agreement, which was thrashed out in the Belarusian capital of Minsk.
Ukrainian President Petro Poroshenko has said the truce should pave the way for a long-term solution to bring an end to the five-month-long conflict, which has so far claimed more than 2,600 lives.
The ceasefire talks, brokered by the Organisation of Security and Co-operation in Europe (OCSE), were attended by representatives of Ukraine, Russia and pro-Russian rebels.
The situation is being monitored by OCSE representatives.
"The first batch of humanitarian relief supplies will enter the Donbass region on Saturday. We will develop a more detailed plan from Monday to ensure a humanitarian corridor for steadily delivering relief supplies to Luhansk and Donetsk," said former Ukrainian president Leonid Kuchma, who was also part of the talks.
Ukrainian authorities continue to be suspicious of Russia's motives as they fear the calm could give Moscow an opportunity to strengthen its interests in the vulnerable regions.
"The first thing is to cease fire. The second one is withdrawal of the Russian army, Russian mobsters and terrorists. The third one is to restore control over the border," said Ukrainian Prime Minister Arseniy Yatsenyuk.
© Copyright IBTimes 2023. All rights reserved.