Ukraine Conflict Death Toll Surpasses 6,400 Amid New Evidence Of Russian Military Involvement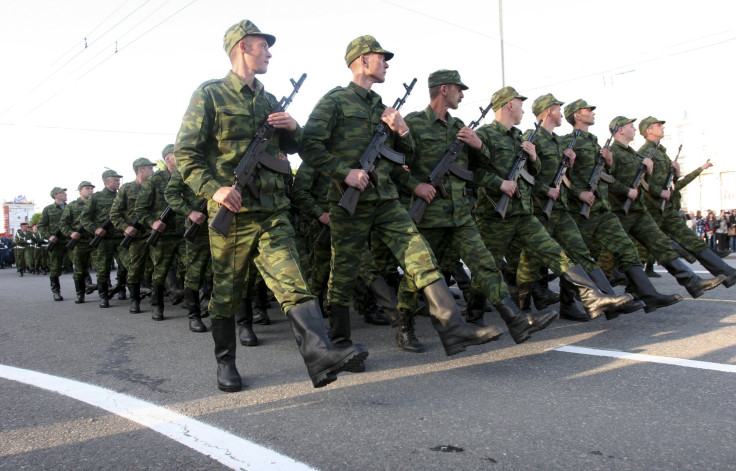 At least 6,400 people have now died in the conflict between Ukrainian government forces and pro-Russian separatist rebels in eastern Ukraine, the United Nations' human rights division said Monday. The U.N. report also found additional evidence of Russian involvement in the conflict, despite the Kremlin's repeated denials that it has directly intervened.
More than 600 "women and girls" were among the 6,417 people killed since the conflict began in April 2014, the U.N. report said. Moreover, officials warned that the updated death toll was merely an estimate and that the actual number of people killed in eastern Ukraine "could be considerably higher." Both Ukrainian government forces and the separatist rebels were suspected of committing atrocities against eastern Ukraine's populace.
"Serious human rights abuses, intimidation, and harassment of the local population perpetrated by the armed groups continued to be reported. The [monitoring mission] received new allegations of killings, torture and ill-treatment, as well as cases of illegal deprivation of liberty, forced labor, looting, ransom remands and extortion of money on the territories controlled by the armed groups," the report said.
Ukrainian government representatives and separatist rebel leaders agreed to a truce at a peace conference in Minsk, Belarus, last February. The ceasefire agreement called for both sides to remove heavy artillery from the front lines of combat zones. But sporadic artillery fire and gun battles have resulted in regular casualties on both sides in recent months, in violation of the truce.
Despite evidence to the contrary, Moscow has dismissed the European Union and NATO claims that Russia has sent troops and equipment to support rebel activity in eastern Ukraine. Russian President Vladimir Putin has said that any Russian nationals in the area are operating of their own accord as volunteers. The U.N. has not found definitive proof of Russian involvement, but has found some evidence to support the allegations, including reports that Russia supplied "sophisticated heavy weaponry" to the rebels.
"We are speaking about increasing inflow of [unofficial] fighters and increasing evidence that there are also some [Russian] servicemen involved in fighting," Assistant Secretary-General for Human Rights Ivan Simonovic said Monday at a press conference, according to Reuters.
Ukrainian government forces captured two Russian nationals in eastern Ukraine last month. Officials in Kiev vowed to prosecute them on terrorism charges unless they admit in court to their association with the Russian military. The two men purportedly admitted to the Organization for Security and Co-operation in Europe, a watchdog group, that they were active members of the Russian army. The Kremlin said both men are Russian citizens, but reiterated its claim that no Russian soldiers are active in eastern Ukraine.
© Copyright IBTimes 2023. All rights reserved.
FOLLOW MORE IBT NEWS ON THE BELOW CHANNELS