Ukraine Military Fires 150 Mortar Shells At Donetsk Rebels, Russian News Media Claims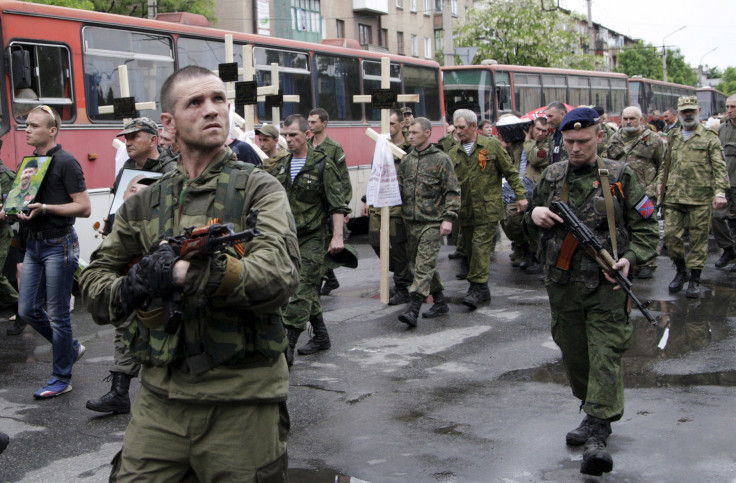 Ukrainian government forces have launched 150 mortar shells against pro-Russian separatist rebels in the eastern Ukrainian village of Shirokino since Sunday, a rebel spokesman said. Meanwhile, government representatives in Kiev said rebel attacks were to blame for the deaths of three Ukrainian soldiers, as hostilities continued despite a ceasefire agreement that has been in place since February.
"The Ukrainian forces' most intensive attack was against the village of Shirokino. More than 150 82 mm and 120 mm shells were fired," rebel spokesman Eduard Basurin told the Donetsk news agency, as quoted by Russian-owned outlet Tass. Some of the mortar fire was directed at Donetsk airport – the site of heavy fighting between government forces and rebels before Germany and France brokered the fragile truce in Minsk, Belarus. Rebel leaders did not release any figures on casualties.
Pro-Russian rebel forces control the major cities of Donetsk and Luhansk in eastern Ukraine. Rebel attacks near these cities killed three Ukrainian government soldiers and injured four others since Sunday, Kiev spokesman Andriy Lysenko told Reuters. Ukraine, the European Union and the NATO military alliance have repeatedly accused Russia of providing direct military support to rebel fighters -- charges the Kremlin has denied.
Fighting between government forces and the rebels has slowed down since the ceasefire went into effect, though sporadic exchanges of artillery and gunfire have continued. More than 6,400 people have died in the eastern Ukraine conflict since it began, in April 2014, Agence France-Presse reports. An additional 1.2 million Ukrainian have been internally displaced, while approximate 5 million have felt some form of negative effect from the fighting.
"Even with the decrease in hostilities, civilians continue to be killed and wounded," United Nations High Commissioner for Human Rights Zeid Raad al-Hussein told AFP.
The conflict has also taken an economic toll on Ukraine. The International Monetary Fund has agreed to lend Ukraine about $17 billion in bailout money, with the inflation rate expected to hit 46 percent in the country by the end of 2015, the BBC reports.
© Copyright IBTimes 2022. All rights reserved.
FOLLOW MORE IBT NEWS ON THE BELOW CHANNELS