Ukraine Crisis: EU Leaders Head To Moscow For Talks With Russian President Putin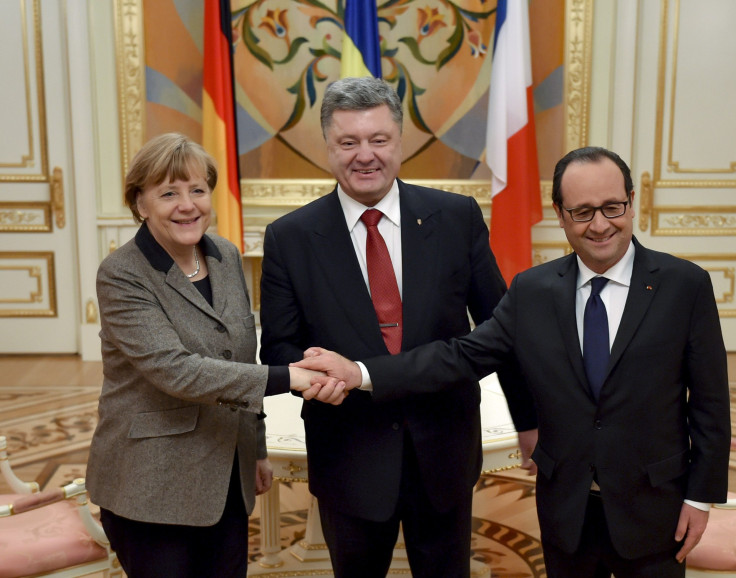 German Chancellor Angela Merkel and French President Francois Hollande, who met Ukrainian President Petro Poroshenko on Thursday, are scheduled to meet Russian President Vladimir Putin on Friday in an attempt to prevent further escalation of a conflict that has already killed over 5,000 people in the region, according to media reports.
Merkel and Hollande held talks with Poroshenko in Kiev on Thursday evening, during which a peace plan was reportedly presented. However, details of the plan were not released and the two European leaders left without making any comment. Ukraine's Foreign Minister Pavlo Klimkin said, on Thursday, that the leaders had discussed "steps so that the Minsk agreement can start working," according to media reports.
The Minsk agreement, which was announced after talks in the Belarusian capital in September last year, had called for an immediate bilateral ceasefire and withdrawal of all armed groups from eastern Ukraine. However, over the last five months, the ceasefire has been frequently violated, allegedly by Moscow-backed separatists in the Donetsk and Luhansk regions as well as by Ukrainian forces.
Alexander Orlov, the Russian ambassador to France, said, on Friday, that an immediate settlement to the crisis in eastern Ukraine is needed to prevent the deaths of more civilians in the region.
"It is necessary to immediately stop the war. To stop killing civilians, it is necessary to take action. This is a very, very important meeting, a meeting full of hope. I cannot say that this is the last chance, but close to it," Orlov said, according to a report by Sputnik News, Russia's state-owned news agency.
A spokesperson for the Kremlin also said that Putin would discuss "the fastest possible end to the civil war in southeastern Ukraine," according to a BBC report.
The meeting comes amid growing calls in the U.S. to arm Ukraine, with several lawmakers reportedly saying that military aid "is past due."
"We can't just stand by and let them be slaughtered by superior weapons," Sen. John McCain, chairman of the U.S. Senate Armed Services Committee, reportedly said. However, U.S. Secretary of State John Kerry, who met top Ukrainian officials, including Poroshenko and Ukrainian Prime Minister Arseniy Yatsenyuk, in Kiev on Thursday, has so far not announced a decision on providing lethal aid to Ukraine.
On Thursday, Kerry pledged $16.4 million as humanitarian aid to help people hit by the conflict in eastern Ukraine. Kerry also said that though the U.S. was seeking a diplomatic solution to the crisis, President Barack Obama was reviewing all options, including "the possibility of providing defensive systems to Ukraine," according to media reports.
© Copyright IBTimes 2023. All rights reserved.