Ukraine Economy Crisis: Rebels Reportedly Open Donetsk Banks Amid Economic Collapse, Growing Black Market For Cash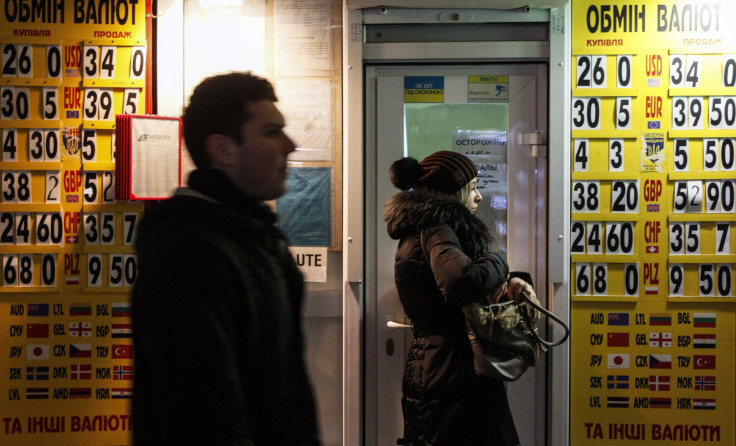 Russian-backed rebels claim they have opened 89 bank offices in the self-proclaimed Donetsk People's Republic (DPR) in east Ukraine amid a growing economic crisis that has seen a black market for cash flourish and the value of the Ukraine currency sink. A report Tuesday claimed the rebels' Central Republican Bank was operating the banks that featured 24-hour currency exchange counters and "each office of the bank provides welfare benefit and pension payment services in accordance with the decrees of the DPR head," according to Itar-Tass, a Russian state media outlet.
Ukraine's currency, the hryvnia, has sunk during the prolonged conflict with Russian-backed rebels. Ukraine lawmakers passed austerity measures such as pension cuts and tax increases Monday aimed at averting an economic collapse, according to the Wall Street Journal. "We're now in the situation where we don't have easy and simple decisions," Prime Minister Arseniy Yatsenyuk said before the vote. He said the measures would "allow the country to stabilize the situation and gradually get to economic growth in 2016."
The economic crisis has been particularly felt in Donetsk, where goods are scarce and prices have soared since the Ukrainian government introduced in January strict controls on traffic entering and leaving rebel-controlled territory, according to the Telegraph. Residents have largely been unable to obtain money since banks and ATM machines ceased operations in November in zones held by pro-Russian separatists in eastern Ukraine. A black market for cash has since flourished, according to Global Post.
The United Nations estimates that 5,809 people have died in eastern Ukraine from mid-April 2014 to Feb. 28 because of the conflict. "All aspects of people's lives are being negatively affected, and the situation is increasingly untenable for the local inhabitants," U.N. High Commissioner Zeid Ra'ad Al Hussein said. "Many have been trapped in conflict zones, forced to shelter in basements, with hardly any drinking water, food, heating, electricity or basic medical supplies."
© Copyright IBTimes 2023. All rights reserved.