Kerry And Lavrov Meet To Discuss Ukraine, Nemtsov; UN Says 6,000 People Have Died In Conflict So Far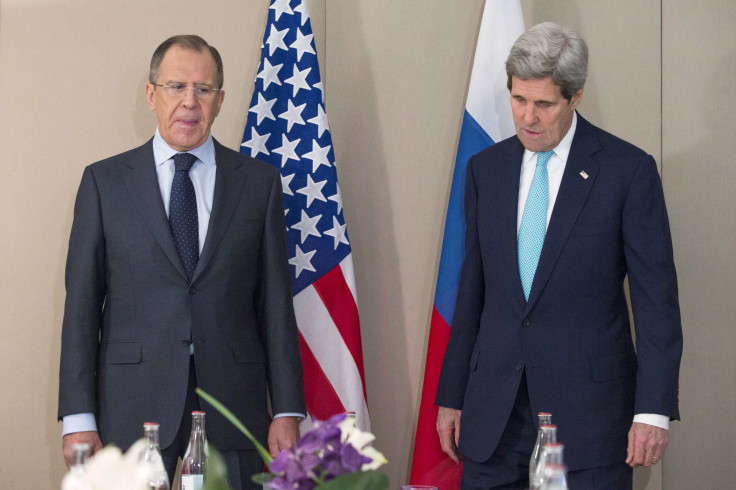 U.S. Secretary of State John Kerry met his Russian counterpart, Sergei Lavrov, in Geneva, on Monday, to discuss various issues ranging from Iran's nuclear program to Friday's murder of Russian opposition leader Boris Nemtsov to the fragile ceasefire in Ukraine, according to reports.
Speaking about Nemtsov's murder last week, Kerry said, before coming to Geneva, that there needed to be a "thorough, transparent, real investigation not just of who actually fired the shots, but who, if anyone may have ordered, or instructed this," Agence France-Presse (AFP) reported. Critics of Russian President Vladimir Putin have reportedly accused the Russian government of being behind Nemtsov's death because he was a vocal opponent of Putin since the latter came to power 15 years ago. A U.S. official reportedly said that the State Department will judge the investigation into Nemtsov's murder based on the manner in which it was conducted and its findings, AFP reported.
Kerry and Lavrov are also expected to discuss the Ukraine issue, following Kerry's accusation last week that Russian officials had lied about supporting to pro-Moscow separatists in eastern Ukraine, the BBC reported. Kerry had claimed that Russia was portraying a "craven behavior" in its support for the rebels. However, the Kremlin has denied such accusations.
"Russia has engaged in a rather remarkable period of the most overt and extensive propaganda exercise that I've seen since the very height of the Cold War," Kerry said, before the Senate on Tuesday, adding: "And they have been persisting in their misrepresentations - lies - whatever you want to call them - about their activities there to my face, to the face of others, on many different occasions."
Kerry had added, during his Congressional testimony, that fresh U.S. sanctions are being prepared against Russia and that they would be implemented soon if Russia does not keep its end of the ceasefire agreed upon in Minsk.
Kerry's comments had drawn flak from Russian officials, who denied supporting the rebels in Ukraine. Last Thursday, Lavrov had accused Western powers of not being serious about the ceasefire, and said that the West was making "laughable demands" about the truce.
"Behind these calls lies the unwillingness of these figures, these relevant countries, the United States, the European Union, to seek the implementation of what was agreed in Minsk on February 12," Lavrov said, adding: "They are trying to whip up hysterical sentiment, to deflect attention from the need to follow the Minsk agreement."
Meanwhile, the United Nations announced Monday that at least 6,000 people have been killed so far in the conflict between Ukrainian government forces and pro-Russian rebels, which began last year after the annexation of the Crimean peninsula by Russia.
Zeid Ra'ad Al Hussein, the U.N. human rights chief, called on all those involved in the conflict to "halt the indiscriminate shelling and other hostilities that have created a dreadful situation for civilians," AFP reported.
© Copyright IBTimes 2023. All rights reserved.