Ukraine Elections 2019: Comedian Volodymyr Zelensky Is New President In Landslide Win
Popular TV actor and comedian Volodymyr Zelensky campaigned on promises to clean-up the government, and despite his complete political inexperience, was still elected president of Ukraine by a corruption-weary electorate willing to try anything new.
The incumbent, Petro Poroshenko, conceded the elections after exit polls showed his rival winning the runoff by a landslide with 73 percent of the votes on Sunday. Zelensky easily won the first round of voting on April 1.
Zelensky on Sunday declared victory in Ukraine's presidential elections.
"We did it together. Thanks to everyone! Now there will be no pathetic speeches, I just want to say -- thank you," said Zelensky amid loud cheers from supporters.
Zelensky, a professional comedian, rarely appeared in public during the presidential campaign and rarely gave interviews. Instead, he campaigned using online videos featuring song and dance acts meant to entertain.
Among Zelensky's promises: Ukrainian membership in the European Union; a bill "On People's Power" that will provide a mechanism for referendums; bills to fight corruption; efficient trial by jury and salaries for military personnel equivalent to NATO's.
He also said that if Ukrainians will notice his new government "works honestly from the first day," they will stop not paying taxes.
In one of the few interviews he gave during his presidential campaign, Zelensky said he wants to regain control of Crimea, which Russia seized in 2014, but now says he wants to start talks with Russia.
Political observers believe Zelensky's rise is a symptom of immense voter frustration and anger with the government and a desire for change -- any change.
Before announcing his candidacy in December 2018, Zelensky was widely known as the lead actor in the hit TV series, "Servant of the People," where he's played a teacher who was elected president of Ukraine.
Zelensky, however, is widely viewed as an ally of Igor Kolomoysky, one of Ukraine's richest men and a staunch opponent of Russian president Vladimir Putin. Kolomoysky owns the TV station 1+1 that broadcasts Zelensky's show and is widely believed to be the engine behind Zelensky's drive for the presidency.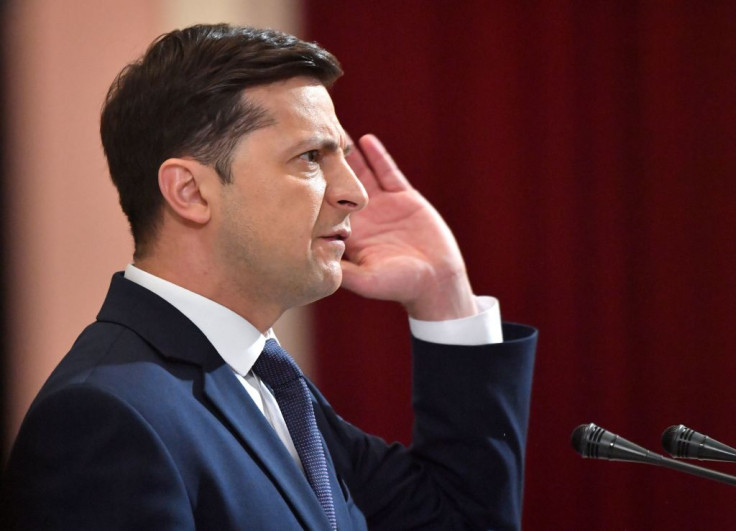 In a series of tweets, Poroshenko said he accepted the decision of the Ukrainian people and will leave office in May but said he wouldn't leave politics.
"The new President will have a strong opposition," but he said in a statement that the country will only benefit from it.
"Personally, my team and I are ready to support the new President in all his decisions that will be in line with national interests of Ukraine and that will bring us closer to the European Union and NATO."
In a dig at Zelensky, Poroshenko tweeted he believes Russian president Vladimir Putin will be happy about the election of a "new inexperienced" president of Ukraine who could be returned to Russia's orbit of influence.
Zelensky has yet to reveal any clear policies, raising questions as to how he plans to tackle the country's economic and political problems. Ukraine is one of Europe's poorest countries.
© Copyright IBTimes 2023. All rights reserved.