Ukraine Eliminates 880 Russian Soldiers In One Day; Total Deaths Climb To 212,000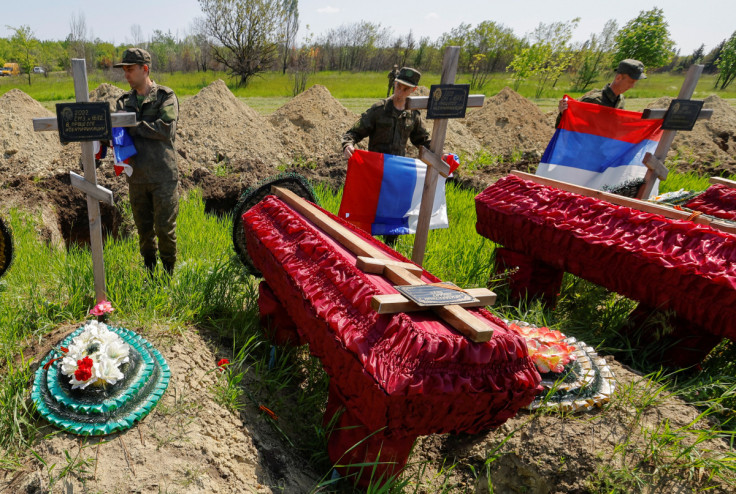 KEY POINTS
The Ukrainian military eliminated 880 Russian soldiers in the past 24 hours
Russia also lost 13 tanks, 17 APVs and one aircraft on the Ukrainian battlefield Wednesday
Russian forces allegedly blocked Ukrainian residents from leaving their flood-hit village
Russia continues to suffer heavy battlefield casualties after allegedly destroying a major dam in southern Ukraine.
According to the casualty report released by the General Staff of the Ukrainian Armed Forces Wednesday, Russia lost 880 military personnel in the past 24 hours, bringing its death toll to 212,030 since launching its invasion of Ukraine more than a year ago.
Russian forces also lost Wednesday 13 tanks, 17 armored personnel vehicles (APVs), 37 artillery systems, four multiple-launch rocket systems (MLRS), one anti-aircraft warfare system, one aircraft, and seven operational-tactical unmanned aerial vehicles (UAV), the report said.
Since Feb. 24, 2022, Ukraine has destroyed 3,873 tanks, 7,560 APVs, 3,640 artillery systems, 594 MLRS, 352 anti-aircraft warfare systems, 314 aircraft, and 3,219 combat drones of Russia in total.
According to the Ukrainian military's situation update, the beleaguered country carried out 15 strikes on Russia's troop concentrations and two strikes on its anti-aircraft missile systems Wednesday.
Ukrainian forces reportedly also destroyed four Russian reconnaissance UAVs. At the same time, its missile and artillery units targeted four Russian command posts, one concentration of enemy troops, weapons and military equipment, three ammunition depots, two anti-aircraft missile systems, and one radar station, according to the update.
On the same day, Russia carried out 28 airstrikes and 20 MLRS attacks on various Ukrainian settlements and troop locations, Ukraine's military said. The latest Russian attacks allegedly caused casualties among the civilian population, and some infrastructure was damaged.
In the village of Kozachi Lageri in the temporarily-occupied region of Kherson, Ukrainian residents tried to leave their flooded homes after Russia allegedly blew up Kakhovka Hydroelectric Power Plant (HPP).
But the Russian occupying authorities in the area, while intoxicated, allegedly blocked all possible ways to leave the village and barred the residents from evacuating, according to the Ukrainian military.
Despite Russia's alleged attempts to stop the affected Ukrainian residents from leaving, local officials said evacuations in flooded areas are ongoing.
The Ukrainian Ministry of Internal Affairs is now looking for alternative ways to evacuate residents from the Russian occupied-eastern bank of the Dnipro River, CNN reported.
"The evacuation works are ongoing. We are trying to do it as quickly as possible. We are hampered by a strong current and shelling by the Russian military." Ukrainian Internal Affairs Minister Ihor Klymenko said while visiting the flood-hit region.
In an update, Ukraine's Ministry of Internal Affairs said at least 1,854 people had been evacuated from Ukrainian-controlled areas in Kherson.
But Klymenko also voiced his concern regarding the dam breach's environmental effects after "150 tons of machine oil leaked out of the turbine room" of the Kakhovka HPP.
Meanwhile, the Ukrainian Prosecutor General's Office announced an investigation into whether Russia committed "ecocide" and war crimes after allegedly blowing up the Nova Kakhovka dam.
In a statement, Ukrainian Prosecutor General Andriy Kostin said he created an inter-agency and inter-regional group of investigators from the Security Service of Ukraine and the country's National Police to investigate the incident.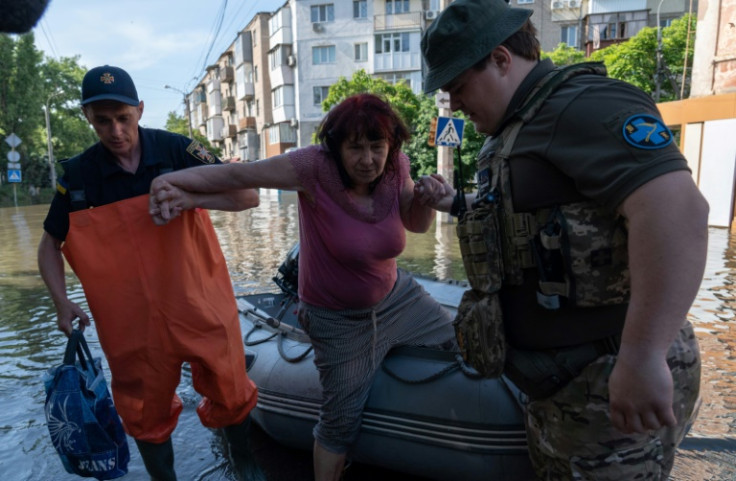 © Copyright IBTimes 2023. All rights reserved.