Russia Says It Thwarted Ukrainian Offensive, Russian Mercenary Leader Reports Lost Ground Elsewhere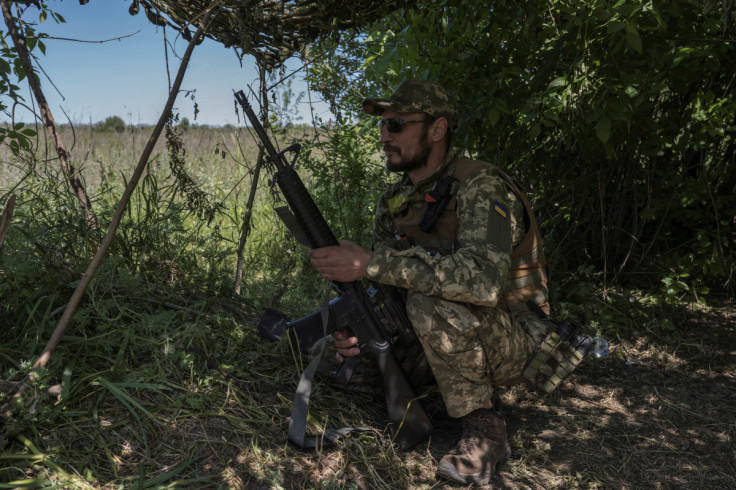 Moscow said on Monday it had thwarted a major Ukrainian offensive in the south of Ukraine's Donetsk region but Russia's main mercenary leader said Russian forces had lost ground around Bakhmut further north.
Asked whether the attacks represented the start of Ukraine's long-heralded counter-offensive against Russia's invasion, Oleksiy Danilov, Secretary of Ukraine's Security and Defence Council, told Reuters: "The war continues. Until complete victory."
Russia's defence ministry said Ukraine had attacked on Sunday morning with six mechanised and two tank battalions in southern Donetsk, where Moscow has long suspected Ukraine would seek to drive a wedge through Russian-controlled territory.
"On the morning of June 4, the enemy launched a large-scale offensive in five sectors of the front in the South Donetsk direction," the defence ministry said in a statement posted on Telegram at 1:30 a.m. Moscow time (2230 GMT).
"The enemy's goal was to break through our defences in the most vulnerable, in its opinion, sector of the front," it said. "The enemy did not achieve its tasks, it had no success."
Reuters was unable to immediately verify the Russian statement. Asked to comment, a Ukrainian military spokesperson said: "We do not have such information and we do not comment on any kind of fake."
The commander of Ukraine's ground forces, Oleksandr Syrskyi, said on Monday that Ukrainian forces continued "moving forward" near the long-contested city of Bakhmut in northern Donetsk and an armed forces video showed Russian positions under fire.
Russian mercenary leader Yevgeny Prigozhin said Ukrainian forces had retaken part of the settlement of Berkhivka, north of Bakhmut in eastern Ukraine, calling it a "disgrace".
Prigozhin's private Wagner army captured Bakhmut last month after the longest battle of the war and handed its positions there to regular Russian troops.
The daily report from Ukraine's General Staff said only that there were 29 combat clashes in the Donetsk and Luhansk regions of eastern Ukraine.
Ukraine's Centre for Strategic Communications did not address the Russian statement directly but said, without providing evidence, that Russia would seek to spread lies.
"To demoralize Ukrainians and mislead the community (including their own population), Russian propagandists will spread false information about the counter-offensive, its directions, and the losses of the Ukrainian army," it said.
Ukrainian Defence Minister Oleksii Reznikov published a cryptic message on Twitter on Sunday, quoting Depeche Mode's track "Enjoy the Silence".
Russian war bloggers reported fighting at several points across the front, particularly around Vuhledar, some 150 km (93 miles) southwest of Bakhmut.
FIGHTING
Russia's defence ministry released video of what it said showed several Ukrainian armoured vehicles in a field blowing up after being hit. Reuters geo-located it to near Velyka Novosilka, a village west of Vuhledar but could not verify the date.
"There is a tough fight going on," wrote prominent Russian military blogger Semyon Pegov, who blogs under the name War Gonzo, saying Ukrainian forces were attacking in the area.
The ministry said Russian forces killed 250 Ukrainian troops as well as destroying 16 tanks, three infantry fighting vehicles and 21 armoured combat vehicles. Reuters was not able to verify the figures. Both sides have exaggerated casualties suffered by the other.
Russian Chief of the General Staff Valery Gerasimov, who is in charge of Moscow's "special military operation" in Ukraine, was in the area at the time of the Ukrainian attack, the ministry said.
COUNTER-OFFENSIVE?
For months, Ukraine has been preparing for a counter-offensive against Russian forces which officials in Kyiv and CIA Director William Burns have said will pierce Russian President Vladimir Putin's hubris.
Ukrainian President Volodymyr Zelenskiy told the Wall Street Journal in an interview published on Saturday that he was ready to launch the counter-offensive but tempered a forecast of success with a warning that it could take some time and come at a heavy cost.
After seeking tens of billions of dollars of Western weapons to fight Russian forces, the success or failure of the counter-offensive is likely to influence the shape of future Western diplomatic and military support for Ukraine.
Ukraine has in recent weeks sought to weaken Russian positions but its plans have been shrouded in secrecy as it prepares to take on the much larger military of Russia.
Moscow was last month struck by drones which Russia said was a Ukrainian terrorist attack while pro-Ukrainian forces have repeatedly crossed into Russia's Belgorod region in recent days.
After a two-month lull, Russia has launched hundreds of drones and missiles on Ukraine since early May, chiefly on Kyiv, with Ukraine saying it was targeting military facilities but also hitting residential areas.
WAR IN UKRAINE
Putin sent troops into Ukraine on Feb. 24 last year in what the Kremlin expected to be swift operation but its forces suffered a series of defeats and had to move back and regroup in swathes of eastern Ukraine.
Russia now controls at least 18% of what is internationally recognised to be Ukrainian territory, and has claimed four regions of Ukraine as Russian territory.
For months, tens of thousands of Russian troops have been digging in along a front line which stretches for around 600 miles (1,000km), bracing for a Ukrainian attack which is expected to try to cut Russia's so-called land bridge to the Crimean peninsula, which Russia annexed in 2014.
Ukraine vows to eject every last Russian soldier from its territory, and casts the invasion as an imperial-style land grab by Russia.
Russia says the West is fighting a hybrid war against Russia to sow discord and ultimately carve up Russia's vast natural resources, allegations that Western leaders deny.
(Writing by Guy Faulconbridge in Moscow, Lidia Kelly, David Ljunggren and Philippa Fletcher; editing by Nick Macfie)
© Copyright Thomson Reuters 2023. All rights reserved.