Ukraine Has 75,000 Troops In East Ukraine, Says Luhansk People's Republic Leader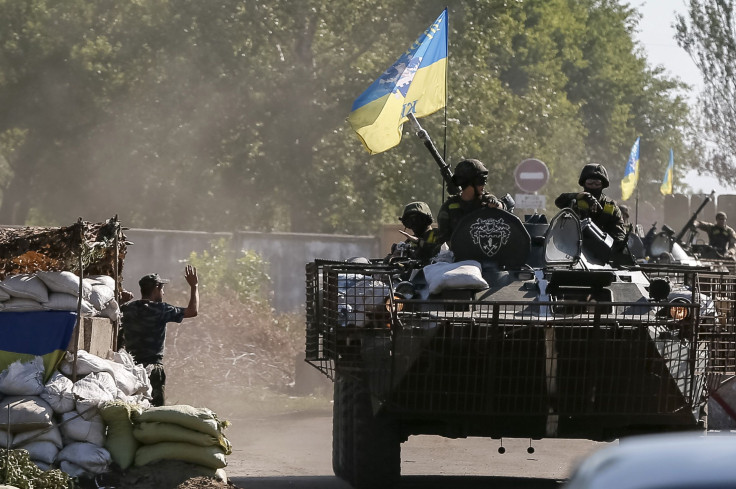 Kiev has around 75,000 troops fighting in the contested and war-torn region of eastern Ukraine, said the leader of the self-proclaimed Luhansk People's Republic (LPR) at a briefing in Luhansk on Monday, reported Tass, a pro-Russian news site. Igor Plotnitsky, who become leader of the region after an election in November, made the comments at an open briefing for journalists on Monday.
Ukraine President Petro Poroshenko had said on Friday that the number of Ukrainian servicemen in the region was 60,000. "Judging by what Petro Alexeyevich [Poroshenko] was proudly saying not long ago, the grouping now has more than 60,000 servicemen. However, he shyly withheld information about those 'private battalions' that are deployed here," said Plotnitsky. "So, the Ukrainian grouping here is likely to exceed 75,000."
Ukraine's army consisted of about 250,000 soldiers as of January. A further 50,000 civilians were called up two weeks ago in the sixth and final wave of mobilizations. The private battalions operating in the region could be compared to the U.S. National Guard or reserve units. Those troops are harder to count, but estimates number them at 50 battalions with a total of 7,000 to 15,000 men.
By comparison, there is thought to be around 40,000 pro-Russian rebels fighting in Donbas, including 3,000-4,000 Russian military volunteers, according to Radio Free Europe. A detailed report of Russian military involvement from the London-based think tank Royal United Services Institute puts the figure of official Russian troops that are directly or indirectly involved in the conflict at 42,000.
The author of the report, Igor Sutyagin, says the troops are "either stationed there, delivering artillery fire against Ukrainian territory from Russian soil, or directly participating in combat operations on Ukrainian sovereign territory."
The report says there are 9,000 to 11,000 Russian soldiers on the ground inside Ukraine at any given moment. There also is estimated to be 26,000 to 28,000 Russian troops and 13,000 Russian sailors operating in Crimea, which was annexed from Ukraine in March last year.
© Copyright IBTimes 2023. All rights reserved.