Ukraine Military Update: Soldiers Eat Rotten Food, Forced To Buy Equipment As Poor Conditions Still Visible On The Front Lines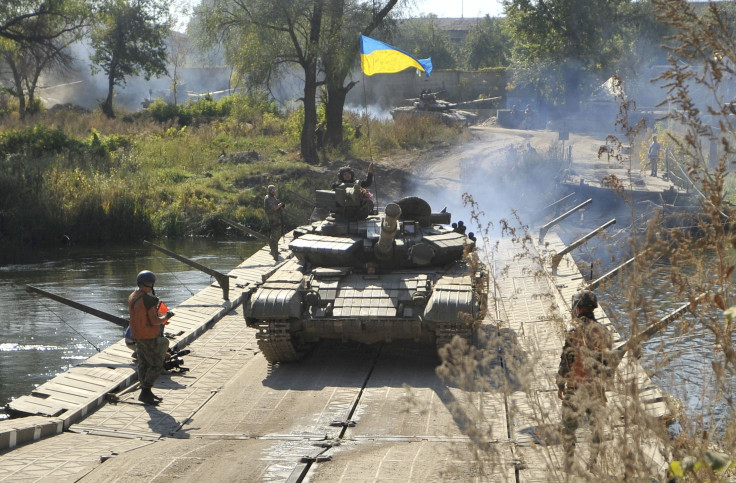 After 18 months of conflict in eastern Ukraine, a video shows Ukrainian soldiers still are not equipped properly and need to rely on the generosity of locals to provide them with fresh food. At a checkpoint near the southern city of Mariupol, soldiers showed off rotten food, local news channel Ukraine Today reported Wednesday.
"We are left to buy everything with our own money, boots and uniforms," a soldier said. "The things they give are not good for winter."
The conflict in Eastern Ukraine began in April 2014 after Russia annexed Crimea in March 2014. At the start of the conflict, Ukrainian troops were poorly supplied, often lacking basic equipment including helmets. Ukrainian officials blamed the poor state of the military on years of corruption and theft under the regime of former President Viktor Yanukovych.
Soldiers at the checkpoint said their commander rarely visited the unit. The commander appeared while journalists were visiting but refused to answer specific questions about the conditions. He said he would work on fixing the problems.
More than 8,000 people have died and upward of 1.4 million have been displaced in the conflict that has pitted government troops against Russian-backed separatists. The conflict has destroyed large swaths of the industrial Donbass region. The region was responsible for approximately 20 percent of the country's gross domestic product.
Ukrainian Military Expenditure Over Time | FindTheData
A truce that took hold in September has resulted in decreased fighting. However, the truce remains tenuous with one Ukrainian soldier killed near the Donetsk airport Tuesday. Both sides have begun drawing back weapons from the front lines.
While the world's attention has turned away from Ukraine and focused on Russian President Vladimir Putin's airstrikes in Syria that began Sept. 30, Ukrainian officials have said their country's military has greatly improved since the start of the conflict and the separatists are no longer as strong. Russia continues to deny playing any direct role in the conflict.
"It's hard to compare the Ukrainian army of today to what it was even 18 months ago," said Dmytro Tymchuk, a member of the Ukrainian Parliament in an interview with McClatchy. "Back then, fearing a Russian invasion, we needed tanks. We were able to find two in working condition. Today we have 500, and new ones on order."
© Copyright IBTimes 2023. All rights reserved.