Ukraine Parliament Votes To Call Donetsk And Luhansk People's Republics Terrorist Groups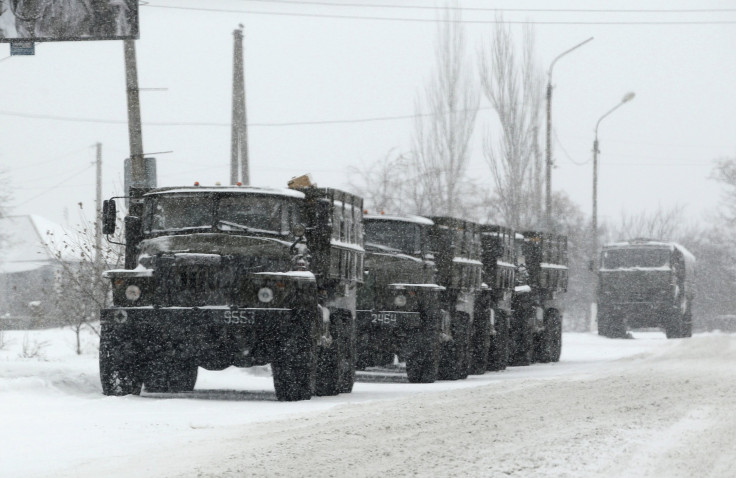 The Ukrainian parliament voted Tuesday to declare Russia an aggressor state and to name the self-proclaimed Donetsk and Luhansk People's Republics as terrorist organizations. The vote, which passed 271-27 in the 450-seat Verkhovna Rada, Ukraine's parliament, encourages Ukraine's partners to hold Russia to account for crimes against humanity since the beginning of the conflict. The opposition did not take part in the vote.
"It is necessary to declare the Russian Federation to be an aggressor state that has fully supported terrorism and blocked the activities of the UN Security Council, putting international peace and security under threat," the head of Ukraine's parliamentary committee on foreign affairs, Anna Gopko, said.
The resolution comes amid increased fighting between pro-Russian rebels and Ukrainian troops, particularly in the southeastern Ukraine city of Mariupol, where a rebel offensive killed 30 people and injured more than 100 last week.
According to the vote, Ukraine will attempt to apply its own sanctions against Russia in the hope that Moscow will cease its support of pro-Russian rebels in Donetsk and Luhansk and follow the Minsk Agreement, a ceasefire signed in September by Russia and Ukraine. While those sanctions have not yet been decided, the vote also seeks what parliament called the occupation of Crimea, which Russia annexed last year, and asks for the safe return of all Ukrainian "hostages" held in Russia, including Ukrainian MP Nadezhda Savchenko.
"It is necessary to limit the authorities of the Russian delegation to the Parliamentary Assembly of the Council of Europe while Russia ignores the demands of the international democratic community," Gopko said.
However, a representative of the People's Republic of Luhansk said that if the Ukrainian parliament persists in naming either group in Luhansk or Donetsk as a terror group then a peaceful resolution to the fighting will be impossible.
"First of all, if Kiev's intention [to declare the self-proclaimed republics as terrorist organizations] turns out to be true, there will be no question of there being any peace talks in Minsk, as Ukraine would have created a legal [situation] that would make it impossible [for it] to negotiate with terrorist organizations," said the representative to the Ukrainian Independent Information Agency.
© Copyright IBTimes 2023. All rights reserved.
FOLLOW MORE IBT NEWS ON THE BELOW CHANNELS