Ukraine Political Crisis Update: Russian Banks Attacked On Anniversary Of Revolution
Groups of protesters Saturday attacked two major Russian banks in Central Kiev as thousands of others marked the second anniversary of one of the most violent days of Ukraine's 2014 revolution.
As conflict continued in the country's eastern Donbass region, protesters broke windows and ransacked the inside of the offices of Sberbank and Alfa Bank in Kiev as well as the office of Ukrainian oligarch Rinat Akhmetov. Authorities did not stop the protesters, the Associated Press reported.
The anger comes amid a political crisis with the resignation of several reform-oriented politicians earlier this month who alleged continued corruption in the top echelons of the Ukrainian government. A no-confidence vote against the country's prime minister failed to pass this week as the governing coalition frayed. A short scuffle between police and protesters commemorating the anniversary broke out Saturday, the Kiev Post reported.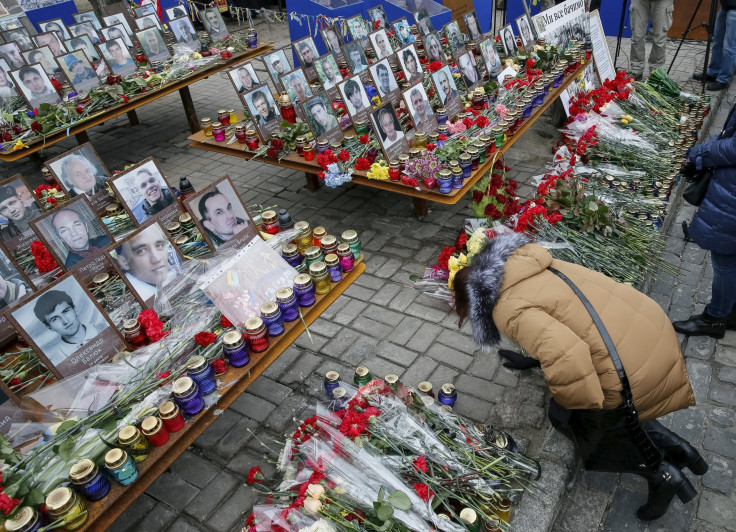 More than 50 people were killed by sniper fire two years ago during the country's revolution that ousted Russian-leaning former President Viktor Yanukovych. Shortly after, Russia illegally annexed the Crimean peninsula in March 2014 and then a conflict pitting Ukrainian government forces against Russian-backed rebels broke out in eastern Ukraine. More than 9,000 people have died in the war, and more than 1.4 million have been displaced. Russia continues to maintain its military forces are not involved in the fighting, a claim that has been rejected by Ukraine and western governments.
Ukrainian government forces and the Russian-backed rebels of the Donetsk People's Republic exchanged prisoners Saturday in the first prisoner swap of 2016, Agence France-Presse reported. The rebels gave government forces three soldiers in exchange for five rebel prisoners as well as an Orthodox monk.
While meeting with the families of those killed during the revolution, Ukrainian President Petro Poroshenko promised Saturday those responsible for the deaths in Kiev would be held accountable. He said the office of the prosecutor general had issued 18 verdicts against 26 people with 84 cases currently before the country's courts.
"Nobody will avoid responsibility. It is not a revenge. Security officials should never ever use weapons against Ukrainian people. Ukraine must remain a democratic state forever," a statement on the presidential website said.
© Copyright IBTimes 2023. All rights reserved.